Belmont Stakes 2012: Predicting Which Horse Will Captivate Fans
June 9, 2012

Patrick Smith/Getty Images
The Triple Crown of horse racing is a showcase of some of the most magnificent athletes in the country. Each year, fans are able to root for a horse, trainer, jockey or owner throughout the one-month series.
The Belmont Stakes presents an intriguing race that will surely be worth watching. With race past-favorite and sentimental hero I'll Have Another out with a leg injury, here are some horses that demand your attention.
Street Life
Street Life is a beautiful three-year old colt trained by Chad Brown. Mr. Brown has had a tremendous amount of success in thoroughbred racing at the young age of 33. He was an understudy to the famous Robert Frankel, who trained Empire Maker to a 2003 Belmont Stakes upset win.
Brown is New York born-and-bred, and although Street Life was born in Kentucky, he will certainly be a home-town favorite. The three-year old has worked out exclusively at Belmont his entire career and has only raced at Aqueduct and Belmont, both New York tracks.  
Street Life is a son of the great Street Sensem, the 2007 Kentucky Derby winner and 2007 Preakness runner-up. His pedigree shouts "stakes winner" being a direct descendant of Grindstone, the 1996 Kentucky Derby winner and a son of 1989 Kentucky Derby winner Unbridled.
At 6-1 early odds, Street Life will give you some bang for your buck with a good showing. Look for him to make his charge late-second turn and be running hot down the stretch with the likes of Dullahan
Unstoppable U
Trainer Ken McPeek looks to improve his odds of a win by entering two horses in the Belmont: Atigun and Unstoppable U. 'U' seems to be the more likely contender. He is going off at long 20-1 odds, and if you love to root for the underdog, U is your horse.
It would be easy to mistake the previous colt, Street Life, and Unstoppable U upon first glance. Both have a brilliant dark coat and both start side-by side in the gate (Street Life in Post 1 and U in Post 2).  
There are similarities between careers as well. Although Street Life has competed at the graded stakes level and Unstoppable U has not, both colts have not raced outside of New York, and have not trained outside of Belmont.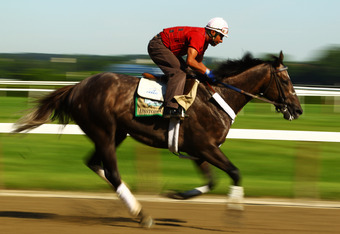 Al Bello/Getty Images
Unstoppable U has a fantastic pedigree, being a direct descendant of the great Danzig and 1995 Belmont Stakes winner Thunder Gulch.  His trainer, McPeek, stunned the racing world with his horses Sarava winning the 2002 Belmont Stakes. Needless to say, Unstoppable U has Belmont running through his veins, so he'll be an intriguing pick.
U will be a leader of the pack in this one, as he won wire-wire in his last race at a mile. He will, more than likely, be run down by the higher-class horses down the stretch. Even still, he'll be a great underdog to hold fans' attention the whole way around the 1.5 mile monster that is Belmont Park.
Union Rags
Anyone who has payed attention to this year's Triple Crown knows that one of the biggest disappointments is Union Rags. Michael Matz, the noble trainer of Barbaro, had high hopes for his prized trainee.  
After placing in last year's BC Juvenile, Rags was cited as being the top contender at the Kentucky Derby and Triple Crown. He would encounter a bad trip in the Florida Derby and an even worse one in the Derby. After skipping the Preakness Stakes, Matz looks to run his fresh horse to victory today.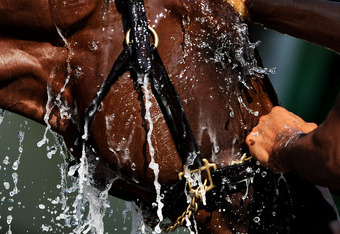 Patrick Smith/Getty Images
Even though I don't believe Union Rags has the courage to win, I will certainly not be discouraged if he wins. Matz is one of the classier trainers in the racing world, so a win for him is cause for celebration.
There is no doubt Matz (and the racing world) believes this horse has talent. He has a high-quality pedigree and puts in great workouts. The problem arises when Rags gets into traffic and becomes tense and scared.
Rags is a 3-1 second favorite (behind Dullahan) and should be in contention late in the race. Personally, I think he'll finish outside of the top four, but he's a great horse for fans to root down to the wire.