Belmont Stakes 2012 Field: Long shots Ready to Steal Thunder
June 9, 2012
Rob Carr/Getty Images
As one door closes, others swing open.
I'll Have Another's tragic ending to a possible Triple Crown does open doors for several horses to steal the thunder at the Belmont Stakes. Here are three that will be in prime position. 
Optimizer: 15 to 1
Optimizer's camp has been building up for Belmont and Belmont only. Their previous finishes, 11th at Kentucky Derby and sixth at the Preakness, were to get Optimizer ready for Belmont.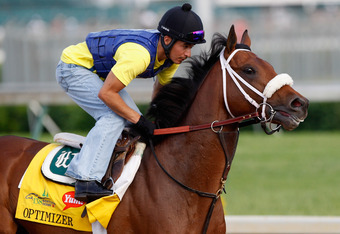 Rob Carr/Getty Images
It was all for preparation, according to Steven Petrella of The Baltimore Sun. 
"We're thinking the Belmont is going to be our best race," trainer D. Wayne Lukas said. "We wanted to get him that experience and he seemed like a good fit…we're trying to use the Preakness as a preparation for the Belmont."
With Belmont being the longest track of the three, we'll find out how the preparation works out on Saturday. I think it will work to perfection.
Unstoppable U: 20 to 1
Not many people are talking about Unstoppable U, but with I'll Have Another's tragic retirement, people should pay attention.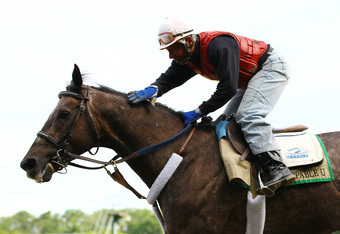 Al Bello/Getty Images
Many doors have opened since the announcement, and Unstoppable U has one foot inside. With great post position at No. 2, Unstoppable U is in a perfect spot to make things happen.
According to Frank Angst of Thoroughbred Times, Unstoppable U's trainer, Ken McPeek, believes in his horse. 
"The horse is a monster," McPeek said. "He's never been outworked in the morning or the afternoon.

"Two works ago, he was really unprofessional. He worked from the five-eighths pole all the way to the wire on the left lead and still went :59. So the talent's there, but he hasn't figured out, 'OK, I need to change to my right lead when we turn for home,' and we work really hard trying to get him to do it."
Don't sleep on Unstoppable U. 
Ravelo's Boy: 30 to 1
With decent post position at No. 6, Ravelo's Boy sits in a good spot to steal the thunder at the Belmont Stakes.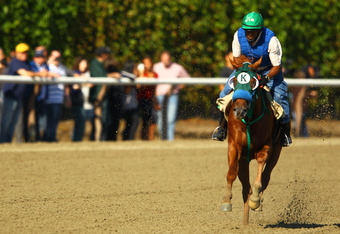 Al Bello/Getty Images
Manny Azpurua, trainer of Ravelo's Boy, is seeing improvement in his horse, according to Mike Welsch of the Daily Racing Forum.  
"The way he's been working down there has been something special, every week he's getting better and better," Azpurua said. "The last one was very special. He galloped twice around before working and he was just flying all the way. The boy never asked him or let him go."
Ravelo's Boy is in a great position to surprise some people at 30-to-1 odds.