Belmont 2012: Expert Predictions from Around the Web
June 9, 2012

Rob Carr/Getty Images
Experts were forced to retract their initial predictions for the 2012 Belmont Stakes with yesterday's news that I'll Have Another would be pulled from the race by trainer Doug O'Neill due to a tendon injury. 
Many were picking the horse to etch its name in history by winning the first Triple Crown since Affirmed did it in 1978, but now Dullahan looks to be the trendy pick to win the Belmont Stakes. 
Let's take a look at some fresh expert predictions:
Jay Cronley, Yahoo!
First up is Jay Cronley. He shies away from the two hip picks, and tells an amusing story about his friends horse that almost won on a few occasions and the first time he stopped betting on it, the horse won.
Here's how Cronley broke down his selection of the top four finishers. 
The trendy horses are Dullahan and Paynter; Dullahan having excelled on everything but dirt, Paynter having hung up high-flying Beyers. One inflated by an off track, one in a poor allowance field in Maryland. Of the two, Paynter would appear to be the better play, because it could be clear early by a substantial margin. 

1. Union Rags
2. Paynter
3. Dullahan
4. Street Life
It's interesting that Cronley doesn't even touch on why he selected Union Rags, but mainly discussed the battle between Dullahan and Paynter.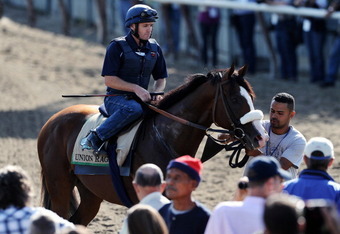 Patrick Smith/Getty Images
Joe Drape, New York Times 
Joe Drape heads the New York Times horse racing blog, fittingly titled The Rail. He chimed in with a similar prediction to that of Cronley: 
I picked Union Rags to win the Derby, and he lost all chance when he was squeezed at the gate and then was later buried behind a wall of horses. John Velazquez, recently named to the Hall of Fame, now rides Union Rags for the first time, which is a huge upgrade from Julien Leparoux. Velazquez has won multiple jockey titles at Belmont and he knows every inch of the course.
The fact that the legendary John Velazquez is riding Union Rags is making the horse a popular pick. Drape picked Dullahan to finish second and Paynter to finish third. 
Charlie Competello, New York Times
Competello doesn't agree with his colleague, instead going with the favored Dullahan. Here's the reasoning behind his selection:
By finishing third in the Kentucky Derby, Dullahan showed that he is more than just a horse that can run well on synthetic racetracks. He didn't get a dream trip in Louisville but was still making up a lot of ground in the stretch. His trainer, Dale Romans, has crowed that Dullahan is the "horse to beat.
He does make a good point, Dullahan was a strong horse throughout the entirety of the Derby. Because the Belmont is the longest and most arguably the most physically demanding race of the Triple Crown, the winner will likely have to be steady from start to finish. 
The fact he is well rested after not racing in the Preakness, Dullahan can certainly to do that.