Belmont Stakes 2012 Entries: Unstoppable U and Horses to Watch
June 9, 2012

Al Bello/Getty Images
Much of the focus heading into the Belmont Stakes was understandably on I'll Have Another. The wonder colt had won both the Kentucky Derby and Preakness Stakes and was set to race for the Triple Crown. He was shockingly scratched on Friday due to tendinitis, however, so the field is suddenly wide open with a number of horses having a chance to win.
Most of the focus has been on Dullahan and Union Rags, but when things are thrown out of whack it often leads to a surprise winner. There are quite a few long shots in the race, but it all comes down to choosing the right one. Only one of them can possibly cross the finish line first, obviously, but there are a few that are certainly worth considering.
Here are three horses that have flown under the radar to this point, but are worth betting on if you're looking for an upset pick on Saturday.
Unstoppable U (20/1)
Horse betting is predicated on past performance for the most part, but there isn't much to go on when it comes to Unstoppable U. The horse is inexperienced as he has run just two races, but he was victorious on each occasion. He won at Belmont Park a little over a month ago, so while his overall resume is incomplete, he obviously knows how to win at this track.
The biggest issue is that his first two races were six furlongs and eight furlongs, respectively, and he will have to go 12 for the first time on Saturday. That may scare some people away since we don't know if he can hold up for such a long race, but mystery can often be a good thing in horse racing.
Unstoppable U will be ridden by a capable jockey in Junior Alvarado, and while few are giving the tandem a chance, I can certainly see them coming out on top.
Street Life (8/1)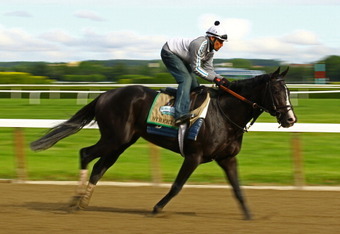 Al Bello/Getty Images
At 8/1, Street Life is actually just behind Dullahan, Union Rags and Paynter in terms of the betting favorites, but he has gotten much publicity. His odds jumped quite a bit after it was announced that I'll Have Another wouldn't race, so that may be why.
The spawn of Street Sense, Street Life obviously has a very nice pedigree that bettors can get behind. He also has plenty of experience when it comes to running more than a mile.
Each of Street Life's past three runs have been longer than a mile, so going 12 furlongs shouldn't be a big stretch for him. He also has one race under his belt with jockey Jose Lezcano at the reins, so there is some familiarity as well. Street Life is a very interesting horse since he has been fairly anonymous despite having single-digit odds. He may very well be the horse that is victorious on Saturday, though.
Atigun (15/1)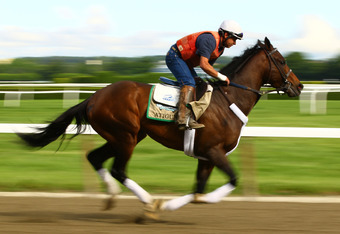 Al Bello/Getty Images
One thing that horse bettors hate to see is inconsistency, and Atigun has been as inconsistent as they come. The colt has flashed moments of brilliance as he won twice at Churchill Downs, but he has disappointed on several occasions as well, including an 11th-place finish in the Rebel G-2 at Oaklawn Park.
With all of that said, though, Atigun may be the most well-prepared long shot on the board, and that makes him quite dangerous.
He didn't run in either the Kentucky Derby or Preakness Stakes, but he has been in several races with high-quality horses. Like Street Life, he has been going more than a mile for quite some time, so he is most definitely stretched out.
Atigun will also have the benefit of an excellent jockey in Julien Leparoux. When Atigun is on his game he can beat anyone, and since his odds are 15/1, he's certainly worth gambling on.
Follow @MikeChiari on Twitter