Sharapova vs. Errani: Score and Highlights from French Open 2012 Women's Final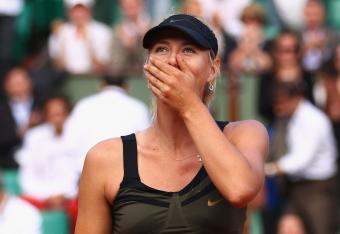 Clive Brunskill/Getty Images
After two weeks worth of battles it's down to just two: No. 2 Maria Sharapova and No. 21 Sara Errani. Sharapova powered her way through the women's draw while Errani scraped, clawed and finessed to get there.
Sharapova enters her first French Open final with a chance at a career Grand Slam as well as an opportunity to earn the world No. 1 ranking. Errani is playing in her first major final after winning the French Open women's doubles title.
Will Sharapova overpower yet another opponent, or does Errani have enough skill and guile to unseat a fourth higher-ranked opponent to earn her first major? Stay tuned all morning for up-to-the second updates to find out.
I just want to thank everyone who read along and enjoyed the match with me. I hope you had a good time. If anyone is interested I'll be back at 8:00 AM Eastern time tomorrow to live blog the men's final between Novak Djokovic and Rafael Nadal.
And even though the Triple Crown won't be won this year I'll be back at around 2:30 Eastern this afternoon live blogging the Belmont Stakes. Thanks again and hopefully you guys will be back!
Well Maria Sharapova has battled her way back from shoulder surgery to stand atop the mountain again. Again, an unbelievable performance in the French Open for her and she proved that she is a great champion.
Sharapova tells Carillo that this was the most special moment in her career. She seemed genuinely overcome with her emotion.
After the commercial break Mary Carillo will be with Sharapova.
Errani also said that even though she's in the top 10 now she doesn't feel like she's in the top 10. She seems happy to be in the position she's in though.
Carillo points out that Errani played over 20 hours of tennis during the tournament.
Mary Carillo interviewing Sara Errani right now on NBC....
Errani will be No. 10 in the world on Monday and Sharapova will be the new No.1 ranked player in the world.
Tremendous tournament, tremendous run by Sara Errani, dominating two weeks from Maria Sharapova and a legendary victory for a great champion.
Sharapova giving her interview in parts English and parts French.
Sara Errani is emotional but very gracious in her runner-up finish.
Always a cool moment to see a victorious athlete have their national anthem played for them.
Maria joyously raises then hugs her trophy. This one means a lot and it is truly historic for her to win this tournament.
Great moment in the stadium: The PA announcer said "Runner-up, Maria Sharapova!" Everyone in the place was cracking up, including Sharapova.
Cool to see Monica Seles presenting the trophies.
They are about to present the trophies to Sharapova and Errani.
Why did NBC have to play the Bourne Identity music? Now I want to watch that.
I said Errani needed to get over 80 percent of her first serves in to have a chance. She managed 78 percent. She could have hit 90 percent and it probably wouldn't have made a difference. She was outscored 9-5 on her second serve but was also outscored 26-22 on her first serve.
Sharapova had 43 winners today against 12 for Errani.
Take nothing away from Sara Errani. She was in over her head today but she fought valiantly and is truly an enjoyable player to watch. Nothing for her to hang her head about, Sharapova was just that good.
Maria is clearly overjoyed and deservedly so. She was dominant throughout the tournament and was just a level or two above Sara Errani today. Incredible performance from Sharapova.
Errani can't get it over the net and MARIA SHARAPOVA IS THE FRENCH OPEN CHAMPION!! She takes it 6-3, 6-2 and gets the career Grand Slam!
Crushed ace from Maria again! Match point #3!
Another great drop shot out of Sharapova's reach! Deuce #3. Errani is making her earn it.
Ace from Sharapova for match point #2!!
This article is
What is the duplicate article?
Why is this article offensive?
Where is this article plagiarized from?
Why is this article poorly edited?