LeBron James Won Game 6, but Heat Have to Win Again
June 9, 2012

Jim Rogash/Getty Images
Can he do it again? That's the question heading into tonight's Game 7 between the Miami Heat and the Boston Celtics. "He" is the player who faces more scrutiny than any player I can remember, LeBron James. "It" is the remarkable performance LeBron had in Game 6.
Put the Heat on his back? LeBron seemingly put the whole city on his back in willing his team to a series-saving win by scoring 45 points, grabbing 15 rebounds and handing out five assists.
Not since Wilt's 1964 stat line of 50 points, 15 rebounds and six assists has anyone put up comparable playoff numbers.
It's apt that LeBron and Wilt are linked by their amazing games. LeBron reminds us—well, those of us that are old—of Wilt because of his freakish physical skills.
It's been an interesting couple of days on the what's being said about LeBron front. As always, the dissidents are chirping, saying this didn't prove anything because he didn't do anything in crunch time. You know, at the end of the fourth quarter. Ummm, that would be because his ridiculous performance in the first three quarters made the last stanza moot. It was over by then.
The man made 19 baskets. How many did the rest of the Heat make you ask? 18. LeBron made those 19 baskets on only 26 shots. Do you understand that he made 73 percent of his shots? Have I made it clear how ridiculous that is?
LeBron had more pressure on him in Game 6 than I can remember any other player ever having. Regardless of the fact that Chris Bosh, Mike Miller and Dwyane Wade are hobbled, all of the blame would be heaped on LeBron's wide shoulders if they lost.
For the first time in his career, LeBron came out like an assassin. Like a cold-blooded killer. That's the criticism he's struggled to overcome. He just doesn't take a game and grab it by the throat like Michael Jordan. Like Kobe Bryant.  Game 6 was choked.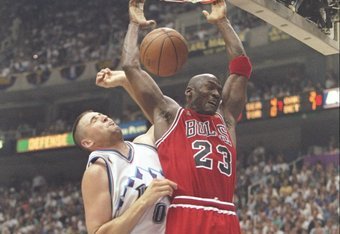 Brian Bahr/Getty Images
So, can he do it again? More importantly, will he?
I'm not talking about the stat line. History tells us he won't have another 45/15/5 game. It's not the numbers that matter. It's whether he comes out and takes over the game. Forces his will on it. Takes his remarkable physique and heads to the basket instead of settling for jump shots.
And yes, if it comes down to a game-deciding play, will he take over or drift to the corner?
I'm not sure I've seen a game with the outcome so assumed since the 1969 Super Bowl was handed to the Baltimore Colts. Does anyone really think the Celtics can win tonight?
Remember that the Jets didn't get the memo in 1969. Of course, the Celtics can win tonight. No one knows what the Celtics will give you. Great one game and dismal the next.
The Heat should advance to the Finals and take on the Oklahoma City Thunder. Then LeBron gets to take all the heat again.
Follow me on Twitter@sprtsramblngman