UFC on FX 3 Results: Post-Fight Stock Report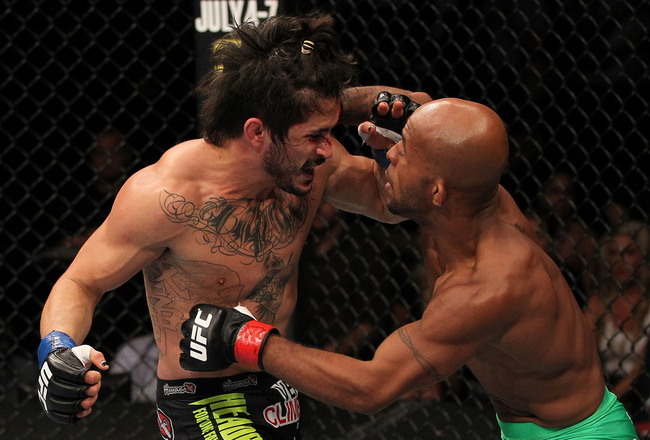 Photo by Josh Hedges/Zuffa LLC/Zuffa LLC via Getty Images

UFC on FX 3 was a fantastic showing.
Only one fight—Demetrious Johnson vs. Ian McCall—went to decision, and even then the fighters delivered constantly until the end. Both Mike Pyle and Eddie Wineland delivered knockout blows, while Erick Silva kept his wins in the UFC within the first round.
In a night with such telling victories, the futures of many main-card fighters were determined by tonight's performances.
Here's each main-card fighter's post-fight stock after tonight.
Scott Jorgensen: Declining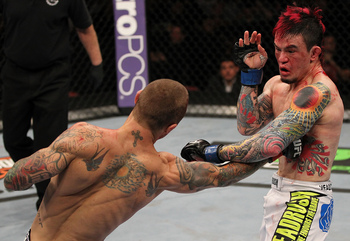 Photo by Josh Hedges/Zuffa LLC/Zuffa LLC via Getty Images
So Scott Jorgensen has finally been KO'ed. But that's not the only reason his stock is declining.
Jorgensen worked hard to play Wineland's game and stand up, all the while attempting to use his own strength—wrestling—and take Wineland down. In the end, it didn't work. Jorgensen simply took shots until one finally knocked him down.
The overall picture of Jorgensen's career is greater than tonight's loss. His last fight, a loss to Renan Barao, was a tough one. Nevertheless, Jorgensen is one of the best fighters in the bantamweight division. Still, he likely won't get a title shot unless something drastic happens.
It seems that when Jorgensen begins fighting elites like Barao, he's simply outclassed. While it's hard to call Wineland elite right now, Jorgensen's loss to him says something about his position in the division.
He's a great fighter, but it's hard to argue that he can start making a climb to contention after two losses like these.
Eddie Wineland: Holding Steady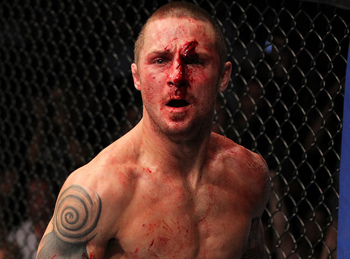 Photo by Josh Hedges/Zuffa LLC/Zuffa LLC via Getty Images
I'll give Wineland a lot of credit for this win. Had he lost, it would have likely been his last fight in the UFC. He didn't, however, and survives to fight another day.
The reason he fights another day, though, is to prove what his stock is really worth. Right now, he won't be jumping ahead in the division simply because of this win. Moreover, he's already lost to Urijah Faber and Joseph Benavidez, whose move to flyweight helped Wineland's placement in the bantamweight division.
So the former WEC champion has something to prove: he belongs in the division. He proved that tonight. He'll likely have much more to show beyond that, which is why tonight's victory merely kept him alive.
Josh Neer: Holding Steady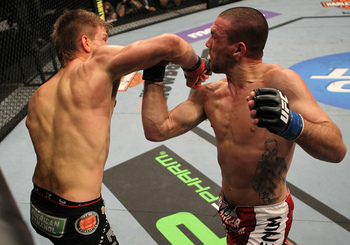 Photo by Josh Hedges/Zuffa LLC/Zuffa LLC via Getty Images
Josh Neer is an exciting fighter with a lot to offer, but I'm not sure tonight's loss was a breaking point for either of those traits.
Neer will still be exciting afterward, but he will likely never jump ahead to welterweight title contention. His record in the UFC is a mixed bag of wins and losses, and he's fought some good fighters in the division.
His presence has been limited to television for the most part, however, and he'll likely remain there because of his exciting tempo and style. Therefore, tonight's loss to Mike Pyle doesn't change a lot about where Neer was going.
He'll still be present on UFC on FX or Fuel, still be an exciting fighter, and will remain a wild card in all of those fights.
Mike Pyle: Rising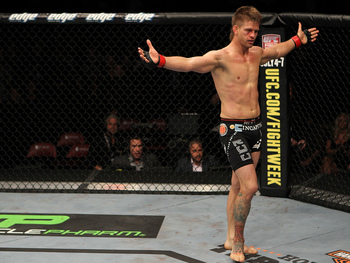 Photo by Josh Hedges/Zuffa LLC/Zuffa LLC via Getty Images
Mike Pyle's stock may have risen slightly tonight, but it's rising nonetheless.
Pyle looked great against Neer, who showed up in great form as well. Neer kept a strong stand-up and struck at the head and body of Pyle enough to rock him. But Pyle pulled through and kept his composure. We saw tonight that a composed Mike Pyle is capable of delivering a pretty serious knockout.
After tonight's showing, Pyle could easily move up in the welterweight rankings, especially to fight a higher-ranked welterweight coming off of a loss.
Charlie Brenneman: Holding Steady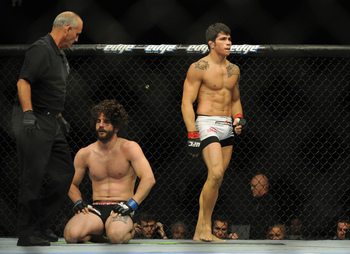 Photo by Steve Mitchell-US PRESSWIRE
I can't blame Brenneman for falling short tonight. He came in, did what he had to do, and ultimately Erick Silva was the better fighter.
What the UFC wanted was a fighter who could challenge Silva's striking with a relentless takedown attack; Brenneman did just that. People had wondered how Silva's takedown defense would fare in such a fight, and he proved worthy.
Brenneman tapped out when he lost to the better fighter of the bout, and after the dust cleared, there was not much that was unexpected. The whole thing was a test, and we found our results. That said, Brenneman will go on to get some more interesting fights, but as for those that test his own stock, tonight's wasn't it.
Erick Silva: Rising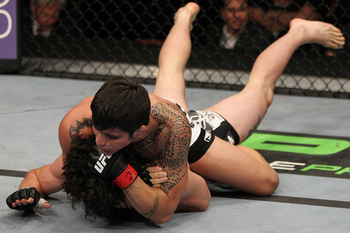 Photo by Josh Hedges/Zuffa LLC/Zuffa LLC via Getty Images
The Brazilian fighter entered the ring knowing his takedown defense was being tested. He quickly showed doubters how he could handle a shooting match with a win by submission.
That said, Silva's stock is rising rapidly. He's had a short UFC career, but it's already been an illustrious one. Moreover, he took tonight's big fight and capitalized. It was the kind of fast win against a tempered opponent that was more telling about Silva than Brenneman before it started.
The great news for Silva: the UFC is likely scrambling now, looking for an opponent in the welterweight division that will keep his hype going. Thiago Alves' name has come up, and at this moment, it seems like a perfect match. Alves needs to reestablish himself after losing to Martin Kampmann, and Silva needs to continue establishing himself against an elite fighter.
Whatever happens, Silva is knocking at the door of title contention and moving on up.
Ian McCall: Holding Steady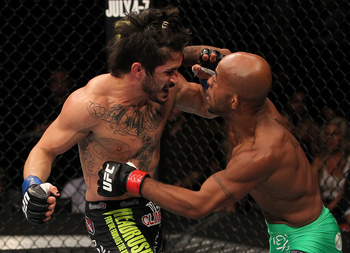 Photo by Josh Hedges/Zuffa LLC/Zuffa LLC via Getty Images
At the risk of sounding like I'm one of McCall's endless sea of diehard supporters, I think McCall's stock hasn't changed much after tonight's fight.
This time around, Demetrious Johnson won hands-down. What's more, McCall lost a chance at a title shot, and if he wants another, he'll have to wait until Johnson faces Benavidez for the flyweight title belt.
The reason McCall's stock is steady, though, is just that; he'll likely get another shot at the flyweight title belt, and that's chance will likely be soon. Tonight's match was still a tough battle, but it wasn't as close as last time.
McCall will be able to regroup, train some more, and further demonstrate his ability as one of the best flyweights out there. Until then, it's hard to assess where he truly stands—the fight's been lost, but his place hasn't been tested.
Demetrious Johnson: Rising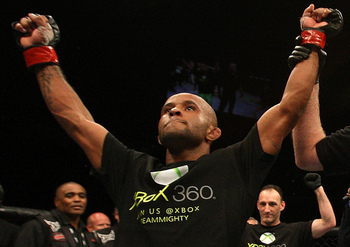 Photo by Josh Hedges/Zuffa LLC/Zuffa LLC via Getty Images
Demetrious Johnson was finally able to hear his name called as victor over Ian McCall and know that the win was completely his.
Johnson came in tonight, outstruck McCall, kept the tempo quick, and moved around without taking much damage. When his name was called, even McCall looked completely demoralized in knowing that Johnson was tonight's sure winner.
From here, Johnson goes on to face Joseph Benavidez for the flyweight title. After tonight's performance especially, that title fight promises to be an exciting one. Johnson's ability to make such promises in his victories is one more reason his stock is quickly rising.
Keep Reading