Does Chad Ochocinco Still Have What It Takes to Play in the NFL?
June 10, 2012

Marc Piscotty/Getty Images
It wasn't long ago when a receiver by the name of Chad Johnson gave defenses fits.
He was superb in and out of his breaks, he had quality hands that allowed him to catch passes with a wide radius, he could convert routes based off a cornerback's alignment and leverage and his talents forced defenses to game-plan around him by rolling a safety over him in fear of seeing the dramatic receiver dance in the end zone.
Today, he sits a shell of his former self.
Chad Ochocinco was recently released by the New England Patriots because of his inability to familiarize himself with the playbook and gain chemistry with star quarterback Tom Brady.
According Greg Bedard of the Boston Globe (h/t NFL.com), Ochocinco struggled in reading defenses and converting his stem to the necessary route in order to get open, which was evident on the field all last season.
This led to Ochocinco thinking too much while running routes, consequently slowing down his reaction time and disallowing him to play instinctively.
It may be one reason he appeared to have lost the short-area quickness that once made him one of the league's top receivers; however, he doesn't appear to lack it at the line of scrimmage. Instead, questions arise when he's separating from defensive backs. 
Albeit in less snaps than usual, Ochocinco showed initial quickness that allowed him to get off the line of scrimmage (at least) on multiple occasions. Take for instance against the San Diego Chargers in Week 2, when he caught a pass in the middle of the field for 30 yards.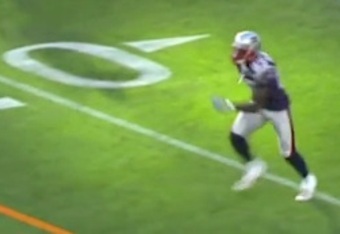 On the play, Ochocinco was loosely covered before the snap by cornerback Antoine Cason. Cason was playing in off-coverage because his responsibility is not to get beat vertically as a deep-third defender in the Cover 3. 
As the former Patriots receiver cut down the cushion, Cason continued to shuffle back, and that's when Ochocinco made his move. He planted his outside (right) foot to make a cut back to the inside.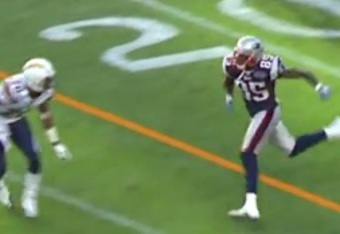 When he made his quick cut inside, Cason made a full turn and, as instructed in Cover 3, trailed Ochocinco from behind because he has help to the middle of the field from safety Eric Weddle.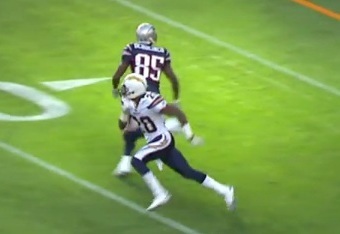 The end result is a grab by Ochocinco for 30 yards in the middle of the field. Ochocinco's quick feet on the dig (basic) route enabled him to get open into the middle.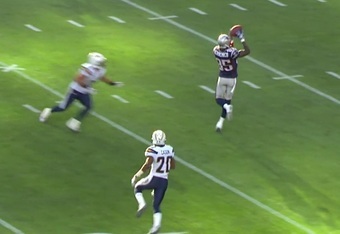 Another instance was against the Buffalo Bills' Leodis McKelvin. McKelvin would go on to intercept this pass because of an errant throw from Tom Brady, but the play of Ochocinco against the coverage is what raises some questions about his talent.
As previously noted, he still appears to have initial quickness off the line of scrimmage as can be seen here. He was played tightly by McKelvin on this play as the alignment of the defender indicates prior to the snap.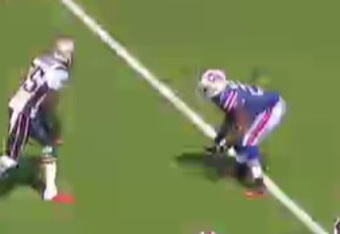 At the snap, Ochocinco misleads McKelvin by taking an outside step as if he's going out to a mandatory outside release.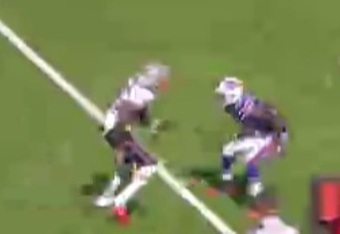 When he takes his next step, he goes inside and immediately puts McKelvin at a disadvantage because of the trail position. This is where Ochocinco's initial quickness still appears to be alive.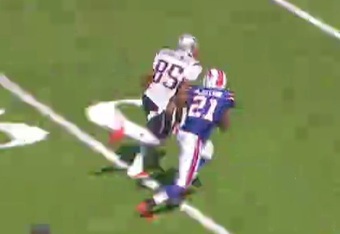 However, the next sequence is where questions surrounding Ochocinco's ability come into play. Despite winning at the line of scrimmage, the defender recovers and is in the hip pocket of the Patriots receiver.
Ochocinco's next step is his break inside, where he'll be attempting to run another dig route. When he plants his outside foot and breaks to the inside, he fails to create separation from the DB, who ends up getting positioning inside and taking away the opening (despite Brady forcing it).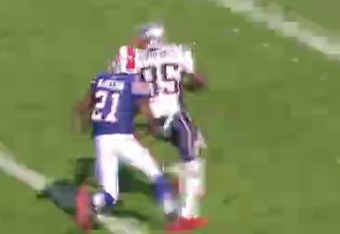 Separating from defensive backs at the break of the route is what will determine the future of Chad Ochocinco's career. He has to be able to do this consistently if he is going to continue to make plays down the field for his next team. If he doesn't, he won't last long in the NFL and may go the way of T.O.
Because of his inability to grasp the Pats' offensive playbook last season, Ochocinco appeared to have played slowly at times, which may explain why he was unable to quickly break off his route and get inside against defenders. 
The best way to find out if Ochocinco still has enough left in the tank is to work him out, which is what the Miami Dolphins plan on doing, according to Jason La Canfora of CBSsports.com (h/t KDFW Fox 4).
Judging by his 2011 form, he may still have some left to help a questionable Dolphins receiving corps, but they will have to get creative in how they use him because he does not have the ability to separate that he once had.
Ochocinco is best when on the line of scrimmage and running crossing routes that see defenders in a trail position. He needs to run rounded routes as opposed to sharp cuts, the routes the Patriots tried to force on him. He can also be effective when he is working back to the quarterback on routes such as comebacks and hitches. 
If the team that signs Ochocinco expects him to be able to beat cornerbacks with deeper routes, he is likely to have issues making big plays unless he is fortunate enough to have defenders make mistakes in coverage, as seen against the Denver Broncos and New York Jets. 
One thing is certain: Chad Ochocinco is no longer Chad Johnson.