NBA Playoffs 2012: What Boston Celtics Must Do to Avoid End of Big Three Era
June 9, 2012

Elsa/Getty Images
With the futures of Kevin Garnett and Ray Allen in doubt, the Boston Celtics aren't just facing elimination on Saturday, they're looking at the end of an era.
After taking a 3-2 lead over the Miami Heat, it seemed as if the Celtics had booked a trip to their third NBA Finals in five years. But with LeBron James providing a harsh reality check on Thursday, Boston is entering Game 7 with a unsettling ultimatum hanging over their heads: win and take another crack at the title, or lose and say your tearful goodbyes to the best teammates you've ever played with. 
Here's what the Celtics must do to prevent the Big Three era from ending on Saturday.
Take Paul Pierce off of LeBron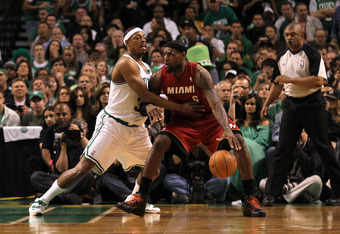 Jim Rogash/Getty Images
Paul Pierce was absolutely terrible in Game 6, scoring just nine points on 4-for-18 shooting (0-6 on threes). To get him going offensively, the Celtics would be smart to have somebody else defend LeBron for the majority of the game.
James is going to score regardless, so the Celtics should let Pierce save his legs for the offensive end. Guarding LeBron is one of the most physically taxing jobs in the NBA, and it can also take its toll on your minutes, as the foul-happy Pierce has found out in this series.
Boston should stick Pierce on Shane Battier, Mike Miller, James Jones and even Udonis Haslem whenever possible. This would prevent Pierce from getting so fatigued, while also keeping him out of foul trouble.
Set Screens for Kevin Garnett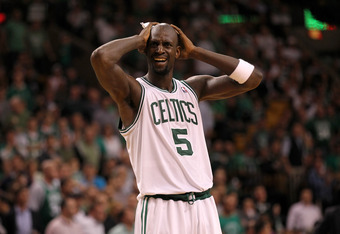 Jim Rogash/Getty Images
Garnett needs to have a monster game on Saturday, and given his intense competitive fire, I'm expecting him to deliver.
One way Doc Rivers can help him do that is by having smaller players set screens for KG in the mid-range.
The Heat switched virtually every screen in Game 6, which stifled Boston's ball movement and forced them into more isolation plays. But if the Celtics give the ball to KG at the high post, then have Pierce, Mickael Pietrus, Ray Allen or Marquis Daniels set a screen for him, they will be able to create mismatches and punish Miami for switching.
It may only work a couple times, but a few easy buckets in the first quarter would give the Celtics a huge confidence boost.
Pray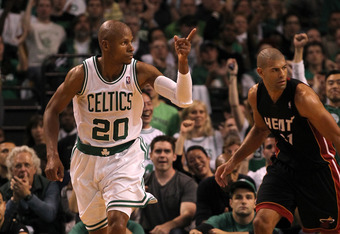 Jim Rogash/Getty Images
As lame as it may sound, luck is going to be a major factor in this game.
At the end of the day, Boston can execute their game plan perfectly, but if the Heat hit tough shots while the Celtics miss, they're not going to win. Really, there's not a whole lot the Celtics can do about it. There is an extremely small margin for error in this game.
They have to hope that Ray Allen hits more than 29.8 percent off his threes. Pray that Pierce and Garnett don't combine to shoot 10-of-32. Wish for LeBron James to miss some of the ridiculous shots he hit in Game 6.
It's not the most encouraging thought, but unless the Celtics have some good luck in Game 7, the Big Three era will be over.