2012 NBA Mock Draft: Lottery Teams That Will Be Playoff Bound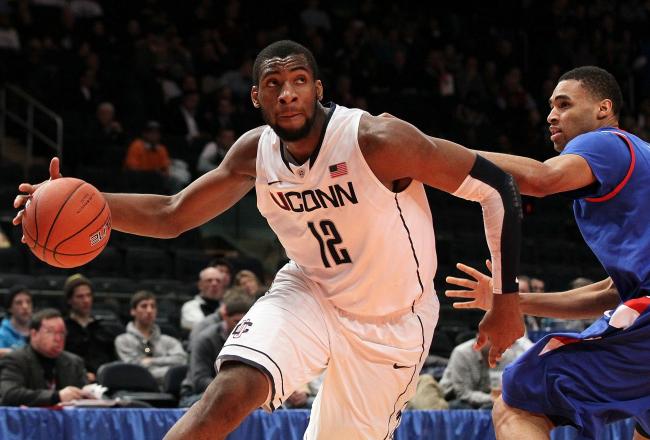 Jim McIsaac/Getty Images
The NBA lottery is designed to drum up interest in the whole draft process, yet it also makes it easier for a team on the outside of the playoffs to get in the mix sooner rather than later.
All 14 teams in the lottery believe that, with the right pick this year, they can be in positions to compete for a championship as soon as next season. That is why we follow along through this whole process and what keeps us coming back even when the draws do not favor our teams.
Here is a look at our latest mock draft, with special emphasis on the teams (listed in italics) which will make the right selections to get in the playoff mix next season.
1. New Orleans Hornets (21-45): Antony Davis, PF, Kentucky
The Hornets will be more formidable with Davis and Eric Gordon, but they are still a few big pieces away from being able to compete for a playoff spot in the Western Conference.
2. Charlotte Bobcats (7-59): Bradley Beal, SG, Florida
Beal will at least give Bobcats fans an exciting shooter worth going to see. He is going to need a lot of help to make this team respectable, let alone a playoff contender.
3. Washington Wizards (20-46): Michael Kidd-Gilchrist, SF, Kentucky
With Washington's finally getting pieces to play around John Wall, the Wizards will finally look like a respectable franchise, for the first time since before Gilbert Arenas was traded.
The depth isn't there for a playoff run yet, but they are headed in the right direction.
4. Cleveland Cavaliers (21-45): Andre Drummond, PF/C, Connecticut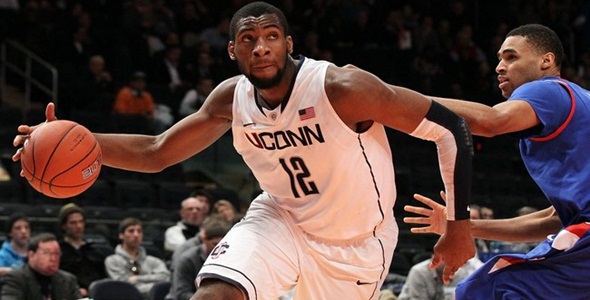 Courtesy of Hoop Doctors
Call me crazy, but I love what the Cavaliers are doing and think the future is going to start sooner rather than later. With Kyrie Irving's looking like a star at the point guard position, the Cavs need to find a post presence who can dominate down low.
Drummond is still very raw, and there are some questions about his intensity level, but the upside is there for him to be an All-Star center.
With two first-round picks this year, the Cavaliers are in a position to set themselves up for the immediate future.
5. Sacramento Kings (22-44): Thomas Robinson, PF, Kansas
With the Kings' finally figuring out where they are playing, they can now start building an actual team.
Robinson might not get this far, but if he does, he will make a terrific complement to Tyreke Evans.
6. Portland Trail Blazers (via 22-44 New Jersey Nets): Damian Lillard, PG, Weber State
The Blazers had a disappointing year, yet they still have a tremendous amount of talent. They also have the luxury of adding two lottery players this year, so it should be easier for them to get back in contention soon.
Their first order of business has to be finding a guard who can lead the offense.
Lillard is more of a score-first point guard. He can shoot the lights out and has shown a strong court presence. He is a sleeper candidate for rookie of the year.
7. Golden State Warriors (23-43): Harrison Barnes, SF, North Carolina
Barnes will give the Warriors another dynamic scorer to add to their backcourt.
If only they could figure out what to do with that defense, they would be set.
8. Toronto Raptors (23-43): Jared Sullinger, PF, Ohio State
With whispers about Toronto's possibly trading this pick, it is difficult to call this a firm choice. Sullinger is not one of my favorite players in this class, as I don't think he is strong enough to handle the power-forward spot in the NBA.
Given the lack of talent on the roster right now, whatever the Raptors do with this pick won't be enough to push them over the top.
9. Detroit Pistons (25-41): Jeremy Lamb, SG, Connecticut
The Pistons have been on a downward spiral for years. Lamb could be the player to get them out of their funk, but he has to be more consistent and learn to take control of the court with his athleticism.
10. New Orleans Hornets (via 26-40 Minnesota Timberwolves): Kendall Marshall, PG, North Carolina
This would be the perfect pick for the Hornets. After grabbing Davis at No. 1, they would add the most dynamic point guard in the draft. Marshall has to get more consistent with his shot, though his passing ability is off the charts.
Again, I still think they need more depth to make a playoff push. They are on their way; it is just going to take another year.
11. Portland Trail Blazers (28-38): Tyler Zeller, C, North Carolina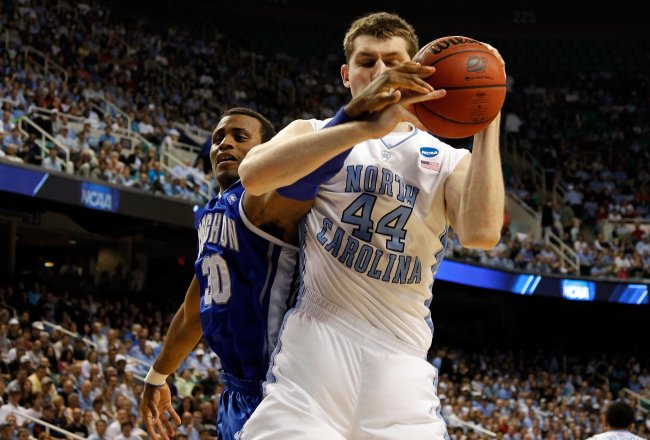 Mike Ehrmann/Getty Images
As mentioned with the Blazers' first pick, the team really isn't that far away from being a playoff contender. With some minor tweaks to the roster this offseason and a strong draft, Portland will be right back in the Western Conference mix.
Zeller is an underrated big man in this class, despite being a likely lottery pick. He is not going to be one of the elite centers in the NBA, though he does have the size and strength to bang down low.
He should be good for 10-12 points and a handful of rebounds per game.
The Blazers have a great opportunity to build from within again, as they did when they were going to be the next great dynasty in the mid-2000s.
12. Milwaukee Bucks (31-35): Terrence Jones, PF, Kentucky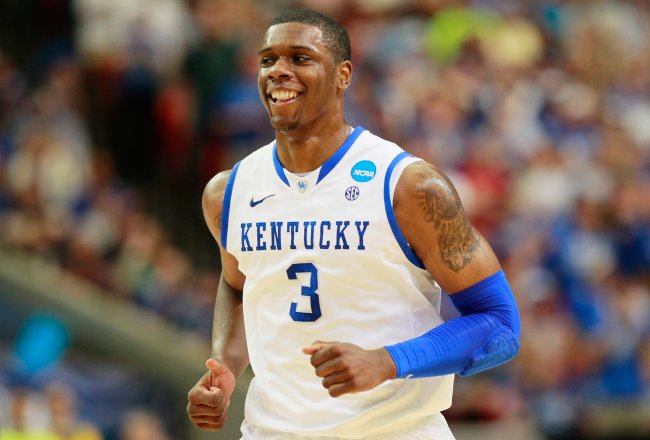 Kevin C. Cox/Getty Images
If the Bucks could find any kind of consistent scoring, they would be squarely in the mix for a playoff spot. That is where Jones becomes so valuable to this franchise and its playoff aspirations.
Jones entered the season as one of the most-hyped college prospects. He did not dominate the way everyone anticipated, so he could slide down a few draft boards. His upside is still there, though, and he did have a strong enough year with Kentucky to warrant a lottery selection.
Despite being a rookie, Jones could step in right away and be the second-best player on the team.
13. Phoenix Suns (33-33): Terrence Ross, SG, Washington
The Suns should look toward the future without Steve Nash; they will need a new face of the franchise around whom to build.
Ross is one of the best pure shooters in this draft class, with the size and athleticism to dominate.
14. Houston Rockets (34-32): Perry Jones III, PF, Baylor
Jones is the most Jekyll-and-Hyde player in this draft, but when he is on, there are few point guards better than he is.
The problem is that he has games in which he looks lost and confused about what to do.
Which Lottery Team Is Going To Have The Best Season In 2012-13?
15. Philadelphia 76ers (35-31): John Henson, PF, North Carolina
As the first non-lottery team, the 76ers should be looking to add some scoring to their defensive-oriented roster.
Henson is one of the stronger defenders in this draft. He is the best player available, which should be the way teams draft.
Either way, the 76ers are set up for a sustained window of success. They will be a fixture in playoff races for a long time.
16. Houston Rockets (via 36-30 New York Knicks): Arnett Moultrie, PF, Mississippi
Despite their addition of Jones with the 14t pichk, the Rockets will find Moultrie's combination of size, athleticism and polish too much to pass up.
If you were to bank on either one of their picks leading them into the playoffs, it would be Moultrie.
17. Dallas Mavericks (36-30): Meyers Leonard, C, Illinois
The Mavericks have a lot of big decisions to make this offseason. They took a big step back following their NBA championship run last year, and they need to get younger and more athletic.
Leonard is a one-dimensional defensive center at this stage of his career, but he is long and should be able to block shots and grab rebounds in his rookie season.
18. Minnesota Timberwolves (via 36-30 Utah Jazz): Austin Rivers, SG, Duke
Streeter Lecka/Getty Images
Rivers was garnering a lot of attention coming out of high school, as the son of Doc Rivers and a potentially dynamic scoring guard. His one year at Duke did not go as well as everyone hoped, as his shot was not as fully developed as anticipated and a he displayed lot of immaturity.
His pedigree is too strong to pass up at this spot; just don't expect him to be an impact player right away.
19. Orlando Magic (37-29): Fab Melo, C, Syracuse
Dwight Howard might have a loyalty t-shirt on the market, but he is not long for Orlando. The Magic have to plan for a future without their superstar.
Look for them to be picking in the lottery next year.
20. Denver Nuggets (38-28): Dion Waiters, SG, Syracuse
Waiters is a terrific hybrid guard, with the speed and passing ability to play the point and the shooting touch to play the 2.
The Nuggets need to add some defense, but a lottery-type talent at No. 20 is a great bargain.
21. Boston Celtics (39-27): Moe Harkless, SF, St. John's
The Celtics just keep plugging in holes to make deep playoff runs. Their time with this current group is coming to an end, so they need to find new, young legs around which to build.
Harkless is raw with a ton of upside, which is what this franchise needs.
22. Boston Celtics (via 40-26 Los Angeles Clippers): John Jenkins, SG, Vanderbilt
The older Celtics desperately need a new, youthful scorer who can step in right away. Jenkins is not the dynamic defender that Doc Rivers likes, but to keep their postseason hopes alive next year, they need to start adding offense.
23. Atlanta Hawks (40-26): Tony Wroten Jr., PG, Washington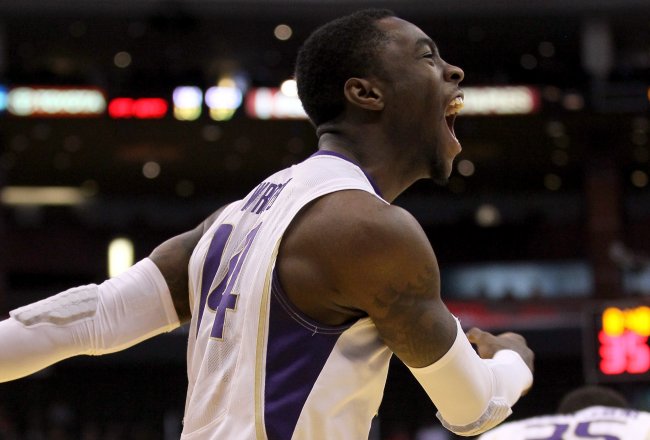 Stephen Dunn/Getty Images
The Hawks always fly under the radar, despite building a strong roster of good, young talent. They aren't title contenders yet, but with some minor tweaks, they could join the elite group of teams in the Eastern Conference.
Wroten is a tremendously talented, albeit inconsistent, point guard. His raw talent could lead him to go much higher than this spot, but his underwhelming season at Washington is likely to push him down.
24. Cleveland Cavaliers (via 41-25 Los Angeles Lakers): Quincy Miller, SF, Baylor
Another player who will be a big part of the Cavaliers' rebuilding effort, Miller is a dynamic forward who can play multiple positions and will contribute on both sides of the ball.
In a year, this franchise will be making a serious playoff push.
25. Memphis Grizzlies (41-25): Evan Fournier, SG, France
A weak foreign class will benefit the Grizzlies, who can take the sharp-shooting Fournier and let him develop before he takes his talents to Memphis.
26. Indiana Pacers (42-24): Marquis Teague, PG, Kentucky
The Pacers had a terrific year, but their flaws were exposed in the postseason. They need to get more scoring in the backcourt and find a point guard who can distribute.
Teague will solve both of those problems.
27. Miami Heat (46-20): Festus Ezeli, C, Vanderbilt
The Heat can get away with not having a good post presence because of LeBron James and Dwayne Wade, though it would make their lives easier if they had a capable center down low to take some pressure off their shoulders.
28. Oklahoma City Thunder (47-19): Royce White, SF, Iowa State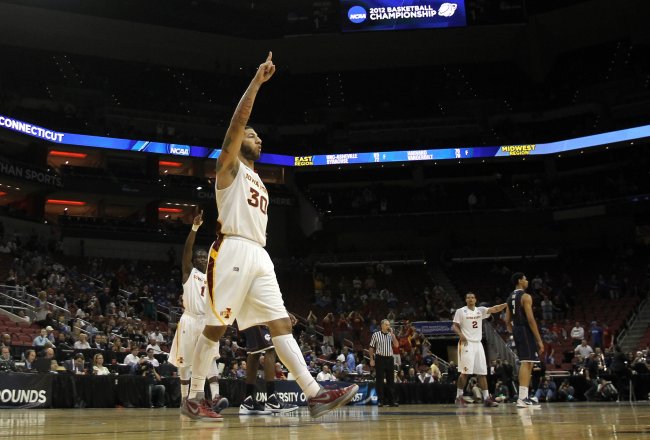 Jonathan Daniel/Getty Images
At this point, the Thunder really don't need another impact prospect; I am convinced they could just skip the next three drafts and be set for a dynastic-like run for the next decade.
Since they won't do that, White becomes yet another terrific piece added to this loaded roster. He is a big-bodied forward who can rebound and moves around incredibly well.
29. Chicago Bulls (50-16): Andrew Nicholson, PF, St. Bonaventure
Nicholson's shot keeps getting better, while his sterling defense doesn't need a lot of work.
The Bulls, who will be without Derrick Rose at the start of next season, need more dynamic scorers in their lineup.
30. Golden State Warriors (via 50-16 San Antonio Spurs): Draymond Green, SF, Michigan State
Despite Green's lack of elite skills, he is the kind of hard-nosed, do-it-all player the Warriors need to make a playoff push very soon.
This article is
What is the duplicate article?
Why is this article offensive?
Where is this article plagiarized from?
Why is this article poorly edited?