USC Football: Predicting Trojans' Top Stat Leaders for 2012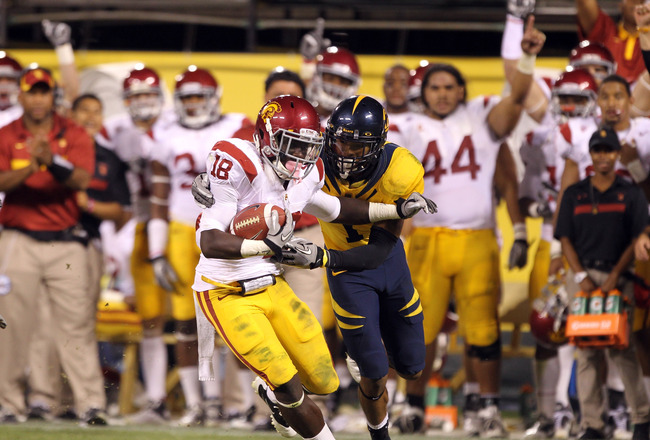 Dion Bailey
Ezra Shaw/Getty Images
This year promises to be a big one for USC, as 2012 finds the Trojans a preseason favorite to win the mythical BCS championship as the best team in the nation.
The presumption that USC will be very good is well founded, as it returns 17 starters from a 10-2 team that was playing as well as anyone by the end of 2011.
Led by Heisman front-runner quarterback Matt Barkley, the Trojans return a bevy of playmakers who should be making highlight films with regularity.
And while they do, they will be accumulating some impressive personal statistics, and those stats will be the driving force behind whatever record the men of Troy compile.
This slideshow will attempt to project the team leaders in six categories, three each for offense and defense, as USC attempts to craft the only stat that really matters, which is an impressive winning record.
So with a tip of the turban to "Carnac the Magician," here is one writers prognostication for the 2012 USC statistics leaders.
Passing (Matt Barkley)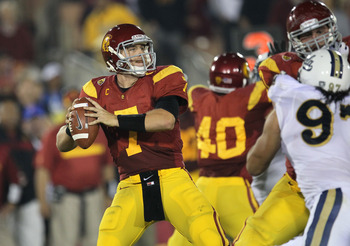 Stephen Dunn/Getty Images
This just in from the "department of duh:"
Barring unforeseen obstacles, quarterback Matt Barkley will lead the Trojans in passing.
Really, the only question is with USC's prolific offense is, how long will head coach Lane Kiffin allow Barkley to stay in what many expect to be lopsided games?
Kiffin will have to decide whether risking an injury to No. 7 is worth allowing him to pad his stats for a run at the Heisman or if grooming next year's replacement is ultimately more important to the Trojans' long-term plans.
Either way, Kiffin rolls the dice by having to choose to rankle the fans' desire to see Barkley chase the trophy or offering the next guy to lead the Trojans some game seasoning.
Whatever the case, Barkley leads the Trojans in this department.
Rushing (Curtis McNeal)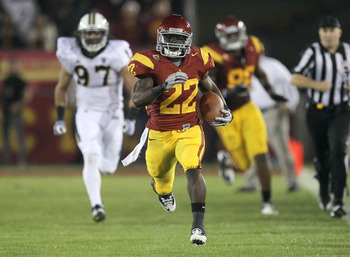 Curtis McNeal
Stephen Dunn/Getty Images
This is another "prediction" that isn't going out on a limb, but along with it comes a word or two of caution.
Curtis McNeal, who led the Trojans in rushing last year with a bit over 1,000 yards, will be the starter and the primary ball-carrier USC leans on this year.
But with the lack of depth in this unit, Lane Kiffin may be forced to use the diminutive McNeal excessively, especially if his backup, D.J. Morgan, returns to his proclivity for putting the ball on the ground.
McNeal is a tough but undersized running back which means by the end of the year, he may be worn out a bit which could come back to haunt the Trojans by bowl season if Kiffin isn't careful with how he uses him.
So the best-case scenario is for McNeal to be the leading rusher, but followed closely by Morgan or perhaps someone else.
Receiving (Marqise Lee)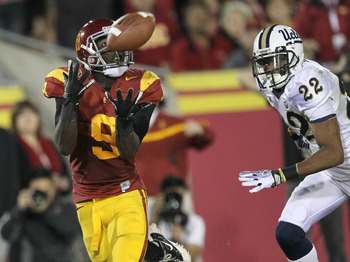 Marqise Lee
Stephen Dunn/Getty Images
Talk about your tough calls.
How do you go against a guy who had 111 receptions last year to set a new Pac-12 record?
Yet that is what I am doing when I predict that Marqise Lee will be USC's leading receiver in 2012.
Of course, it is not a stretch by any means when someone tabs a marvelous talent such as Lee to lead his team in receptions, even if it means relegating an incredible talent such as Robert Woods to second fiddle in this statistical category.
There are a couple of reasons for this assumption.
First, Woods is coming back from offseason surgery, which still finds him lacking medical clearance to return to contact drills and kept him from participating in the spring camp.
Also, in that same camp, Lee was simply unstoppable which was a carry over from his late 2011 production.
The logic—such as it is—is that Lee will be the primary go to guy until Woods finds his conditioning and returns to prime form.
Sacks (Devon Kennard)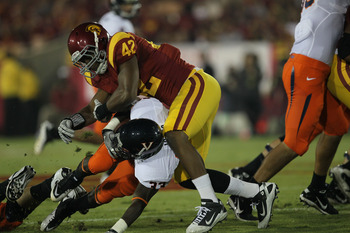 Devon Kennard
Stephen Dunn/Getty Images
As I attempt to peer into the future, I find this prediction comes with a major qualifier.
For defensive end Devon Kennard to lead the Trojans in sacks, the interior tackles, George Uko and either Antwaun Woods or J.R. Tavai, must play well.
Kennard has the talent to be a force off of the edge, and he knows that as a senior, this is his final chance to impress after an otherwise spotty Trojan career.
His defensive end counterpart, Wes Horton, also has the ability to create havoc in opponents backfields, but Kennard should be the "man" in the sack department.
However, if the inside guys disappoint, look for a linebacker, either Dion Bailey or Hayes Pullard, to lead the team in this stat.
How's that for fudging?
Interceptions (Isiah Wiley)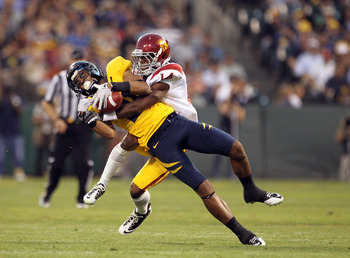 Isiah Wiley
Ezra Shaw/Getty Images
Betcha thought I was going to write that Nickell Robey would lead the Trojans in interceptions, didn't you?
Well, normally that would be true, but there are a couple of things to consider here.
See, the aforementioned Mr. Robey is good. Make that very good.
And the thing is, all of USC's opponents know that.
Therefore, intelligent quarterbacks will look to avoid Robey as much as possible, but the problem for them is, the other cornerback is pretty damned good too.
Isiah Wiley was a fairly confused but talented J.C. transfer when he came to USC last year.
Vexed by the playbook at the beginning of 2011, Wiley remained an intriguing prospect, if for no other reason, you don't find athletic 6'1", 200 lb, cornerbacks very often.
However, toward the end of last season, things started to come together for Wiley, and his solid play has led to a likely starting spot in 2012.
Avoid Robey and you get Wiley.
Fools gold, if you ask me.
Tackles (Hayes Pullard)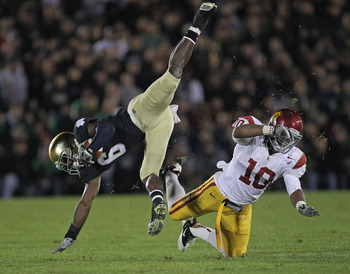 Hayes Pullard
Jonathan Daniel/Getty Images
This was really a toss-up between last year's tackles co-leaders, Dion Bailey and Hayes Pullard, both linebackers.
The decision to go with Pullard is based on size and history.
At 6'2", 225 lbs, Pullard is built more for the rigors of the linebacker position, and this was evidenced by Bailey's missing time last year due to injury.
Of course, Bailey can be forgiven for that because at 6'1", 195 lbs, he is built more like a safety (which he really is) than like a 'backer.
But size and injuries aside, Pullard is poised for a monster year in 2012.
He simply dominated in the spring and will use the fall camp to propel himself into discussion of postseason awards upon the completion of the 2012 campaign.
Look for huge things from Pullard this year.
Conclusion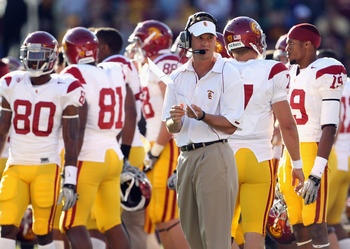 Jamie Squire/Getty Images
Of course, there are a bevy of statistics that this slideshow did not cover.
Tackles for loss, yards per reception, recovered and caused fumbles, etc., are only a few of the myriad of stats that will be left for other soothsayers to project.
At the end of the season, the coaching staff of USC will ponder all of these nice stats and make their own determination as to who played well and who didn't.
But they and the legions of Trojan fans will really only care about one statistic at the end of 2012, and that is wins and losses.
If USC dominates in that statistic, everything else won't matter.
Oh, except for one other statistic.
BCS championships won in 2012.
That one will always count.
Keep Reading

USC Football: Like this team?