Spain vs. Italy: Predicting Lineups and Score for Group C Showdown
June 10, 2012

Maurizio Lagana/Getty Images
Group C of Euro 2012 kicks off with the one of the most anticipated matches of the tournament, as Spain and Italy square off in a showdown that could decide who wins the group.
The competition has already hit the ground running with goals, two red cards and a penalty save in the opening two matches. Those who expected the weak Group A matches to be uninteresting were proved dreadfully wrong—but if Poland vs. Greece and Russia vs. Czech Republic were exciting to watch, we can only imagine what the tougher groups have in store for us.
Although Group B, the "Group of Death," will take all of the spotlight as we get to see Netherlands, Germany, Portugal and Denmark square off, Group C could be called a group of death as well. All four teams in the group are in the top 20 of the FIFA rankings, and while the FIFA rankings are notoriously bad at reflecting how good a team is, Group C is tough nonetheless.
Defending European and World Champions Spain will go into the tournament as favorites looking to make it three major international titles in a row; Italy are always a strong side; and Croatia and Republic of Ireland both seem capable of causing an upset.
While Spain are undoubtedly favorites to win against Italy, whose last result was a 3-0 loss to Russia, I have a feeling the Azzuri will get their act together and give Spain a good fight. Here are my predictions for the starting lineups of each side, followed by a final score prediction.
Spain
I'm expecting Vincent del Bosque's side to line up in a 4-2-3-1 formation, with four at the back followed by two defensive midfielders, three attacking midfielders and a forward up top.
Spain are strong in every single position with their midfield arguably the best at the tournament—I don't think I'm the only one who believes their substitute midfielders could still challenge for the trophy. Here's how I'm expecting the starting lineup to look: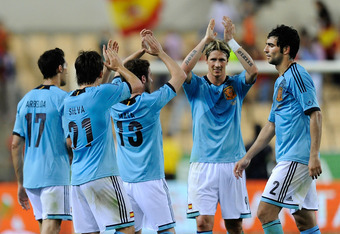 Denis Doyle/Getty Images
Goalkeeper: Iker Casillas
This is what you'd call a no-brainer. Casillas is arguably the best goalkeeper in the world, but with some starting to claim that that title could go to the rising Manuel Neuer, expect Casillas to assert his position as the world's best with rock-solid performances captaining Spain.
Left-Back: Jordi Alba
Alba is probably Spain's most versatile player, with the 23-year-old just as capable of playing left back as he is of playing left wing. He'll likely start at left back for Spain, but expect the Manchester United and Barcelona target to be as efficient as a winger when attacking.
Centre-Back: Gerard Pique
Generally regarded as one of, if not the best defender in the world, Gerard Pique will be the rock in Spain's defense. The Barcelona centre-back will have a mercurial Italy attack to deal with, and he'll likely be the leader of the defense in pushing up or dropping back in Spain's possession game.
Centre-Back: Sergio Ramos
Sergio Ramos can play at either right-back or centre-back, and I'm expecting him to start in the middle of the defense along with Pique. Like Pique, Ramos is also one of the best defenders in the world, extremely strong in the air and able to dispossess an attacker. He and Pique will be crucial to Spain's success in Euro 2012.
Right-Back: Alvaro Arbeloa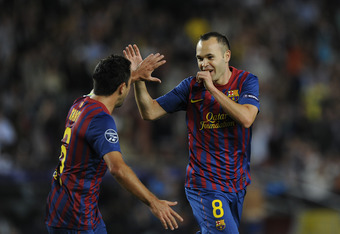 David Ramos/Getty Images
Although he's not quite as world class as the other players you'll see in Spain's starting lineup, Alvaro Arbeloa is still a solid right-back and the first choice right back for Real Madrid when Ramos starts in the middle.
Holding Midfielder: Xabi Alonso
Xabi Alonso is just as much of a holding midfielder as he is a defensive midfielder, in the sense that he's just as brilliant in breaking down an opposing attack as he is as the metronome in Spain's possession game from a holding position. As one of the best midfielders in the world, Xabi Alonso will be crucial in shutting down Italy's strong central midfield.
Holding Midfielder: Sergio Busquets
More famous for his diving and play-acting than he is for his performances with Barcelona, Sergio Busquets is one of the more underrated players in the Spain team.
More of a defensive midfielder than a holding one, Busquets will be protecting Spain's backline and keeping Italy's midfield from causing problems. He does a good job of doing just that, with 161 tackles and interceptions in La Liga this season.
Attacking Midfielder: Xavi Hernandez
Xavi is arguably the best midfielder at the Euros and the best midfielder in the world. He's the orchestrator of both Barcelona and Spain's tiki-taka style of football, completing 92 percent of his passes this season and 2,688 total passes completed, the second most in Europe.
Spain are likely to dominate their match against Italy, and Xavi will be the key component of it as always.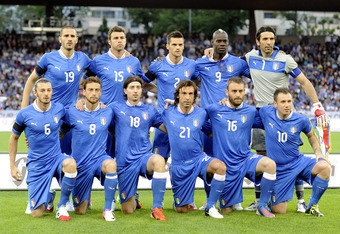 Claudio Villa/Getty Images
Attacking Midfielder: Andres Iniesta
Many are calling "Xaviesta" one of the greatest midfield partnerships ever, and the two will surely go down in history for the way they run the show for Barcelona and Spain. While Xavi will conduct Spain's attacks with his clockwork passing, Iniesta will give the Italian defense troubles with his silky skills and splitting through balls.
Attacking Midfielder: David Silva
This has probably been the first tough choice to make in Spain's starting lineup. David Silva and Cesc Fabregas are both equally world-class midfielders, and although they've each had stellar seasons for Manchester City and Barcelona, respectively, I think David Silva just edges it out.
Silva was arguably the best midfielder in the Premier League this season, and definitely the most creative in England. His league-leading 15 assists along with six goals helped Manchester City win the title, and his creativity could make the difference for Spain.
Forward: Fernando Torres
As much as it pains me to say this, I think Torres will get the starting spot as Spain's lone forward with Fernando Llorente on the bench. If it were up to me, I'd start Llorente without even hesitating—the Athletico Bilbao forward scored 27 times this season compared to Torres' 12 goals in all competitions.
Nonetheless, Torres will likely start due to his experience in the Spain side and the small pocket of form he's ran into in the past months. Hopefully for Spain, Torres will be the forward that he was in the last few months of the club season with Chelsea rather than in the first half, when he endured a 24-game goal drought.
Michael Steele/Getty Images
Italy
Despite losing their last three international friendlies to Uruguay, the United States and Russia, Italy will still be a team to watch out for in Euro 2012. Their qualifying campaign was extremely strong, going undefeated and only conceding two goals in 10 matches. To be honest, no one really knows what to expect from the Azzuri.
Their 3-0 loss to Russia was unlike Italy's usual strong defense, but I wouldn't take too many conclusions from that loss—all three goals were conceded by their backup keeper De Sanctis, two of them being errors that Buffon probably wouldn't have made if he was playing the second half.
I'm expecting Italy to play a 3-5-2 formation with two wing-backs instead of their usual 4-4-2 formation with a diamond in central midfield, due to Andrea Barzalgi not being fit to play. 
Goalkeeper: Gianluigi Buffon
At 34 years old, Gianluigi Buffon still remains one of the best goalkeepers in the world. One of the many Azzuri team members who were a part of Juventus' remarkable undefeated Serie A campaign, Buffon conceded just 20 goals for Juve due to both a solid defense (which we'll get to in a bit) and some magnificent goalkeeping.
After Casillas and Neuer, Buffon is in my opinion the best keeper at the Euros, and, as the captain of Italy, he'll have to be at his best for his side to get far in this tournament.
Left Wing Back: Federico Balzaretti
Italy's wing backs in their makeshift 3-5-2 formation have the potential to be game changers against Spain. As one of these wing backs, Balzaretti must take advantage of Spain's lack of width by acting as a winger on the counter attack.
The Palermo man plays best as an attacking-minded wingback, so as long as Italy's centre-backs take care of Spain's stacked midfield, hopefully Balzaretti won't be too tested at the back.  
Centre-Back: Georgio Chiellini
With Chiellini capable of playing both left-back and centre-back, I think Cesare Prandelli will have him playing in the centre of the defense, and with his two Juventus teammates partnering in the middle of the defense. Chiellini is one of the best defenders in the tournament, rock solid in the back and capable of scoring with his head from set pieces.
He'll play a crucial role for Italy in this match and will have to be at his best to keep Andres Iniesta (on the right side of Spain's 4-2-3-1) in his pocket for 90 minutes. Chiellini is certainly capable of doing so, as he showed in his starring role for Juventus in their undefeated campaign.
Centre-Back: Daniele de Rossi
Surprised? I was too when I found out that Daniele De Rossi is 99.9-percent sure that he will start as a centre-back against Spain.
However, I don't think it's necessarily a bad thing that De Rossi will have to play at the back—he'll likely act as a ball-playing defender in front of the other two centre backs, and as one of the best defensive midfielders in Europe De Rossi will have his work cut out for him with shutting out Xavi in midfield.
De Rossi will be absolutely crucial in whether or not the Azzuri will get a point or three against Spain. 
Centre-Back: Leonardo Bonucci
Although Bonucci is expected to be probed and questioned at some point about the recent match-fixing scandal in Italy, he will stay in the Azzuri squad, and I'm expecting him to start against Spain.
He completes the defensive unit of Buffon and Chiellini that were so brilliant and solid in Juventus' undefeated season, and like I said before I think that mentality of being a defensive unit will help the Italians. The Juventus defense was one of the best in Europe this season, and they'll have to be the same efficient defensive unit that they were all season in order to get a result against Spain.
Right Wing Back: Christian Maggio 
As we saw in the 3-0 defeat to Russia, Christian Maggio is no pure right back. He's vulnerable in defense and plays much better as a wing back making runs from the back on the right flank.
Luckily, that's the position he'll most likely be playing in against Spain, and because of Spain's lack of width, Maggio probably won't be tested in the defensive department. He'll be crucial on counterattacks for Italy, but don't expect any precision tackles from him on Iniesta or Silva.
Holding Midfield/Playmaker: Andrea Pirlo
Remember earlier when I said that Xavi has the second most total completed passes in Europe this season with 2,688? Andrea Pirlo is first with 2778. Pirlo is another member of the Azzuri squad who was crucial in Juventus' undefeated season, and the former AC Milan midfielder was arguably Juventus' best player in 2011-12.
The 33-year-old seems to be one of those players who gets better with age, and although people talk about the likes of Xavi, Iniesta, and Ozil staring at Euro 2012, Pirlo has been one of the best midfielders in Europe this season.
With his absolutely brilliant vision and passing range, Pirlo can literally make a chance out of nothing, and I think he'll have a huge impact on the match because of the fact that he plays a holding midfield position so he won't be shut down Xabi Alonso and Busquets, who play a similar position to Pirlo.
Attacking Midfield: Claudio Marchisio
While Andrea Pirlo is the playmaking midfielder for Italy, Claudio Marchisio is the goalscoring midfielder. His performances and 10 goals for Juventus this season helped them in their incredible campaign (don't worry, he's the last one), and he's definitely a player that can make the different for Italy.
Marchisio is capable of scoring when given a few yards of space with the ball on the edge of the box, and although he'll likely be kept quiet by Xabi Alonso and Busquets, he can produce goals out of half chances when at his best.
Attacking Midfield: Riccardo Montolivo
Montolivo is what you would call a complete midfielder. He can shoot from distance, dribble in close quarters, give a splitting pass—he can even tackle. He's the "trequartista" for the Azzuri, the most attacking midfielder in their three man midfield.
That said, his attacking position means he'll come up against Xabi Alonso and Busquets, and I think Montolivio will have a quiet game as a result of being shut out by Spain's defensive midfielders.
Forward: Antonio Cassano
Despite his heart problems this past season, Antonio Cassano has made the most of his 11 Serie A starts, getting a team-leading 10 assists for AC Milan and a rate of 100.5 minutes per assist, the second best in Europe.
Although he's not likely to cause many problems for Pique and Ramos, Cassano is more likely to give a good pass to his strike partner than he is to score a goal.
Forward: Mario Balotelli
Where to start with Mario Balotelli? The Manchester City forward will definitely be Italy's X factor—he could either produce a magical moment with the talent we all know he has, or he could reduce the Azzuri to 10 men.
Although I may be a bit biased because of my support for Italy, I think Balotelli will get his act together for the Euros and score a couple of goals for the Italians in the tournament. He's got the talent, he's got the support from midfield—now all he has to do is focus and play his football.
Final Score Prediction: Spain 1-1 Italy
Although this may be a bold prediction with Spain clear favorites to win, I think Italy will get a shock result against Spain.
My prediction is that Spain and Italy will somewhat cancel each other out, with Spain dominating possession in the match but only able to get one goal, and Italy scoring later on from a counterattack against the run of play to make it a 1-1 draw.
People will say that Italy's defense was horrible in the 3-0 defeat to Russia and that they'll be dispatched against Spain's attack, but against Russia the two most important members of Italy's defense—Chiellini and Buffon—were absent for when the goals were conceded.
I think that the Italians will sit back and defend for a good portion of the match against Spain's possession football, and once they've conceded a goal, they'll get one of their own from a counter attack (I'm betting it'll be from Balotelli).
What are your predictions?