Pacquiao vs Bradley Live Stream: Essential Online Guide for Tonight's Action
June 9, 2012

Kevork Djansezian/Getty Images
Here we are, the day of the clash between Manny Pacquiao and undefeated challenger Timothy Bradley.
This is a big fight for Pacquiao, who wasn't his usual dominant self against Juan Manuel Marquez in November.
As for Bradley, this is the biggest fight of his career. He puts his 28-0 record up against the eight-division world champion.
Some believe this is the time for a strong challenger to uproot Pacquiao. Others believe Bradley doesn't have what it takes to shock the world.
Here's a look at the upcoming bout tonight.
Where: MGM Grand Garden Arena in Las Vegas
When: Saturday, June 9 at 9 p.m. ET
Watch: HBO PPV
Live Stream: TopRank.com
Betting Line: Pacquiao (-450) and Bradley (+325)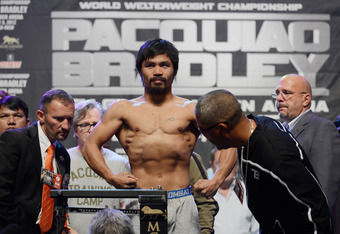 Kevork Djansezian/Getty Images
Expert Predictions
Fox Doucette, The Boxing Tribune (via FoxSports.com)
The only way Bradley is going to win this fight is if Pacquiao's personal and professional problems have left him unprepared...But if Bradley does the impossible? If a guy who has knocked out only 41 percent of his foes, and none of his world-class foes (a completely shot Joel Casamayor doesn't count), manages to stop a guy who has, admittedly, been stopped twice (both times early in his career before reaching the world stage), a star will be born.
Alex Mcmillan, EastSideBoxing.com
Marquez' style seems now universally heralded as the game plan to beat Pacquiao. A clever, considered approach designed to out-think him and have him second guessing where and when to throw.
While anyone would be crazy to write Pacquiao off in any contest, one wonders if he may just have picked the wrong fight this time.
Dan Rafael, ESPN
What I love are Bradley's intangibles. He's so focused and desperately hungry to win the biggest fight of his life. Pacquiao? This isn't his fifth-biggest fight. Maybe not his 10th-biggest. The level of intensity goes to Bradley. It could be the difference in a tight decision win.
Michael Woods, ESPN
[Bradley's] a solid pugilist and an immensely likable fellow, but Bradley squares up and loops his punches too much, and Pacquiao, the more nimble athlete and accurate puncher, is going to pick him apart.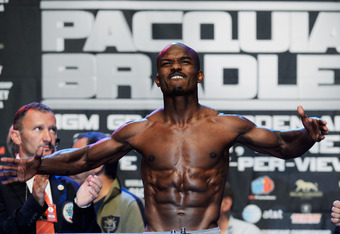 Kevork Djansezian/Getty Images
My Prediction
I primarily agree with Doucette and Woods. Pacquiao has more speed and power than Bradley, is more accurate, and knows how to battle out of a war, which Bradley has the potential to give him.
The problem for Bradley is he has to go for the knockout. If he tries to whittle away rounds from Pacquiao, he's going to find himself on the wrong end of a decision by the judges and in the same company as Juan Manuel Marquez.
But Bradley, like Doucette notes, doesn't have the power to knock out Pacquiao. His best chance to win is to win via decision. That's likely not going to happen unless he somehow gets in Pacquiao's head throughout the fight. Pacquiao appears much more focused than he was against Marquez, and Marquez is a better boxer than Bradley.  
Follow me on Twitter. We can talk about boxing together.