RGIII and the Washington Redskins Destiny: Do You Believe?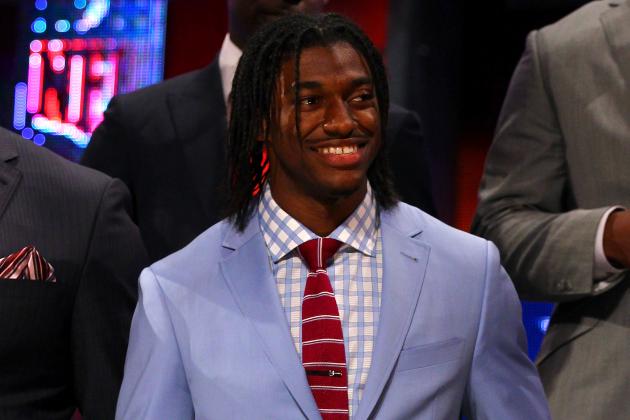 Al Bello/Getty Images
Do you believe in Destiny?
Do you believe in destiny my Washington Redskins fans? Do you believe in the idea that RGIII is here because he's supposed to be?
I was never one to ascribe supernatural reasons to anything, especially sports, but part of me simply must accept that there's something special going on here with Robert Griffin III.
I hesitated to write this article because I was afraid that:
1. People would take me seriously, and
2. People would actually believe the message.
This is a lighthearted, fun article. It's all tongue-in-cheek. Don't get too caught up in what follows, alright?
Anyway, after making a pilgrimage to Baylor today to see the field of the Heisman trophy-winning hope for the future, I just had to write about why RG3 is in fact destined to turn the Washington Redskins into a powerhouse team once again.
First, the background. My family has had season tickets for the Skins since 1937. During those years, we have been privileged to watch the entire history of the Washington Redskins unfold. We have also developed a few traditions of our own.
On draft day 2012, destiny clearly told the Carroll family that good times have come to Fed Ex field, and that the Washington Redskins have been giving the key to victory.
Here's why.
(All pictures in the following slides were taken by my long suffering wife on our trip today.)
Begin Slideshow

»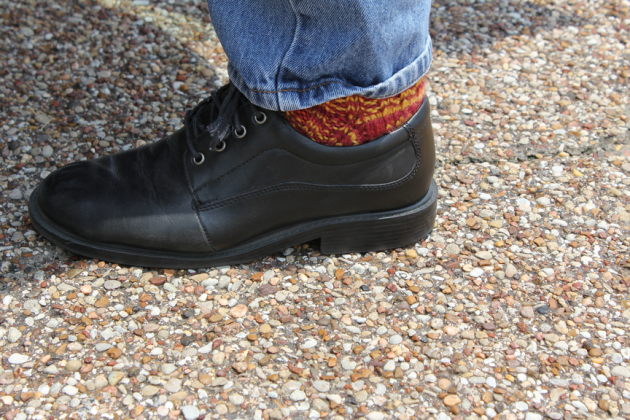 Redskins socks knit by my wife
I'm a sock guy. I also played football for nine years.
My nickname was Odd-Socks Carroll. I am not making this up.
When I wore odd socks on game day, we won more often than we lost. It quickly became a tradition to wear them, and my two best seasons in both little league and high school were 83 and 88. Look up the Redskins' Super Bowl appearances.
Coincidence? I think not!
Another non-coincidence? I wore white socks for the entire 84 season, and that year, my little league team changed their name to the Raiders. This is serious stuff here people. Believe it!
RGIII's socks are well-documented by this point, and I think we can all understand how important this is in the grand scheme of things. Clearly, socks determine far more than we ever suspected with regards to successful football.
Robert Griffin III brings the odd-sock tradition to the professional level, and I can't help but believe that this is a sign from whatever place destiny comes from.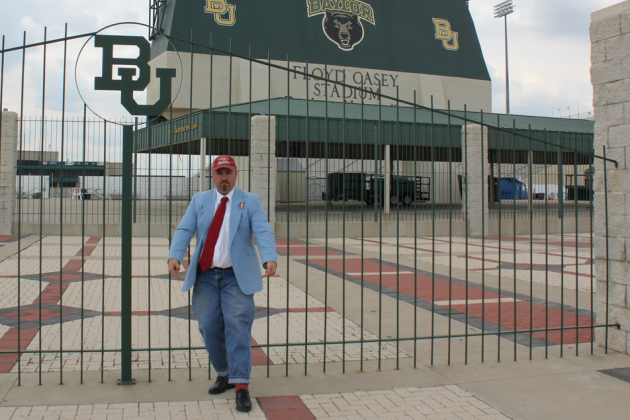 No, Mr. Griffin - you are not the first. You are the third
I am sorry to inform you, Mr. Griffin, but Daniel Carroll (not me, my grandfather) was wearing the light blue jacket and red tie combo long before you picked up your first football.
Every wedding, every big party and every time he wanted to make a point, Gran wore the very jacket you see in this picture. After his passing, it fell to me to wear it at family weddings, and other important family events.
When you showed up to draft day Mr. RGIII, you sent about 100 Carrolls into the twilight zone with your outfit. You stunned us into silence. You lifted our hearts as it became painfully obvious that you have been ordained by destiny to lead our glorious franchise back to NFC East dominance. My cousin actually sent me a message on Facebook telling me that Gran was smiling down on us from the pearly gates.
It doesn't hurt that you are the third person to wear such an outfit to a serious occasion. THIRD!!!!!
This cannot be ignored. These things don't just happen!
The next franchise QB for the Washington Redskins doesn't just decide to wear light blue on draft day! That's totally "Destiny" folks. You heard it here first.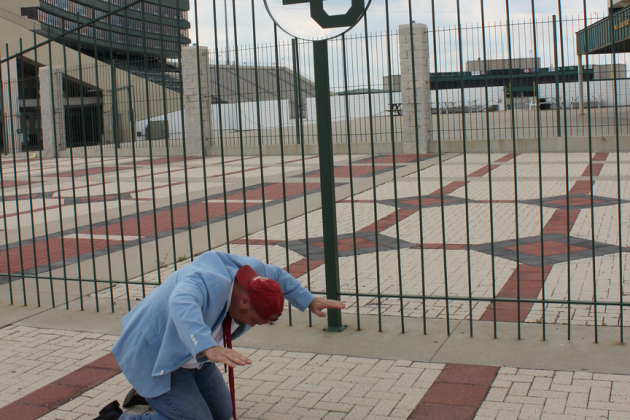 We're not worthy!
In the 60s, my grandfather found himself living in Texas for a few years until he was able to move back up to Silver Spring, Maryland. It's probably where he bought the jacket. The timings right, anyway. I'm not going to let facts get in the way of a good story right now.
In 2006, I found myself living in Austin, Texas, and suffering through a few rough years of Redskins angst in the middle of enemy territory.
However, I've been lucky enough to watch Robert Griffin, Orakpo, Armstrong, Robinson and the other Griffin (Cedric), play their college ball and go forth to join our team up in Washington.
Thus, my friend and I made the Pilgrimage to Baylor today to see where the Washington Revival got its most potent piece yet.
I will take this opportunity to state for the record that my friend and I will not be the last people to make this pilgrimage to the very gates of Baylor to see where our QB came from. Perhaps one day soon, the Burgundy and Gold faithful from all over the country will come here to wonder at the humble beginnings (they really could use some fresh asphalt on the parking lot if the traffic increases as much as I suspect it will) of our sky blue clad harbinger of hope.
It's a most gratifying feeling to know that so many important pieces of our team have come from Texas—especially when the Redskins begin to beat Dallas with a regularity that we can all enjoy. It can and will happen. Believe it!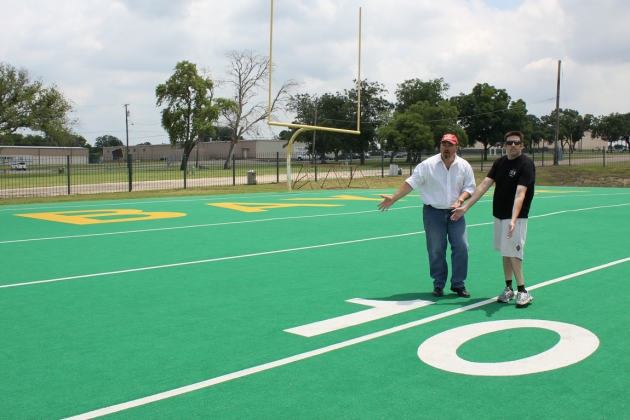 We even found your number just sitting on the practice field!
Conclusion? Well, I'm not a superstitious man, but even I can see that this is going to be a very special year for us Washington Redskins fans. Robert Griffin III is clearly right where he belongs, and we are clearly very lucky to have him as our new quarterback of destiny.
My friend and I even found a No. 10 on their practice field just sitting there for the whole world to see! That's incredible!
We had a fun time checking out the stadium and wandering around the facilities today, and it really is kind of exciting to know that this is where the Heisman trophy winner played before being brought up to Washington to help usher in a new era of competitiveness and relevance for the Redskins.
I hope you all had a few laughs with me on this bizarre and actually true list of slight, strange, and tenuous connections between my Redskin fanatic family and the new starting quarterback for our beloved Washington Redskins.
Just remember...
There's no such thing as destiny...or is there?