Pacquiao vs Bradley Fight Time: Complete Guide to Tonight's Action
June 9, 2012

David Becker/Getty Images
Any time Manny Pacquiao is fighting at the MGM Grand is Las Vegas, it is sure to be a spectacle.
Pac-Man will be taking on undefeated Timothy Bradley in order to defend his World Boxing Organization welterweight title.
Bradley is a talented fighter, and at 28 years old he is younger than the 33-year-old Pacquiao. But Desert Storm has also never fought anyone on Pac-Man's level. 
Here is everything you need to know about the fight.
Where: MGM Grand, Las Vegas, NV
When: Saturday, June 9, 9 p.m. ET
Watch: HBO Pay-Per-View (click here for ordering information)
Odds: Manny Pacquiao: -450, Timothy Bradley, +325 (courtesy of Bovada)
Bradley's Keys to Victory
Bradley does not have the power to knock out Pacquiao as only 12 of his 28 victories were knockouts. He will need to stick to a game plan and execute it to perfection.
Bradley is a slippery fighter who is incredibly difficult to hit. He is younger than Pac-Man and in fantastic shape. He must be constantly moving and make Pacquiao chase him for all 12 rounds.
If Bradley can play perfect defense throughout the bout, he will just need to pick his spots wisely and land punches here and there. If Desert Storm can do these things, he will win via a decision.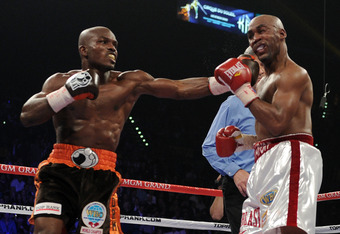 Harry How/Getty Images
Pacquiao's Keys to Victory
Pacquiao is the better, more experienced fighter. He must be aggressive and take the fight directly to Bradley.
Pac-Man has a major power advantage, but Bradley is very hard to hit. The Filipino fighter must constantly chase Bradley around the ring and get him into a corner.
If Pacquiao is able to get a clean shot at Bradley, he has the juice behind his punches to drop the challenger. The key for Pacquiao will be staying on the offensive the entire fight.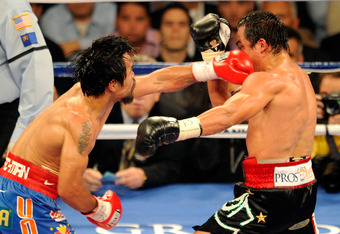 Ethan Miller/Getty Images
What the Fighters Are Saying
Bradley's problem in this fight will certainly not be a lack of confidence. He said, via FoxNews.com:
There is no secret to this, order to beat the champion you've got to take it to the champion. We are setting out to win this fight and not sit around and look pretty. I don't care what (Pacquiao trainer Freddie) Roach says or what Pacquiao says, I am ready to go.
Pacquiao has been forced to answer questions concerning just about everything but boxing leading up to the fight, but he was able to briefly say, "I want to prove that I'm still young, and I can still fight," via the Washington Post.
What the Experts Are Saying
ESPN.com's Dan Rafael thinks Bradley will pull off an upset. He explains why in this quote.
I look at Bradley and see the livest 'dog in a Pacquiao fight that I've seen in years. Bradley has a lot going for him. First and foremost, he's an excellent fighter. He has won multiple junior welterweight titles, he's undefeated and, more important, he's undefeated against quality opponents.
SI.com's Chris Mannix doesn't think Bradley has what it takes to beat Pacquiao, and definitely is not shy about saying it.
Come on, really? Bradley is an easy-to-hit fighter with a questionable chin, zero power and a willingness to trade punches. What am I missing here? I know, I know: Juan Manuel Marquez gave Pacquiao a lot of trouble in their last fight. But Marquez is a tactician with 24 rounds of experience in the ring with Pacquiao to work with; Bradley has not been in with anyone close to that level.
Prediction
Pacquiao wins by unanimous decision.
Bradley has never been in the ring with someone as good as Pacquiao before.
This does not mean it will not be a close fight, but Pacquiao's power will surprise Bradley at times. The champ will land enough punches to win in a decision.