Stanley Cup Finals: New Jersey Devils Try to Lure Charlie Sheen from LA Kings
June 8, 2012

Charlie Sheen may get the red carpet treatment for doing little more than going out for a smoking break, and I may be done trying to understand human beings altogether. 
It seems that the New Jersey Devils are trying to woo Charlie Sheen to watch the game in their arena for Saturday's game 5 with the LA Kings, as if he were some boozed-up muse that would guarantee victory. 
CBS News reports on a story that will annoy me well until my first Friday night sip of whiskey. It seems the Devils are trying to hone in on the market of insufferable celebrities that were once canned from their own show. 
Charlie Sheen is a good start. 
By now, most of you heard about Sheen going to game 4 at the Staples Center, walking out to have a smoke and then not being let back in. 
I know that the majority who heard that story wept openly for a man that just wanted to see the Stanley Cup Final, though he professed to not be much of a hockey guy.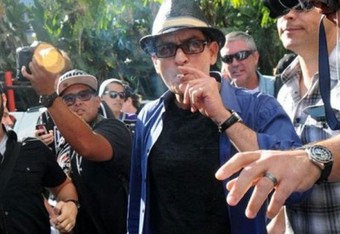 I, for one, wanted to start a charity to make sure Sheen's life was better after such an atrocity. I will ask Siri to remind about this later. 
The Devils are trying to make it all right with this tweet.
We'll treat you w/courtesy&common sense @CharlieSheen come to the game tomorrow we have great staff & a smoking balcony ow.ly/i/Gp1b

— New Jersey Devils (@NHLDevils) June 8, 2012
It then included a link to this picture.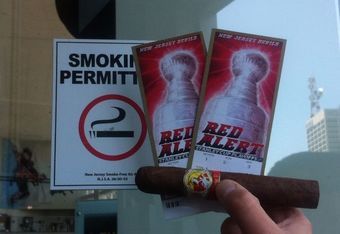 Courtesy and common sense, from where my fat ass is sitting, means giving those free tickets to a fan who will enjoy them. 
Ah, but I get a little nutty on Fridays. 
This is not to say that I don't love me some Sheen, because his shtick as a winner is pretty hilarious to me, at times. He is what he is and that is alright by me. 
I just don't think the Devils should sell their souls to have the actor from Men at Work in their suites. I could be wrong, but I doubt it. 
Hell, if he does go, the headlines could read, The Greatest Trick the New Jersey Devils Ever Pulled Was Getting Charlie Sheen From the LA Kings. 
That might be nifty. I smell a Sheen-sized jinx coming for the Devils if the gifted albeit pampered actor shows up to smoke cigs and passively watch the game. 
Good move, New Jersey. You won the celebrities trying to win back their career demographic. Ticket sales should rise next season. 
Follow me on Twitter and get up-to-the-minute awesome with a side of BAM.