Manny Pacquiao: Pac-Man Must Defeat Soft Challenger Impressively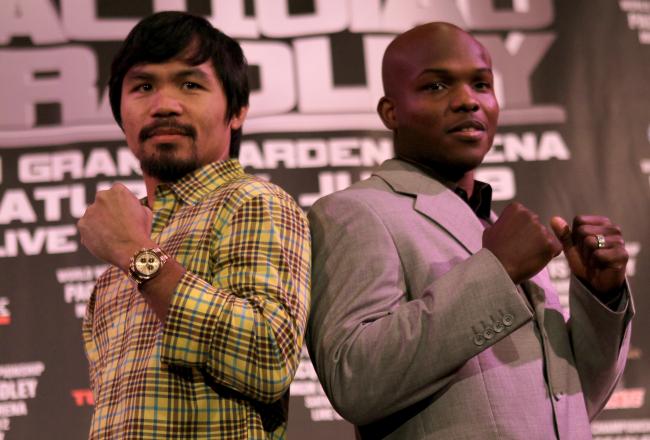 Manny Pacquiao has things to prove against Bradley.
Stephen Dunn/Getty Images

He sat there on a wicker suitcase in a causeway of a Memphis airport, smiling and nodding sporadically at those passing by that recognized him from the previous night.
Manny Pacquiao was a curiosity to some fight fans that June 2002, stopping Jorge Eliecer Julio in a neat, crisp two rounds on the undercard of the Lennox Lewis-Mike Tyson fight in Memphis.
Since then, the days of flying commercial are well over for "Pac-Man," as are sitting alone anywhere in the world where maybe just a handful may know who he is.
Pac-Man is a world-renown icon now. And with icons, expectations, high expectations, come along with performance. It's why he's become a megastar. He's been able to handle the every-night pressure that comes tethered to being an icon.
It's why the chirping reached Pacquiao's ears after his most recent bout against Juan Manuel Marquez. Many thought Pacquiao lost. Many began questioning his commitment to the very sport that has placed him at the pinnacle of the sports world. Many began wondering if he was spreading his energies too thinly. Many began to question Pacquiao's invincibility.
It was too many questions for Pacquiao.
So throw out the smiling, sing-song Pacquiao. Throw away the affable Pacquiao that throws around "God bless you's" to everyone like confetti. Pac-Man wants and needs an emphatic victory over rugged Timothy Bradley Saturday night for Pacquiao's WBO welterweight title.
"Manny has nothing to prove, not in my mind," said Freddie Roach, Pacquiao's Hall of Fame trainer, back when the fight was announced in New York City. "Tim Bradley is a young, hungry fighter and we know that. But Manny will have a strong training camp, and he'll show why he's the best fighter in the world."
But to fill some of the fissures of doubt that have leaked through Pacquiao's once-thought invincible veneer, he's going have to pound on the undefeated Bradley.
Pacquiao hasn't stopped an opponent in his last four fights. Before his most recent four fights, the small dynamo that fights for a nation had a four-fight winning streak where he stopped all four opponents. That roster included an enervated Oscar De La Hoya, Ricky Hatton and Miguel Cotto—three fighters beyond the caliber of any foe Bradley has ever fought.
Pac-Man needs a dominating victory to prove he's still the same fighter he once was. Bradley could be the perfect foil to prove that, since "Desert Storm" will be fighting only his third match at welterweight in the last six years. He could train with rocks, and fight with an attitude that says he has nothing to lose. But he never stepped into the right against someone like Pacquiao.
This fight promises to be fun and competitive. We're talking about two fighters that aren't afraid of risk, although the pressure will be placed squarely on Pacquiao's thick shoulders. And every time that's happened in the past, Pac-Man has risen to the challenge.
Pacquiao knows to continue being "Pac-Man" he'll need to be incredible.
Throw out the smile. Throw out the kumbayas. Pacquiao will be aiming to return to who he is and who he likes to be—the most dominating fighter in the world. That means squashing a game, undefeated fighter who plans on keep coming forward.
Joseph Santoliquito is a Featured Columnist for Bleacher Report. Unless otherwise noted, all quotes were obtained first-hand.
This article is
What is the duplicate article?
Why is this article offensive?
Where is this article plagiarized from?
Why is this article poorly edited?