Big 12 Basketball: Debating the Best Point Guard of 2012-13
June 8, 2012

Ronald Martinez/Getty Images
As obvious as it may be, the point guard position is one of the most crucial to the game of basketball. Most especially for college basketball, in which teams are still maturing and adapting to the increased speed of the next level.
As such, it is only fair that the best point guard of the Big 12 is debated.
Next year, the Big 12 may be one of the longest conferences in the country, boasting such big men as Isaiah Austin, Jeff Withey and Cameron Ridley—just to name a few. However, it will also boast one of the best point guard classes as well.
The three obvious names that jump out right away are Pierre Jackson (Baylor), Myck Kabongo (Texas) and Elijah Johnson (Kansas).
Jackson is going to be one of the most important players to the Bears next season, who will be playing with a brand new frontcourt. He is not the tallest guard in the game, standing at only 5'10'', but he more than compensates for that with his vertical and ability to explode to the basket.
Jackson's biggest plus, however, is that he is a true point guard. He looks to pass the ball and run plays before he takes the shot for himself. Yet, he has shown that he has a great shooting touch and range. He even has the ability to make the clutch shot, giving Baylor eight game-winning or go-ahead shots last season.
Kabongo is one of the most interesting point guards for next season.
He was one of the highest recruits coming out of high school, but did not have a star-studded season or blow anyone out of the water. Part of that was because he was overshadowed by J'Covan Brown, who liked to put up big numbers by himself.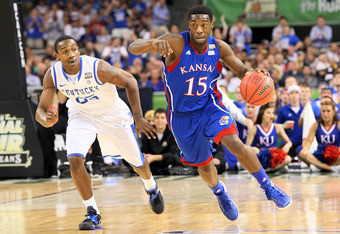 Jeff Gross/Getty Images
Even so, Kabongo is one of the smartest guards in the game. He has fantastic vision and a great sense of knowing when to pass the ball and when to keep it.
Even if he does not become the best point guard of the Big 12 next season, he will most certainly have a better season than last year.
Johnson has, perhaps, the most potential of the three.
He played at the two position more than the one last year, shooting behind Tyshawn Taylor. Now, this pure athlete has the ability to put up not only huge points next year, but a great number of assists, passing to Jeff Withey and Perry Ellis.
It remains to be seen just how great his vision and instinctive passing ability are, but he has huge upside.
Even though these three are dominating the top of the power rankings going into the season, there are some dark horses out there.
Sam Grooms of Oklahoma is looking to bring the Sooners back to relevance on the college basketball landscape.
Grooms has a great ability to sweep back and forth across the floor with his eyes, is a vocal leader and can run plays very well. If he can develop and refine his shooting motion in the offseason, he can be one of the most dangerous in the Big 12.
The next name might surprise some.
Jabarie Hinds of West Virginia was a four star recruit coming out of high school in the 2011 class. Yet, he did not quite make a name for himself, averaging only 3.3 assists in just over 28 minutes per game.
However, Hinds still has a great sense for the point guard position. He is very strong and athletic and can put up big points when given the chance.
He may not be overly impressive now, but he should develop nicely given time.
The Big 12 point guard class is not one to be taken lightly, and it is clear that a good amount of them will have some impact on next year's schedule.
Who do you think will be the Big 12's best point guard next season and why? Sound off in the comments.