UFC on FX 3 Results: Matches to Make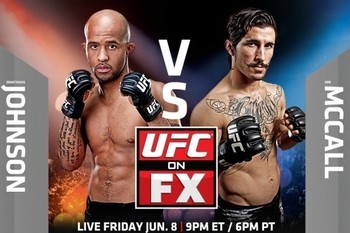 bleacherreport.com
UFC on FX 3 came and went Friday night, providing surprising winners and a finalist in the flyweight tournament. South Florida received a decent show, courtesy of the Harley-Davidson Hometown Throwdown.
Demetrious Johnson came out as the top contender for the flyweight belt against Joseph Benavidez. In addition to that, a prospect continued to show his legitimacy when Erick Silva choked out Charlie Brenneman in one round.
Where does each fighter go from here? Let's take a look at who should be each fighter's next opponent.
Begin Slideshow

»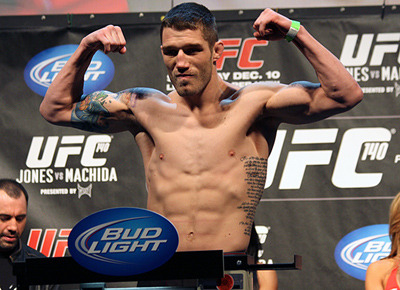 mmajunkie.com
Not everybody on this card will make it out with their job. There were several guys who lost their fights, and in my opinion, will be cut from the promotion.
Following his second loss in a row, Jake Hecht will probably receive his walking papers. He was largely unimpressive in his unanimous decision loss to Sean Pierson, showing limited stand up skills. He was unable to get the fight to the mat, which left him to be a fish out of water.
Also on the chopping block is Bernardo Magalhaes, who is now 0-2 in his UFC career. For his second straight fight, Magalhaes has shown extremely poor striking and a reliance on his jiu-jitsu game which cannot be utilized without strong takedowns.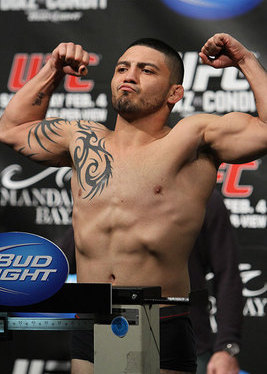 MMAweekly
It wasn't an exciting fight like his debut, but Henry Martinez got the job done tonight in his unanimous decision victory over Bernardo Magalhaes. Martinez's counter-wrestling was the difference maker, as he fended off constant takedown attempts from the Brazilian.
With his UFC lightweight debut deemed a success, Martinez must look forward to his next opponent, which he could face soon seeing as he didn't sustain much damage in his fight.
A meeting with recent Ultimate Fighter contestant Sam Sicilia, who is coming off a win over former Magalhaes teammate Cristiano Marcello, could be in the works. Sicilia has big power on the feet, which would match-up nicely with Martinez's great technique and fast hands.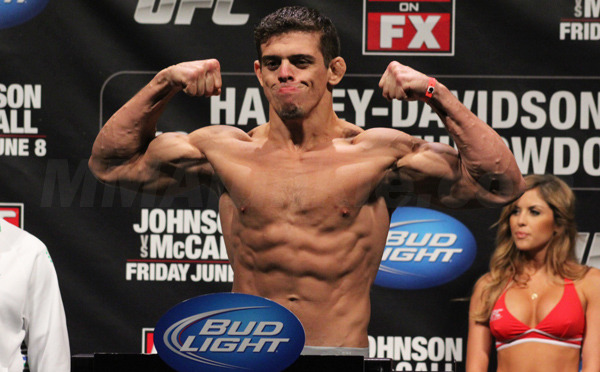 mmajunkie.com
Caio Magalhaes did not win his fight against Buddy Roberts tonight, showing Octagon jitters in his debut with the UFC. Magalhaes was unable to get Roberts to the mat, which led to a one-sided kickboxing match.
Magalhaes will not go one-and-done with the company, as he still has some promise. He is young in his career and will need to continue developing as he goes along.
Another middleweight prospect that matches up with Magalhaes well is Magnus Cedenblad. The Swede had a valiant outing in his UFC debut, which eventually saw him submit to Francis Carmont. These two could put on a great fight, while at the same time earning valuable experience.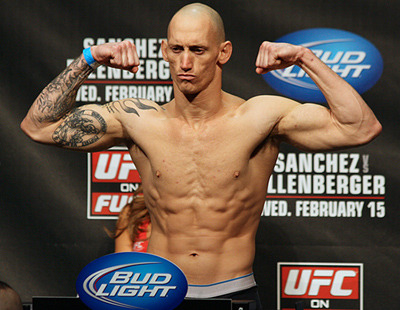 mmajunkie.com
Buddy Roberts looked very good in his unanimous decision victory tonight, using great takedown defense and solid striking to earn the win over Caio Magalhaes. The Greg Jackson product looks like he is mentally prepared to handle the pressure the UFC Octagon brings.
Roberts was scheduled to make his debut earlier this year against Sean Loeffler, which did not materialize as Loeffler got injured the night of the fight. This fight left me wanting more, so this matchup should be next. It will be a stiff test for Loeffler and a nice follow-up for Roberts.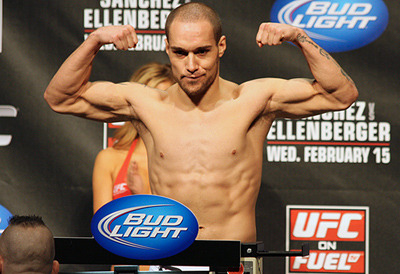 mmajunkie.com
After an impressive debut victory over Anton Kuivanen, Justin Salas was ran into a stud-in-the-making in Tim Means. He lasted just over a minute long, before the referee saved Salas from Means' onslaught of strikes.
Salas is still a good prospect in the lightweight division, he just ran into a better man in Means. A bout with Marcus LeVesseur, another recent loser in the lightweight division, could serve as a nice "loser leaves town" match, pitting wrestler against wrestler.
Sometimes, those matchups are the most exciting, as the wrestling cancels out on both sides.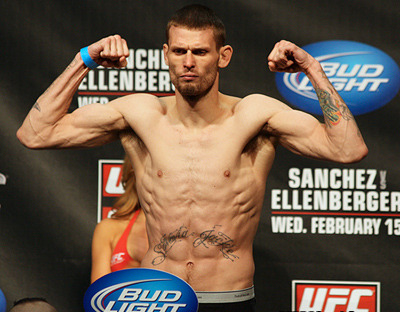 mmajunkie.com
If there is one thing Tim Means has proven in his two UFC fights, it's that he is ready for experienced, dangerous competition. Tonight, Means put Justin Salas away quickly with precise, powerful strikes.
Means is a tough fighter who is tall, long and powerful. His striking is fantastic to watch, as seen in his dismantling of Bernardo Magalhaes and Salas.
Paul Taylor recently dropped out of his scheduled bout with Anthony Njokuani, leaving himself without an opponent until he heals. He is a good test for the young Means to fight, as Taylor has the striking to give Means problems.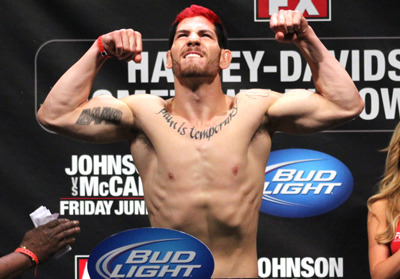 mmajunkie.com
The only reason I think Papazian won't get cut after his loss to Dustin Pague is because of the exciting style he brings and his intensity in fights. He very well may be cut, but I think the UFC needs him for their thin bantamweight division and he brings the type of excitement to help build the division.
Assuming Papazian gets one more chance, he is in a must-win situation. His ground game was exposed by Pague, who got him down with ease and tapped him quickly.
Byron Bloodworth is also in need of a win, so a fight with Papazian could serve as a win-or-go home fight. Bloodworth and Papazian both have UFC losses to Mike Easton, so this could prove who is worthy of another chance.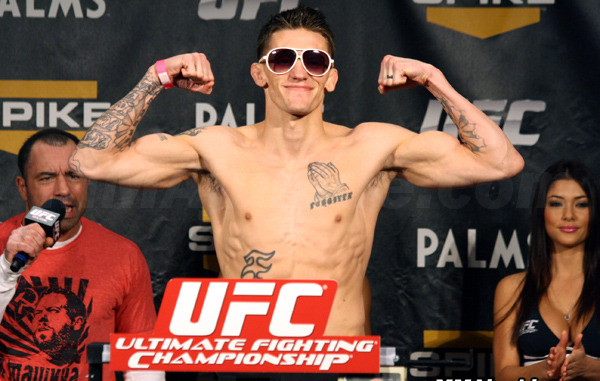 mmajunkie.com
Dustin Pague proved tonight why the UFC kept him around, despite losing at The Ultimate Fighter 14 finale. Pague wasted no time in getting on the inside of Papazian, scoring a takedown and eventual submission to earn the win.
Pague is primarily a striker, but it was nice to see him show off his ground game. A bout with a guy with a stronger ground game would be a nice test for Pague, and their are an abundance in the bantamweight division.
Erik Perez is coming off a controversial win over a common opponent of Pague in John Albert. Perez showed off a solid submission attack in that fight, which could test Pague nicely should they be matched up.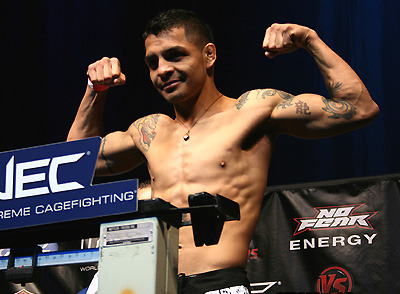 mmajunkie.com
If the UFC cut Leonard Garcia after this fight, I would not be surprised. He hasn't had a non-controversial win since his knockout win of Jens Pulver in 2008.
A king of winning controversial split decisions, Garcia is fan-friendly, but not technical. He is able to get into crazy brawls because of his lack of discipline and indestructible chin.
He is in a must-win situation after this fight. A fight with fellow brawler Maximo Blanco would be a barn burner of a fight and show who still belongs in the UFC and who doesn't.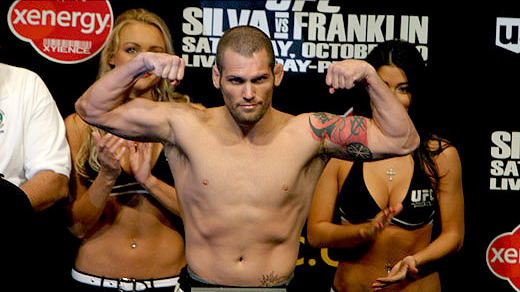 MMAweekly
Matt Grice likely saved his job tonight, using a relentless wrestling attack to put away the always dangerous Leonard Garcia.
Grice has looked great since dropping to featherweight, despite dropping his UFC featherweight debut against Ricardo Lamas. He is still at the lower part of the division, but another win could push him up.
Robbie Peralta is currently without an opponent and in the same position as Grice. This matchup could be a nice bout to see who moves up the ladder and who needs to go back to the drawing board.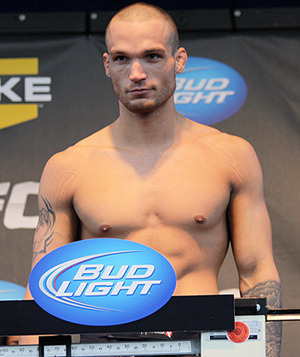 mmajunkie.com
Lance Benoist had some good moments in his split decision loss to Seth Baczynski, even though he did throw two illegal knees that landed.
Benoist is definitely a promising prospect in the welterweight division, as shown in his first to UFC outings. He has great submission skills with solid striking to compliment his ground game.
He needs to get back to the win column, as does Stephen Thompson. Both are young guys who need to rebound after disappointing losses. Both men could prove to be great adversaries against one another.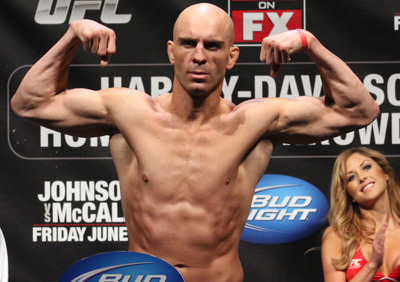 mmajunkie.com
Both Seth Baczynski and Sean Pierson put on respectable performances on the preliminary card, both earning decision victories over Lance Benoist and Jake Hecht, respectably.
Baczynski used a superior clinch game and a stifling top game to earn a curious split decision victory (29-28, 29-28, 27-30, what was that last judge watching?). This makes it three straight wins in the Octagon for "The Polish Pistola," who needs to continue getting wins.
Pierson fought a largely uneventful bout in his fight, using superior grappling and striking to earn a unanimous decision. Pierson is now 2-2 in the UFC, only losing to top flight competition in Dong Hyun Kim and Jake Ellenberger.
These two could cross paths in their next bout as the timing and place in the division is pretty similar. It would be an interesting affair, as both guys are on the same skill level.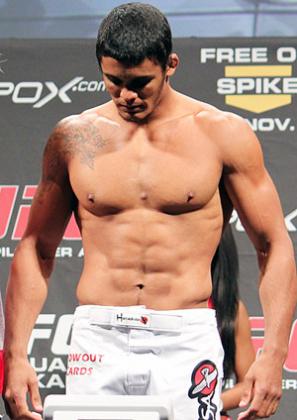 mmajunkie.com
Both Josh Neer and Carlos Eduardo Rocha came up short tonight, with Rocha dropping a split decision and Neer falling victim to a brutal one-punch knockout.
Rocha just couldn't get in the zone against Mike Pierce, finding himself against the cage and on the bottom of the elite wrestler for a majority of the fight. Although he attempted multiple submissions, he was unable to get close to finishing any of them.
Neer looked great while he lasted, using body shots and superior boxing to push forward. Unfortunately, he walked right into a right hook by Mike Pyle that put him out before he hit the mat.
These two will be looking to rebound from their respective losses. Having Rocha fight a well-traveled veteran like Neer could greatly benefit his career.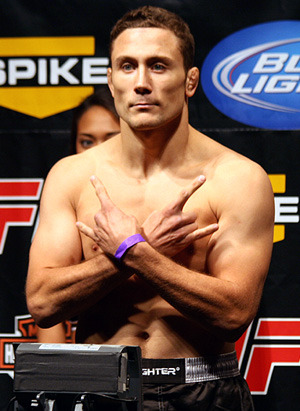 mmajunkie.com
Two guys who are in the upper-mid tier of the division, Mike Pyle and Mike Pierce showed why experience and well-roundedness will continue to be a valuable asset.
Pyle knocked out Josh Neer with one punch, landing a perfect counter-right that put Neer to sleep. Pyle is a well-traveled veteran who is getting up their in age. In fact, with age Pyle has gotten better, as he is in the best run of his career.
Meanwhile, Pierce beat a dangerous opponent tonight in Carlos Eduardo Rocha. Rocha has the submission skills to tap out anybody, but Pierce showed great knowledge on the ground and in the clinch to earn the judge's nod.
Both men are at about the same place in the division and are veterans of the sport. This could lead to a nice fight between the two, if they meet in their next bout.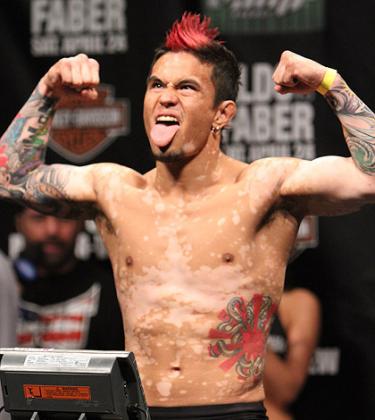 MMAweekly
Scott Jorgensen was on the receiving end of a brutal knockout tonight, as he was destroyed by a right cross at the hands of Eddie Wineland. Jorgensen has an amazing chin, which is a testament to how hard that punch was that took him out.
Jorgensen has now last two fights in a row, against Wineland and Renan Barao. Both guys are top dogs in the division, which means Jorgensen will need to take a step back and work his way back up.
Another talented fighter who is coming off a devastating loss is Nick Denis. These two could put on a great fight, so why not make it happen.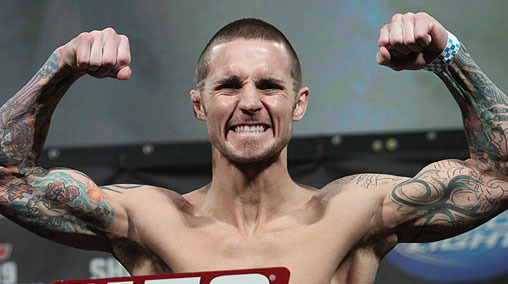 MMAweekly
Eddie Wineland returned to old form in his fight against Scott Jorgensen, showing off his powerful hands and solid counter-wrestling that earned him the WEC bantamweight belt earlier in his career.
Wineland used superior boxing and a top-notch sprawl to control his fight with "Young Guns." He was able to land a beautiful right cross that dazed Jorgensen, earning the knockout win.
Michael McDonald is one of the hottest names in MMA right now and a top bantamweight contender. With the win tonight, Wineland is in a similar position. Let these two duke it out to see who moves one step closer to a title shot.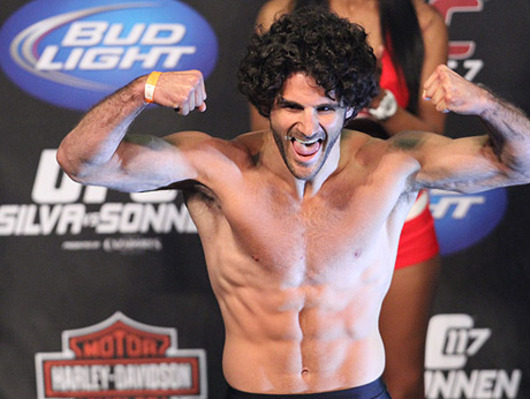 MMAweekly
Charlie Brenneman should be given a pat on the back for his effort against Erick Silva. Silva is the real deal and used Brenneman to get catapulted into contender talks tonight.
But, to be honest, Brenneman is very one dimensional. He is a power wrestler with limited striking and a decent-at-best clinch game. He needs to continue developing his all-around game if he wants to break his gatekeeper status.
Pascal Krauss is 1-1 in the UFC, losing his latest outing to John Hathaway. Both he and Brenneman need wins in their next fights to stay relevant, so they should meet up.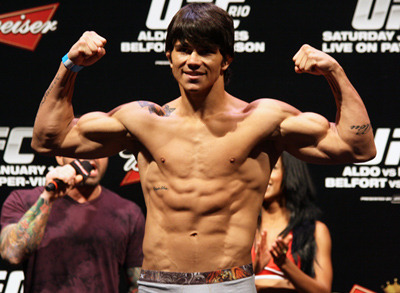 mmajunkie.com
Erick Silva continued his path of destruction against Charlie Brenneman, showing superior striking and slick submission game to earn a tapout victory. Silva is now 2-1 in the UFC, with the one loss being a controversial disqualification.
Silva has put himself into contender talks with his take-no-prisoners style. He has yet to leave the first round in his UFC tenure, which shows how dangerous he is.
Dan Hardy, a former title contender, is coming off a win over Duane Ludwig in his latest bout. He can make himself relevant again with a win over a big name opponent. Silva is that big name who could give him a chance.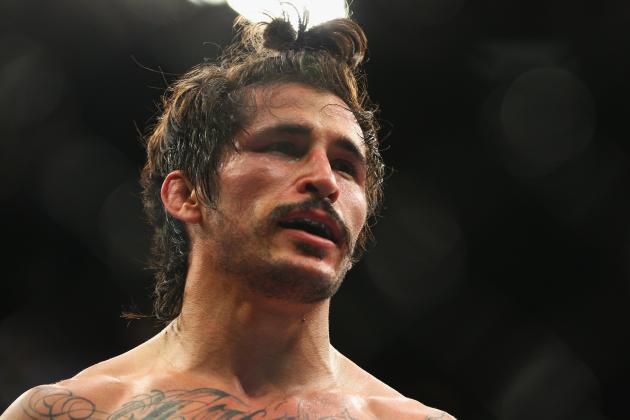 Mark Kolbe/Getty Images

Ian McCall couldn't earn the decision tonight, dropping his semifinal bout against Demetrious Johnson. His stock won't drop much from here, as he is still a top-three flyweight in the world.
A matchup against fellow semifinal loser Yasuhiro Urushitani makes all the sense in the world. Both are coming off losses and are on the upper-end of the division. It could be the first step to getting back on track on the road to the title.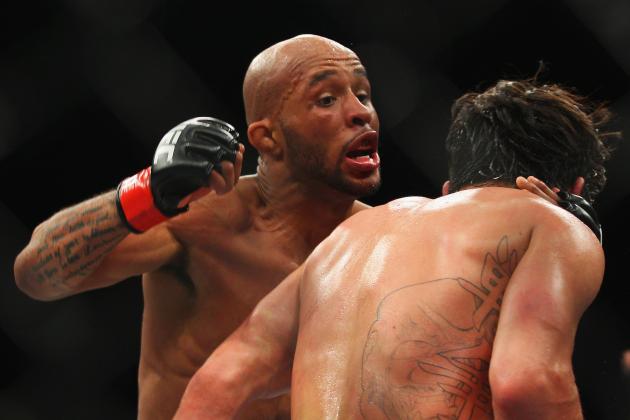 Mark Kolbe/Getty Images

This matchup is obvious, as Demetrious Johnson was able to beat Ian McCall to get to the finals against Joseph Benavidez. The finals will be a battle of former top bantamweights in the world. Now, both are top flyweights in the world.
It is going to be an interesting matchup. Johnson will have the speed advantage, but Benavidez probably is the better submission artist and striker. The wrestling will be even, which will make this fight even more interesting.
Either way, I am stoked for this matchup. There is no way it can be boring, nor can most flyweight bouts to begin with.