Rays' Recent Success Hasn't Translated into Higher Attendance Numbers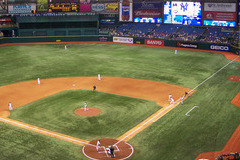 typical fan turnout
For every successful professional sports team, a nationwide and obscenely loyal fan base usually follows, as success translates into more fans. The Washington Redskins continue to sellout their home games, despite having horrible seasons the past five to seven years. The Boston Red Sox sellout over 90 percent of their home games, and the Los Angeles Lakers never struggle to fill the seats.
Yet, when it comes to pro teams in the state of Florida, there is absolutely no visible proof of even a shred of team loyalty. Just look at the Miami Heat since the arrival of LeBron James and Chris Bosh; they have stellar regular-season records, and they still can't even sellout half of their home games.
Back in 2003 when the Marlins were still the Florida Marlins, the potential World Series-clinching game (a home game, nonetheless) wasn't even a sellout. A team that had won a title only six years prior and on the verge of winning yet another title couldn't even attract fans to fill the seats to rally around their hometown team.
No team has struggled more to fill the seats [in Florida] than the Tampa Bay Rays. While still a relatively young franchise, the team has had four above .500 seasons, winning two AL East titles, an ALCS title and played in the World Series in 2008. Even with that, local fans are still hesitant to support their team, mainly because the remnants of a decade of awful baseball is still fresh in their minds. But with a surge in success the last four years (not to mention the start they had this season), is this apprehensive approach still necessary?
Begin Slideshow

»
The Tampa Bay Rays were once the whipping boys of the major leagues, one which every opposing team could count on for an easy two or three wins. From 1998 to 2007, fans came to expect a 60 win season and a last place finish in the AL East.
After taking the "Devil" out of the team's name, the new-look Rays went on to have a worst-to-first season, winning 97 games and beating the Boston Red Sox in a seven game ALCS thriller that sent them to the World Series.
In the three seasons that followed, the Rays would finish above .500 every year and would go to the postseason two out of those three seasons. How does a team that proves one wildly successful year wasn't a fluke and that consistently goes to the postseason not put fans in the seats?
Owner Stuart Sternberg and GM Andrew Friedman attribute the lack of attendance to the fact that Florida has many other things to offer: the beach, theme parks, and an array of other activities that distracts fans from the professional sports teams in Florida.
This, however, is not the case.
If what Sternberg and Friedman say is true, then why do major league teams in California—a state which offers similar activities as Florida—have a consistently higher fan turnout than Florida's teams? You can't possibly blame surf, sun and theme parks for taking fans away from the stadiums (or can you?).
This has to do with the simple M.O. "Location, location location."
They are called the Tampa Bay Rays, but those not familiar with baseball don't know that the stadium is actually a half-hour outside the Tampa Bay area in St. Petersburg. While not necessarily a deterrent for local fans, those who live in Central Florida find it a drive that is unwarranted for a team that has "gotten lucky" the past four seasons. Not only that, the stadium isn't exactly located in a traffic-friendly zone, so getting to and from the stadium usually results in waiting in bumper-to-bumper traffic.
Stuart Sternberg has flip-flopped on the issue of moving the team to Tampa in hopes of getting more than 10,000-20,000 fans in the stands. Further complicating that issue is the fact that the city of Tampa consistently votes against allowing the team to relocate to their city or in the vicinity of it, for that matter.
On a potential playoff-clinching game night during the 2010 season, only about 10,500 fans showed up to what would eventually be a 4-0 loss to the Baltimore Orioles. At that point, Rays' ace David Price and third baseman Evan Longoria voiced their displeasure with fan attendance, calling it "embarrassing" and "disheartening."
You can't really blame the fans at that point, though; who wouldn't be skeptical of this success after ten consecutive losing seasons?
The only time there are sell-out games are when either the Red Sox or Yankees come to town, and even then there are more away team fans than home fans. Since both the Yankees and Red Sox are old and storied franchises, their teams have loyal fanbanses nationwide. Being a young franchise also doesn't help the cause, as the team doesn't have any deep traditions (the cowbells are a relatively new addition, and an annoying one at that, so time will tell) which keep fans coming back for more.
The "heart attack kids," as one Rays coach refers to them, do make for an exciting three hours, though, waiting until the last minute to work their magic. That enchantment is, sadly, the only reason why those same 10,000-20,000 fans come back: to experience the late-inning magic and heroics the Rays seem to be experts of.
With the prospect of the Tampa Bay Rays no longer being the Tampa Bay Rays, die-hard fans of the team might be let down if change doesn't come quickly.
Stuart Sternberg will need to work the same type of magic his team puts on display night in and night out in order to ensure that the Rays not only stay in Tampa, but in the state of Florida as well.