UFC on FX 3 Results: Takeaways from Johnson vs. McCall 2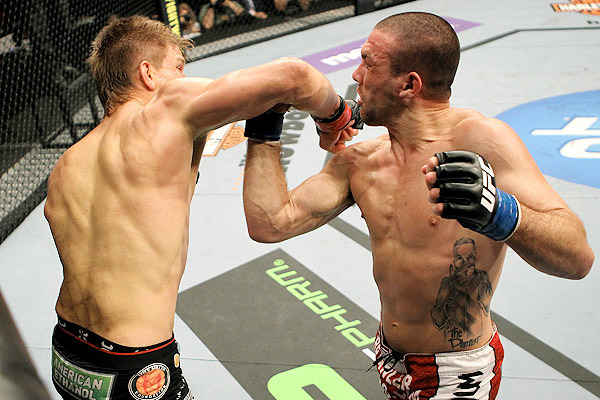 Pyle obliterates Neer with a hail-mary right (Photo by Josh Hedges/Zuffa LLC/Getty Images)
Now that UFC on FX 3 is officially in the books, let's take a look at the outcome of another under-promoted and star-starved UFC event on cable television.

Despite a lack of big names, the night provided plenty of great fights, including a very relevant rematch between Demetrious "Mighty Mouse" Johnson and Ian "Uncle Creepy" McCall, thanks to a frustrating judging error back in March that temporarily had "Mighty Mouse" winning a decision at UFC on FX 2.

Of course, this rematch was never supposed to happen. When the UFC devised the rules for their four-man flyweight tournament, they made a new a new stipulation meant to ensure a definite winner, proposing a fourth sudden death round should the fight end in a draw.

Unfortunately, a horrible judging error temporarily named Johnson the winner over a very game McCall in a fight that should have been decided in overtime.

So here we are, three months later, to finally decide what should have been finalized months ago.

But how did each man fare in the rematch of their Fight of the Night battle for a chance to face Joseph Benavidez to be the UFC's first flyweight champion?

We'll take at look at the rematch and the rest of the action from a very solid night of fights.
Begin Slideshow

»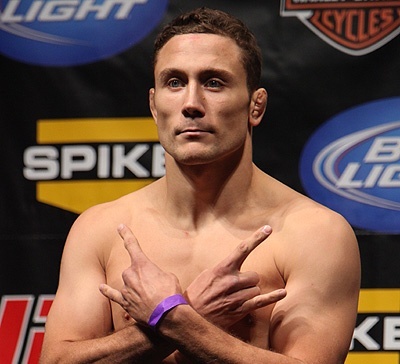 Mike Pierce (Photo: UFC.com / Zuffa LLC)
Mike Pierce used his superior wrestling skills to hold Brazilian submission ace Carlos Eduardo Rocha against the fence en route to a dominant split-decision victory (despite Pierce's obvious dominance, a judge still somehow managed to give the fight to Rocha).

All in all, it was a tepid, exhausting matchup and the perfect time to refill your beer cooler before the main card kicked into full gear.

Despite a dominant performance, Pierce probably didn't win himself many new fans with his workmanlike, grinding victory.

Unfortunately for Pierce, MMA is one of the few sports that seems to hold entertainment value above pure athletic skill. Just ask Jon Fitch how it feels to be a dominant fighter with a non-explosive wrestling style.

If Mike Pierce's fight was not altogether exciting, he shouldn't worry too much, since many of the night's preliminary bouts were also less than stellar, if not altogether unexciting (Matt Grice's wrestling-based victory over brawler Leonard Garcia comes to mind as meandering and excruciating).

It seems as if the UFC is struggling to fill their increased number of yearly events, and UFC on FX 3 is a prime example of what many fans consider "filler fights."

This will likely be the norm now that the UFC is trying to break into the mainstream sporting world, moving away from the traditionally stacked cards and a PPV-heavy schedule.

Fans should get used to these sorts of underfed cards now that the UFC has drastically increased their amount of yearly events to accommodate their content agreements with Fox, FX and Fuel.

It's become a matter of quantity trumping quality, a fact certainly made all the worse by the recent string of injuries to some of the promotion's big-name fighters (in fact, now that Vitor Belfort has pulled out of UFC 147 at the end of the month, the June 23 card has little more than a handful of confirmed matches, making it one of the weakest PPV cards in recent memory).
Thankfully, UFC of FX 3's main card featured four bouts with exciting back-and-forth action, including three finished by some of the promotion's most under-appreciated fighters. Let's take a look at Eddie Wineland's brilliant bantamweight tilt against fellow WEC alumnus Scott Jorgensen.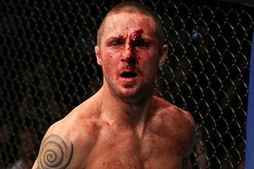 Wineland's brutal cut (Photo by Josh Hedges/Zuffa LLC via Getty Images)
Opening up the night in epic fashion, Eddie Wineland and fellow WEC alumnus Scott Jorgensen went to war in a bloody, brutal stand-up war that had both men swinging heavy leather.

These 135-pounders truly left everything in the ring.

Jorgensen opened the fight strong, circling on the outside and tossing light punches without landing anything flush. His attempts to control the range were thwarted when Wineland floored him with a heavy left straight. Jorgensen eventually recovered, throwing punches and missing a nasty head kick.

Despite Jorgensen's quick attack, Wineland was throwing the heavier punches, obviously hunting for a knockout.

Once again, Jorgensen started the second round with considerable success, opening a disgusting, bloody gash above Wineland's left eye. Still, Wineland waded through his opponent's strikes and continued to throw hooks with bad intentions.

Jorgensen continued to have some success, but at 4:10 of the second round, Wineland landed a beautiful left jab, right hook combination that floored Jorgensen and earned Eddie a redeeming KO victory (his first in the UFC).

It was certainly a great scrap worthy of an immediate watch if you happened to miss it last night. Both men showed incredible heart and treated fans to a spectacular fight.

Next up, Josh Neer took on Mike Pyle in a battle of welterweight gatekeepers.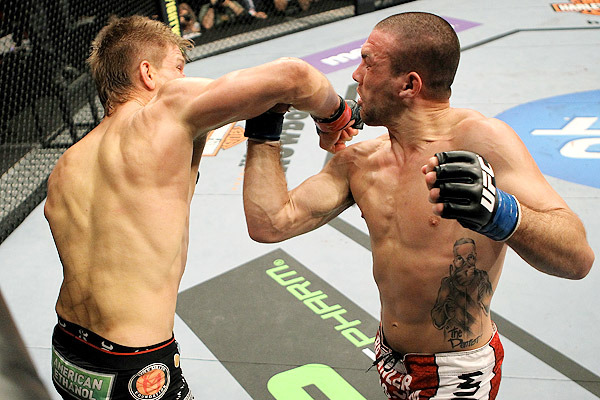 Mike Pyle decimates Josh Neer with an epic right hook
While I was not anticipating much, Mike Pyle and Josh Neer provided a great battle between MMA veterans.

Mike Pyle opened the fight with a solid takedown on Josh Neer, who then attempted a lackadaisical headlock and armbar.

Back on their feet, Neer wobbled Pyle with some solid punches, sending him reeling on weak legs. Neer followed up with some solid body shots, wearing Pyle down near the fence.
Things were not looking good for Mike Pyle.

Wobbled and hurt once again, Pyle was backed against the cage with Neer coming in for the kill. Pyle looked hurt, and it seemed to be only a matter of time until Neer wore him out for a TKO or submission victory.

But then it happened—one heck of a knockout and a spectacular come-from-behind win.

Reeling against the fence, Pyle launched a vicious Hail Mary right hook that landed flush and left Neer lying flat on his stomach, knocked unconscious.

It was a phenomenal punch, grinding through its target with such incredible force that Neer dropped onto his belly like 170 pounds of dead weight.
With that, Mike Pyle (sporting a Miguel Torres-esque mullet hybrid) showed the kind of heart you need to survive in the world's toughest sport at the ripe old age of 36.
Next up, highly-touted Brazilian prospect Erick Silva decimated Charlie Brenneman's afro.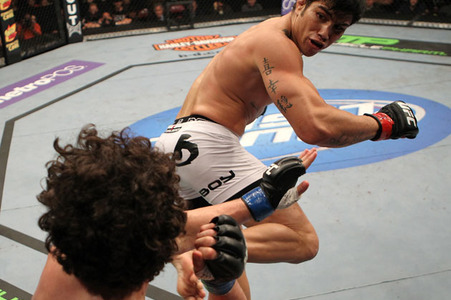 Erick Silva throws spinning kick against an overmatched Charlie Brenneman (Photo by Josh Hedges/Zuffa LLC/Getty Images)
Coming into last night's fight, Brazilian hotshot Erick Silva was earning himself the sort of hype normally reserved for phenoms of the sport.

And why not? Silva's monstrous Muay Thai attack is both highly effective and incredibly fun to watch, and his only loss in the UFC came at the hands of a terrible officiating error that saw the Brazilian disqualified for phantom punches to the back of the head of a clearly overwhelmed opponent.

Coming into this bout against Charlie Brenneman, many wondered how the rising star would handle the game of a high-calibre wrestler, since Silva had not yet been tested on the ground.

In the end, Erick Silva proved that he deserves all the hype, dominating a game Brenneman in every aspect of the bout, employing a slick Muay Thai onslaught and neutralizing his opponent's wrestling with crafty BJJ manoeuvres.

Brenneman ate some serious leather, flopping through the air as if levitated by the sheer strength of Silva's punches (in truth, Brenneman's always been a bit of a flopper when struck—just watch his TKO loss against Johny Hendricks for more evidence of his strange, airborne reaction to getting hit).
After battering Brenneman on the feet, Erick Silva mounted his back and locked in a rear-naked choke to secure a very impressive victory.

In light of his dominant performance, there are whispers of matching Silva against fellow brawler Diego Sanchez. I, for one, hope this fight comes to fruition.
Now onto the main event of the night, a much-anticipated rematch between Demetrious Johnson and Ian McCall.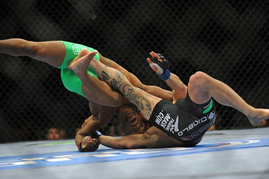 Demetrious Johnson pulls of a solid victory (Photos via US Presswire)
In a rematch of their controversial first fight from UFC on FX 2, Demetrious Johnson displayed a solid, well-rounded attack, managing to control Ian McCall for majority of three rounds.

This closure was a long time coming for the UFC. Before the UFC's four-man flyweight tournament could continue, these two men needed to fight yet again for the chance to face Joseph Benavidez for the inaugural 125-pound title.
While Johnson-McCall 2 was not as exciting as the evening's preceding three fights, Johnson did display some improved striking, dropping McCall a couple times en route to a fairly lopsided unanimous decision victory.
By defeating "Uncle Creepy," Johnson earned himself the opportunity to fight highly-touted Joseph Benavidez for a chance at becoming the UFC's first ever flyweight champion.

Despite Johnson's improved success, the fight was still fairly close. While "Mighty Mouse" won most of the rounds, the series between these two men still seems unfinished, even after six rounds of fighting.

Expect to see Johnson and McCall match up again sometime down the road, especially if Johnson loses his next fight against Benavidez.
Given the lack of depth in the promotion's newest division, it only makes sense for "Mighty Mouse" and "Uncle Creepy" to meet in a trilogy fight in the coming year.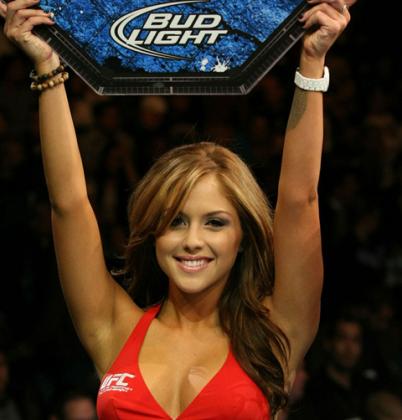 Ring Cards, brought to you by beer
Despite a series of generally lacklustre preliminary bouts, UFC on FX 3 nonetheless featured a number of excellent battles between some of the promotion's veterans and lesser-known fighters.

Still, the card points to a new—and slightly troubling—style of fight promotion for the world's leading name in MMA action. Gone are the days of stacked cards ever month or so, a business model abandoned due to the company's need to provide an ever-increasing amount of monthly events in lieu of their shiny, new Fox deal.

But it isn't all bad: What the fans lose in epic cards and stacked matchups, they gain in consistency.

And really, what sane person could complain about watching UFC events on an almost weekly basis?

Not me.