Lakers vs. Clippers: 5 Things Lob City Must Do to Own LA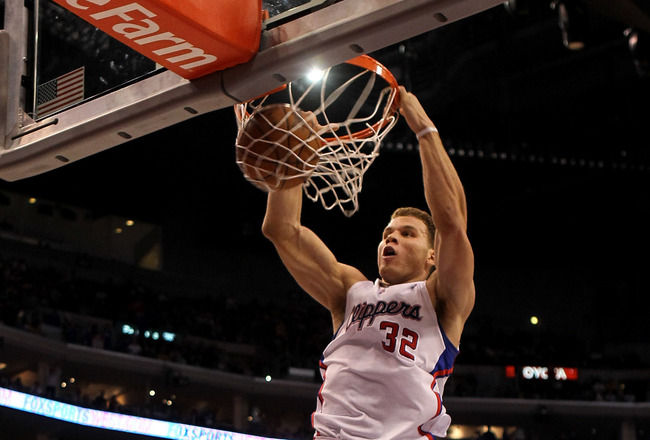 Stephen Dunn/Getty Images
For nearly the entirety of the 28 years of the Los Angeles Clippers' existence, the franchise has been associated with mediocrity, while the crosstown Lakers have been heralded as the NBA's model franchise.
But in 2012, a deal was in place to send one of the league's elite point guards, Chris Paul, from the New Orleans Hornets to the Los Angeles Lakers, a deal that was subsequently rejected (albeit controversially) by commissioner David Stern.
In an ironic twist, Paul was dealt to the Los Angeles Clippers just six days later and joined Blake Griffin and DeAndre Jordan to form the high-octane "Lob City" trio.
Now, after both the Lakers and Clippers have been eliminated from this year's playoffs, there is a new rivalry in the City of Angels to determine which team will reign supreme for years to come.
Here's a look at the five things the Clips must do to be crowned king of the Hollywood Hill.
1. Improve the "O"
Stephen Dunn/Getty Images
One of the first things the Clippers must do is improve their offense.
For a team that was given the nickname "Lob City" for the multitude of Paul-to-Griffin alley-oops, the Clippers' offense sure did look stagnant on many occasions last season.
The first move the Clippers could make to improve their offensive production is to lock up shooting guard Nick Young.
Young averaged over 17 points per game with the Washington Wizards in the 2010-11 season, and shot around 40 percent from the three-point line. His three-point shooting ability makes him a threat to stretch the floor, making Chris Paul and the Clippers that much more dangerous.
LA has five free agents this offseason: Young, Chauncey Billups, Randy Foye, Kenyon Martin and Reggie Evans. It is uncertain which players the Clippers will try to keep, but Nick Young should be among the top of the team's priority.
Young also showed he can play solid defense against opposing guards, and what Clippers fan wouldn't want to see more of Young's brilliant postgame fashion?
The Clippers will undoubtedly make a move in free agency to bring in another offensive threat, as well.
2. Change the Game Plan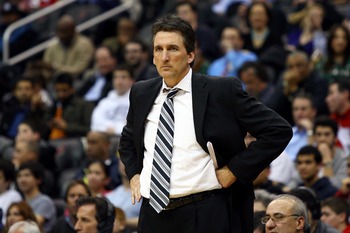 Chris Chambers/Getty Images
Whether Clippers fans agree or disagree with the decision, Vinny Del Negro will return as the head coach next season, according to ESPN.com.
When looking at the Clippers' bottom line last season, it only seems fair: first playoff birth and series win since '05-'06, and the best regular-season winning percentage in franchise history.
Del Negro appeared to take a hands-off approach for much of the season and let Chris Paul facilitate the offense, but unfortunately it did not always pay off for Del Negro in his second season with the team.
There's no doubt that the players respect Del Negro, but he must develop a more consistent offensive game plan with the weapons he has been given. The Clippers cannot afford to not be a top-10 offense again next season.
Expect Del Negro and the team to gel as "Lob City" enters its first training camp together, and eventually plays a full season with one another.
3. Toughen Up in the Paint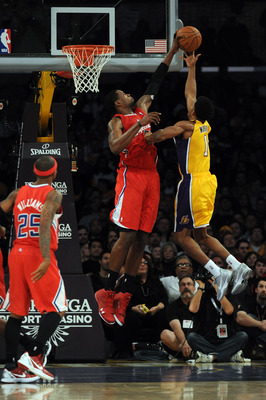 Harry How/Getty Images
This one goes for both offense and defense.
There's no denying that DeAndre Jordan is a solid low-post defender, but he needs to improve offensively.
There's also no denying that Blake Griffin is a great offensive threat, but he needs to improve defensively.
Jordan is a consistently effective shot-blocker and can take on most opposing centers with some level of success, but it's on the other end of the court where he lacks consistency.
The 6'11" center averaged just 4.5 points per game in this year's postseason, which is abysmal production to say the least. With such a large frame and seemingly endless athletic ability, Jordan must work diligently this offseason in attempts to make himself a legitimate offensive weapon.
Conversely, Blake Griffin did not fare well in defensive one-on-one situations, making his overall value decrease somewhat.
Much like Jordan, though, Griffin has all of the assets to become a solid defender and will undoubtedly be putting in extra minutes in the gym to improve his defensive abilities.
4. Get Bigger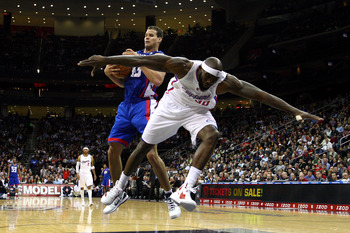 Chris Chambers/Getty Images
When looking at the Los Angeles Clippers' roster, it becomes apparent that the team lacks in one major category: size.
For all of the Clippers' incredible leaping ability, the team ranked just 22nd in rebounding, a number that will prevent them from making it deep into the playoffs consistently.
The Clippers had a tendency to play small and fast in 2011, but their lack of size was counter-productive when it came to rebounding.
Re-signing Chauncey Billups is one way to assure that the Clippers have a guard that can rebound, but the Clips will have to look to free agency for a big body to come off the bench and grab some boards.
Current bigs Blake Griffin and DeAndre Jordan also need to curb their habit of simply relying on athleticism to get rebounds, and begin depending more on technique and strength to improve their numbers.
5. Control the Emotion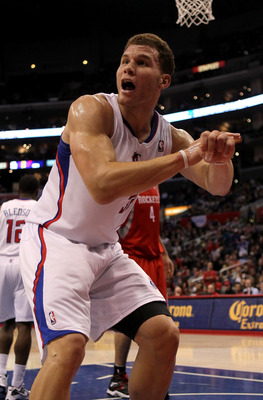 Stephen Dunn/Getty Images
It's important to play the game with passion, but there's a fine line between intensity and anger, and this young Clippers team needs to learn how to play with more composure.
One thing you'll see in common with some of the great teams in the NBA is the ability to focus on the game and to not get caught up in pleading with referees or shoving matches with the opposition.
There are exceptions: Kevin Garnett, Rasheed Wallace, etc.
The NBA will always be an extremely physical, tough league, and a player should never simply roll over when an opposing player challenges him, but that player must also not let outside influences impact his actions.
The Clippers earned a bit of a reputation as the "Bad Boys" of the league, which is fine, as there's nothing wrong with trying to intimidate the opponent. But they averaged almost one technical foul per game, more than any other team in the NBA.
As this team grows together, so too will its players' maturity, and it will have an overall positive impact on the Clippers' success.
Keep Reading

Los Angeles Clippers: Like this team?