TNA Wrestling Hall of Fame: 3 Men Who Could Be Sunday's Inductee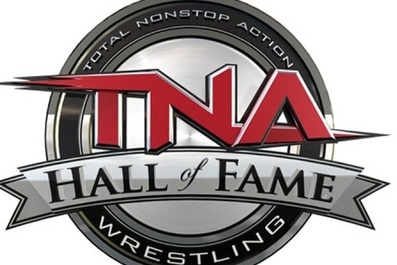 Image courtesy of cagesideseats.com
On the first live Impact last week, TNA president Dixie Carter announced that TNA would present the first induction into their brand new Hall of Fame at this Sunday's PPV Slammiversary.
In my opinion, I don't think that introducing a Hall of Fame should be their top priority, but I can understand why they feel the need to do it.
The problem is that most of the potential inductees are still active wrestlers, arguably in the prime of their careers, so it means that there are only two or three viable options at this point.
Let's take a look at the three men who I feel are most likely to be announced as the first-ever TNA Hall of Famer this coming Sunday.
Feel free to leave your suggestions below.
Begin Slideshow

»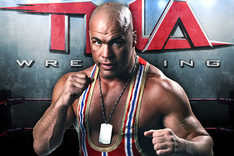 Image courtesy of bleacherreport.com
When Kurt Angle jumped ship from WWE to TNA in 2006, I thought that it was the best thing that could've happened for both parties.
Angle was struggling with issues at the time, which were only further aggravated by the excessive WWE schedule.
At the time, TNA was taping their TV shows once or twice a week and they were only one hour shows.
Who wouldn't love to work that schedule? It worked for Angle and it's definitely worked for TNA.
Angle is the best wrestler of his generation and is a legitimate Olympic gold-medalist.
Angle's experience was, and still is, key to the development of a whole host of TNA's younger talents including AJ Styles and Samoa Joe.
His name alone brings instant credibility.
Since moving to TNA, Kurt has won every championship that he's been eligible to win and he's pretty much feuded with everybody.
There's no question that Angle deserves to be in any wrestling hall of fame. No other amateur wrestler has made the impact on professional wrestling that Kurt has made.
The only thing is that I don't see Kurt being inducted until he's retired from in-ring competition.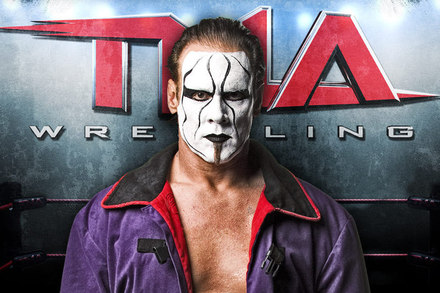 Image courtesy of bleacherreport.com
Sting is the biggest name in wrestling who has never worked for Vince McMahon.
When WWE purchased WCW in 2001, many questioned whether we'd ever see Sting wrestle again, despite the fact that he was just into his 40s at the time.
The Stinger had other ideas and decided to go to a young, upstart promotion lead by someone he knew from his WCW days, Jeff Jarrett.
His loyalty to TNA Wrestling, Dixie Carter and Jeff Jarrett can't be questioned.
Sting has appeared for TNA on-and-off since 2003, without appearing for another major company.
He's a four-time TNA World Champion and even now, at the age of 52, Sting is still at the top of the card and is scheduled to compete for the TNA World Heavyweight Championship this Sunday at Slammiversary.
Although he's still in great shape, there have to be questions about Sting's long-term in-ring future.
He can't keep going forever and I doubt he'll want to wrestle for much longer, but that doesn't mean he'll have no value to TNA when he retires.
Sting will probably continue to appear in some sort of on-screen capacity when he hangs up his boots.
He's more likely to be announced as TNA's first Hall of Famer than Kurt Angle, but there's another wrestler ahead of him on my list.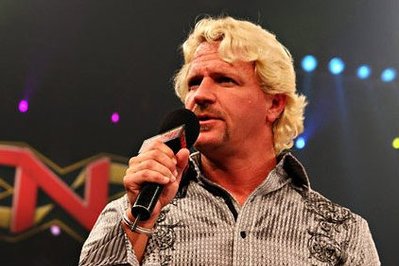 Image Courtesy of cagesideseats.com
Quite simply, without Jeff Jarrett, TNA Wrestling wouldn't exist.
When WWE purchased WCW in 2001, Jeff Jarrett didn't make the jump as many of his colleagues did.
He took time to contemplate his future in wrestling.
Jeff made a decision to start up a new wrestling company from scratch and found the backing he needed to launch the promotion.
For the first couple of years, TNA didn't have a TV deal.
Their exposure came through holding weekly pay-per-views from Nashville, Tennessee until Jarrett felt that they had built up enough of a fanbase to warrant producing weekly TV shows and monthly pay-per-views.
In 2004, TNA Impact started broadcasting on Fox Sports Net until they moved to Spike TV in 2005.
With their audience and reputation growing, Impact was extended to a two-hour show in 2007.
From their humble beginnings in 2002, TNA has developed tremendously well over the last ten years and Jarrett has been key to their growth.
If you add all of the work he's done off-screen to the in-ring career he's had, there's only one man that should be named as the first TNA Hall of Famer, and his name is Jeff Jarrett.