Celtics-Heat Game 7 Preview: Is This the Most Important Non-Finals Game Ever?
June 8, 2012

Jim Rogash/Getty Images
We all know the stakes for tomorrow's Game 7, right? Winner takes all. Either Boston is going to go to the NBA Finals or Miami is. 
But this year's Eastern Conference Finals mean so much more. 
In basketball more than any other sport, we watch games from a historical perspective. It's not just about what an amazing performance LeBron James had in Game 6, it's about how his performance compares to anything Michael Jordan did. It is a sport of comparison. 
From a historical perspective, I can't ever remember a more important single game. Every major player, coach and even executive has a major storyline. Legacies will be written tomorrow night. 
Game 7 might be the last game Boston's big four ever play together. Logically, breaking them up might be the right move. The Celtics are so old that Bob Ryan called this season "Year 5 of a Three-Year Plan". These guys can't keep winning forever. 
In the back of their minds, I think the Celtics know that.
They must realize that both Kevin Garnett and Ray Allen will be free agents at the end of the season. I'm guessing the Rajon Rondo trade rumors we hear every year aren't going away. If tomorrow really is going to be their last game together, I think Boston's stars will want to make it count. 
And if they win? Well, all four suddenly have much higher historical ceilings. Kevin Garnett will never pass Tim Duncan as the greatest power forward ever, but does a second ring distance him from Karl Malone, Charles Barkley and Dirk Nowitzki as the clear No. 2? 
Would winning a title as a star, rather than a supporting player, finally give credence to the argument that at his best Rajon Rondo is the best point guard in the league?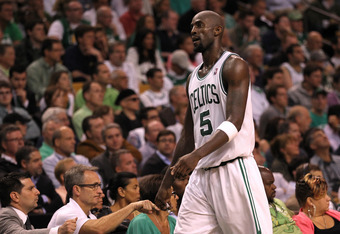 Jim Rogash/Getty Images
Finally, Paul Pierce has a chance to secure his position as the greatest post-merger Celtic not named Larry Bird, and could jump as high as No. 4 on the list of greatest Celtics ever (behind Bill Russell, Bird and John Havlicek). 
The guy who coaches them has plenty to prove as well. Nobody connects with his players like Doc Rivers. His guys all want to play for him, and he wants to put them in the best possible position to win. Not just because it's his job, but because he genuinely cares.
That's more of a rarity than you'd think. Yet when the list of great head coaches in the NBA comes up, Popovich and Phil Jackson are always first and second (even with Jackson out of the league). Then we hear about guys like Tom Thibodeau, Rick Carlisle and even other non-current coaches like Pat Riley and Jerry Sloan, before Rivers is even mentioned. 
Rivers has a chance to prove that he is truly an elite coach. If he wins a second championship in five years, to go along with everything else he's done, he could put himself on the path towards the Hall of Fame. 
And then there's his boss. It really amazes me that I seem to dislike nearly every move Danny Ainge makes, yet the Celtics just keep winning. He was absolutely destroyed by the media last year for trading Kendrick Perkins to Oklahoma City for a guy who's not even playing tomorrow night (Jeff Green). 
Ainge filled his bench with has-been's (Jermaine O'neal, Sasha Pavlovic, Keyon Dooling, Chris Wilcox) and never-will-be's (E'Twaun Moore, JaJuan Johnson, Ryan Hollins, Greg Stiemsma, Avery Bradley). He struck gold with Bradley, struck either silver or bronze (depending on your standards) with Stiemsma and at least got a whiff of copper with Dooling.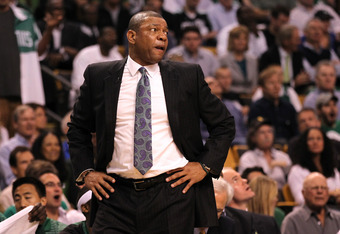 Jim Rogash/Getty Images
Inexplicably, the Celtics keep running out respectable nine-man rotations as the injuries pile up. Who would have thought Mickael Pietrus would ever hit a big shot in Game 5 of a conference finals series?
Ainge has a chance to prove to his doubters that he's pushed all the right buttons. If the Celtics win Game 7, he will be vindicated as one of the league's best GMs, rather than a guy some believe to have just lucked into Kevin Garnett and done a passable job of not screwing it up. 
The GM on the other side is nearly universally praised. No matter what kind of role players he gets, he'll always have his big three. His coup of 2010 set the Heat up for a run of championships unlike anything the league has ever seen.
But it didn't happen. They seemed to have the 2011 title locked up until Dallas came alive in the final minutes of Game 2. They were supposed to roll through the Eastern Conference in 2012 when Derrick Rose got hurt, but they had to struggle just to get by lowly Indiana.
And the Celtics? Please, they were supposed to run circles around those old farts.
Things aren't coming easily to Miami, and a lot of that falls on Pat Riley. His lackluster job in putting together a suitable supporting cast has made the supposed-to-be unstoppable Heat vulnerable. 
Combined, Mike Miller, Shane Battier, Joel Anthony and Udonis Haslem make almost 16 million dollars. He spent a full mid-level exception on Mike Miller hoping to get a shooter when he could have gotten the younger and far more durable Kyle Korver for the same price.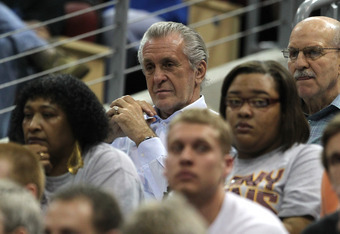 Jonathan Daniel/Getty Images
Riley tried to rectify that mistake by signing Battier, who has been far less than his former self. That money should have been used to sign a big man, especially with James Jones already on the roster and inexplicably not getting minutes.
That falls on Erik Spoelstra. My opinion is he's simply a horrible coach. He yanks minutes around in an almost Del Negroian fashion and gets into arguments with his stars. He's the Fredo of the Riley coaching family.
If the Heat lose in Game 7, he should be fired. Knowing Riley, he probably will be fired. Stan Van Gundy (a superior coach) didn't even get a second full season with his two stars (and yes, I know, he "resigned"), why should Spoelstra get a third?
But if they win, Spoelstra puts himself in a rare position to actually get some positive press. He would deserve some credit for correctly managing Chris Bosh's minutes. Spoelstra could prove he's actually a competent NBA coach. For him, that's a big upgrade.
I don't quite know what to make of Dwyane Wade. The optimist would say he's just learned to take a back seat to LeBron. It's a plausible argument, but I'm no optimist.
I think injuries and age are starting to catch up with him. Considering all of the hits he's taken, the injuries he sustained early in his career, the time he spent carrying horrible teams and all of the minutes he's played—Wade's a pretty old 30. 
He no longer has his legendary explosion. He has to pick his spots now, very similar to Kobe Bryant. Some say he's not dominating anymore so that LeBron can, I think it's because he can't. He's still a great player, certainly top 10 in the league, but he's not the surefire megastar he once was.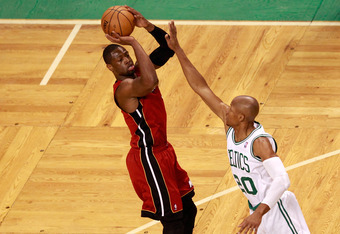 Jared Wickerham/Getty Images
His place historically is pretty murky. He has one epic run to a championship, but he's also been knocked out in round one three times. Considering who he's gotten to play with, he should probably have multiple titles at this point. 
How does he start to separate himself? By putting on a legendary Game 7. That's what legends do, they play legendary games in legendary moments.
That's what LeBron James did in Game 6.
I'm going to avoid the natural hyperbole we always see with LeBron. We've seen every analogy, heard every metaphor and broken him down in every conceivable way.
All I'm going to say is that if Miami wins tomorrow night and then beats Oklahoma City, LeBron will be immediately hailed as one of the 10 greatest basketball players ever.
If Miami loses, fair or not (and I vote unfair), Game 6 will be forgotten as just another unimportant footnote in the legacy of choking LeBron has written for himself. 
That's all you need to know about tomorrow's epic showdown.
We have seven hall-of-famers, two lightning rod coaches and two of the league's best GMs trying to etch out their place in history. Each has everything to gain and everything to lose. From a historical standpoint, there's never been a bigger Conference Finals game.