Randy Orton, Blue Meanie, Mike Mondo and Latest WWE News from Ring Rust Radio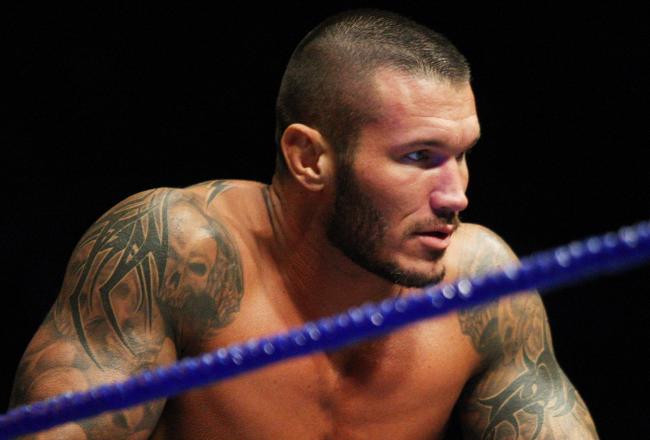 Gallo Images/Getty Images
Ring Rust Radio is the best wrestling show on the radio, and this week was no different. With strong opinions on Randy Orton, CM Punk, Daniel Bryan, Kane, John Cena and more, this is where you need to get all of your weekly WWE nuggets.
Will Mike Chiari Save RRR?
Bleacher Report featured columnists Michael Cahill, Brandon Galvin, Mike Chiari and Donald Wood give the lowdown on all things going on in the wrestling world.
Former WWE and ECW star Blue Meanie and ROH star Mike Mondo brought their inside knowledge to all the wrestling talk. The Ring Rust Radio crew gets down to the crux of the wrestling business with the professionals.
With another unpredictable episode of Ring Rust Radio in the books, you can't afford to miss another second of the action. Catch us LIVE every Tuesday at 7 p.m. ET (some language NSFW) or follow us on Twitter @RingRustRadio. We may just read your questions and comments LIVE on the air thanks to our new weekly Twitter segment! You can also email us now here: RingRustRadio@Yahoo.com.
(Some language NSFW.)
Upcoming Guests
June 12 - Former WCW and ECW star Scotty Riggs (guest host) and ROH star Michael Elgin
June 19 - Former ECW, WCW, WWE and TNA star Jerry Lynn
June 26 - Former WWE and TNA star Matt Hardy
WWE Chatter
With
No Way Out
approaching there is a lot to keep tabs on, including the feuds between John Cena and the Big Show as well as the WWE Championship picture involving CM Punk, Daniel Bryan and Kane. There is no question that the 60-day suspension of Randy Orton for violating the Talent Wellness Program is the company's biggest story right now, though.
Question on Everybody's Mind: Should Randy Orton be fired?
Talent is allowed three strikes before being fired when it comes to the Wellness Program, but since the company is paying Orton a sizable amount of money and may no longer be able to trust him, it could be time to cut bait with "The Viper."
Ring Rust Radio's Take
There were some differing opinions, but the majority believes that Orton should remain in the fold. Perhaps he can't be counted on enough to have another world title run, but he is an excellent in-ring worker who is extremely over with the crowd. He can keep the mid-card relevant and have a good match with pretty much anyone. Not that TNA is any type of threat, but Orton would probably bolt for Orlando and give the company a headline star that it could hang its hat on.

Bleacher Report Insider Scoop: Backstage News on Officials Wanting Randy Orton Fired
Extreme Rising Blue Meanie Interview
Former ECW and WWE star
Blue Meanie
graciously joined the Ring Rust Radio crew and had plenty to say about the upcoming
Extreme Rising
events on June 29 and 30, and he had plenty of stories and insight about his wrestling career as well. The former leader of the bWo didn't reveal what he would be doing at the Corona, N.Y. and Philadelphia, Pa. shows, but it's sure to be entertaining.
Question on Everybody's Mind: Will the upcoming Extreme Rising events top the first?
There were certainly some hits and misses at Extreme Reunion in Philly back on April 28, but much of the crowd was disappointed as things didn't go entirely as planned. Meanie had some hilarious spots during his match against FBI, but many of the fans left feeling cheated.
Ring Rust Radio's Take
Nothing is perfect in the world of professional wrestling, so there is plenty of reason to give Extreme Rising a pass for its first effort. There is too much talent on the card for it to fall flat again, so the shows should be excellent. Meanie will be joined by several top-level performers such as Matt Hardy, Jerry Lynn, New Jack, Stevie Richards and others. All the components are in place for some exciting events.

Bleacher Report Insider Scoop: Brock Lesnar, CM Punk and Friday's Top WWE News

Ring of Honor Mike Mondo Interview
Ring Rust Radio has built a fantastic relationship with Ring of Honor and we were lucky enough to talk with another budding star in the form of
Mike Mondo
. "No Fear" talked a lot about
ROH's upcoming show in Charleston, W.V.
on June 15 where he will face former ROH World Champion Davey Richards. Mondo also touched on his time in the WWE as Mikey of the Spirit Squad.
Question on Everybody's Mind: Will Mike Mondo get the Ring Rust Radio rub?
We've mentioned it plenty of times, but essentially every time an ROH talent comes on Ring Rust Radio, good things happen to them. That was the case with Roderick Strong, Michael Elgin and Adam Cole, and perhaps the same will be true of Mondo. It will take everything he has to beat one of the best in-ring workers in the world in Richards, but Mondo has good karma on his side.
Ring Rust Radio's Take
Mondo is ready to get into title contention as he is the whole package, so we have no doubt that he'll take down Richards next week. A victory over Richards would put Mondo in the hunt for a shot at new ROH World Champion Kevin Steen's title. Even if Mondo doesn't come out on top, though, there is a great chance that he will put on a five-star match against Richards and perhaps put himself in the running for Match of the Year honors in ROH.

Bleacher Report Insider Scoop: Breaking Down Antonio Cesaro's Long-Term Potential
Check back for more on World Wrestling Entertainment as it comes, and visit Bleacher Report's Wrestling Page to get your fill of WWE/TNA. For more Wrestling talk, listen to Ring Rust Radio for all of the hot topics you just can't miss (some language NSFW).
This article is
What is the duplicate article?
Why is this article offensive?
Where is this article plagiarized from?
Why is this article poorly edited?