Stanley Cup Finals: Is Zach Parise Playing His Final Games for the NJ Devils?
June 17, 2016
Bruce Bennett/Getty Images
One of the biggest story lines of the 2012 Stanley Cup Finals is the very real possibility that New Jersey Devils fans are watching team captain Zach Parise's final games as a member of the organization. 
As arguably the team's best and most valuable player, Parise is the heart and soul of the Devils franchise—with all due respect to Martin Brodeur—and the notion of him leaving the only franchise he's ever known seems almost unfathomable. 
However, with Parise up for unrestricted free agency on July 1, the Devils will be racing against time to get their superstar winger's signature on a new contract as soon as the postseason concludes within the next week. 
As Douglas Flynn of NESN pointed out earlier today, the Devils are in a difficult situation. The team's financial struggles will probably make it very tough to even come close to matching the offers their 27-year-old sniper will receive on the open market, and the fact that Parise remains unsigned heading into the offseason seems to suggest that his intentions are to wait and see what sort of offers come his way on July 1.
In terms of production, few wingers in the league are as consistent as the Minnesota native. 
Except for last season, in which Parise skated in just 13 games, he's tallied at least 30 goals and 60 points in each of the last five seasons. 
As the crown jewel of a decidedly weak crop of free agent forwards, Parise will undoubtedly garner interest from a variety of teams, including a few that have the cap space and financial means to outbid the Devils. 
Larry Brooks of the New York Post recently suggested that it's very possible that Parise will attract offers similar to the nine-year, $60 million deal that Brad Richards received from the Rangers last summer.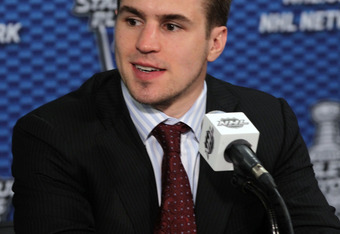 Bruce Bennett/Getty Images
Heading into the offseason, the Rangers have more than $20 million in cap space, and with Marian Gaborik's contract set to expire after the 2013-14 season, that number will only increase in the future. 
As Lyle Richardson of the Hockey News pointed out, the Rangers aren't the only team with deep pockets that could be chasing Parise, as the Detroit Red Wings have $5 million more in cap space than New York. Furthermore, Parise is reportedly a big fan of Pavel Datsyuk's, and it isn't hard to imagine what kind of damage the two could do on a line together. 
Though Parise will likely be vilified in New Jersey if he decides to leave town, the Devils made things more difficult for themselves when they signed Ilya Kovalchuk to a 15-year, $100 million deal in the summer of 2010. 
With only 13 players signed heading into next season, just over $28 million in cap space and a dark cloud of financial uncertainty hanging over the franchise, it seems increasingly unlikely that the Devils would be able to realistically offer their captain anything close to what they did with Kovalchuk. 
It's unfortunate because the team's success this spring showed that even with an aging Brodeur, the Devils have a strong core capable of making deep postseason runs. 
However, without Parise, the 2012 Stanley Cup Finals may be the closest the franchise comes to winning its fourth Stanley Cup in the foreseeable future.  
It isn't Parise's fault that the Devils are in financial turmoil, or that Lou Lamoriello is in a bind with only has eight forwards and five defensemen signed through next season. 
Ultimately though, what he does after this season is his decision, but if he does return to New Jersey, he'll do so knowing he likely left a considerable amount of money on the table.