MLB Controversies: Fan Voting for the All-Star Game Has Become out of Hand
June 8, 2012

Jim Rogash/Getty Images
Over the past few seasons, the MLB All-Star Game has had several players start who are clearly not worth the honor.  Every year there seems to be at least four to five players from both leagues who get the starting nod because of their name.  
For example, in 2009, right before Josh Hamilton had broken into the star he is today, he got the starting nod in the ASG with a .243 AVG, .298 OBP, six HR and 24 RBI in only 152 at-bats, which was 50th in the AL prior to the break.  Players like Juan Rivera (.312/16/52), Shin-Soo Choo (.292/13/54) and Jermaine Dye (.302/20/55) all got snubbed and were not even brought as replacement players.
I find this sickening.  How can a guy who hits six home runs, regardless of his great 2008 campaign (.304/32/130), get the start over three players who clearly had a better season in the making?
I could go on for hours and find different players from several years who unfortunately got snubbed from the ASG due to silly voting by fans.  It is time that Bud Selig decides that the fans who vote strictly for their home team players are not suitable for deciding which stars get to show off their talents in the Mid-Summer Classic.  
To this point, here are the leaders for each position for both leagues and in parenthesis who I believe should make it due to their statistics.  If I seem biased or unfair at all, please let me know. But I will try to do this the best I can.
American League
C - Mike Napoli (A.J. Pierzynski)
1B - Prince Fielder (Paul Konerko) 
2B -  Ian Kinsler (Jason Kipnis)
3B - Adrian Beltre (Miguel Cabrera)
SS - Derek Jeter (Elvis Andrus)
OF - Josh Hamilton (Josh Hamilton)
OF - Curtis Granderson (Adam Jones)
OF - Nelson Cruz (Josh Willingham)
DH - David Ortiz (David Ortiz)
National League
C - Yadier Molina (Carlos Ruiz)
1B - Joey Votto (Joey Votto)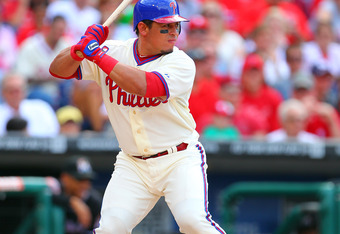 Rich Schultz/Getty Images
2B - Dan Uggla (Dan Uggla)
3B - David Wright (David Wright)
SS - Troy Tulowitzki (Rafael Furcal)
OF - Matt Kemp (Matt Kemp)
OF - Carlos Beltran (Carlos Gonzalez)
OF - Ryan Braun (Melky Cabrera)
Before you say anything, I assume you are shocked by my picks of Jason Kipnis and Josh Willingham, but their numbers are both better than those of Kinsler and Granderson/Cruz as a whole.  Otherwise, players like Pierzynski (fifth in AL C voting), Konerko (third in AL 1B voting), Cabrera (second in AL 3B voting), Andrus (second in AL SS voting) and Adam Jones (fifth in AL OF voting) have gotten less-than-honorable recognition, and is not fair to players who are putting up MVP numbers but receiving AAA-level treatment.  
In the NL, Ruiz is fourth in NL C voting, Furcal is second in NL SS voting, Melky is fifth in NL OF and Carlos Gonzalez, the only player in the majors in the top five for the Triple Crown, ranks 13th in NL OF voting.
I hope you all enjoy this article and if you have anything to say feel free to comment and I will respond with my thoughts.  Thanks!
Please follow me on Twitter at Follow @ATitiner61