Pacquiao vs. Bradley Fight Time: Live Stream and PPV Listings for Fight
June 9, 2012

David Becker/Getty Images
Manny Pacquiao and Timothy Bradley will battle in one of the best boxing matchups of the year on Saturday at the MGM Grand in Las Vegas.
Even though many people expect Pacquiao to win this bout and never be in danger of losing, you must give Bradley the respect he deserves ahead of this clash.
Bradley's 28-0-0 record proves that he has talent and is capable of giving Pac-Man a very difficult fight with his tenacity and all-around ability.
We all want Pacquiao and Floyd Mayweather to finally put aside their differences and set a date for a fight between the two of them, but this Bradley fight with Pacquiao will certainly give fans of boxing an exciting bout worth a pay-per-view buy.
Let's look at all the information you need so you don't miss a minute of this extraordinary bout.
Where: MGM Grand Garden Arena, Las Vegas
When: Saturday, June 9 at 9:00 p.m. ET.
Watch: HBO Pay-Per-View
Live Stream: TopRank.com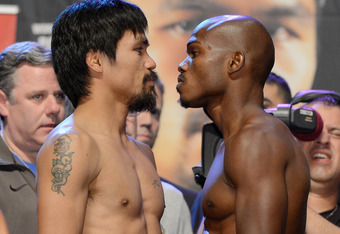 Kevork Djansezian/Getty Images
Prediction
Bradley won't be defeated in the early rounds, but he won't be able to withstand a full 12 rounds with Pacquiao.
Pac-Man is too strong for Bradley and will be able to defend himself well against "Desert Storm's" punches throughout the fight. Pacquiao will win with a knockout in the eighth round.