Predicting the Top 5 Most Shocking Results from Training Camp Battles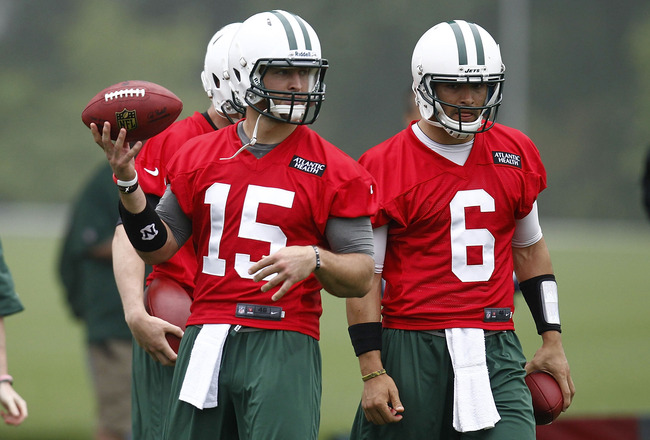 Jeff Zelevansky/Getty Images
It's hard to believe, but NFL OTAs are already well underway as we come closer to the middle of June—and before you know it, teams will be hosting minicamps and then it will finally be training camp.
For each and every NFL training camp, we have quite a few surprises. For example, last year we saw Tim Tebow and Kyle Orton go back and forth, with Orton ultimately being named the starter for the Denver Broncos.
In that spirit, let's take a look at my predictions for the five most shocking results from training camp battles.
Ryan Tannehill Will Beat out Matt Moore and David Garrard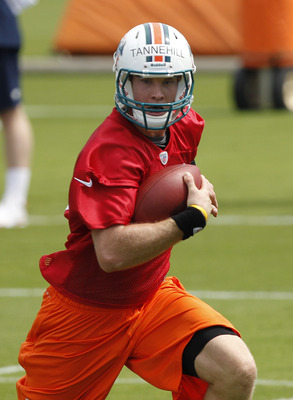 Joel Auerbach/Getty Images
The majority may feel that Ryan Tannehill is best suited to take a year off and ride the bench behind Matt Moore and David Garrard—but I do not feel like that's in the best interest for the Miami Dolphins.
No one knows Mike Sherman's offense better than Tannehill, as he played in that system while at Texas A&M.
Believe it or not, I feel that Tannehill is NFL-ready and is ready to take on the role as Miami's starting quarterback.
If Miami wants to compete in 2012, then Tannehill needs to be their starter—not Moore or Garrard.
Jake Locker Will Beat out Matt Hasselbeck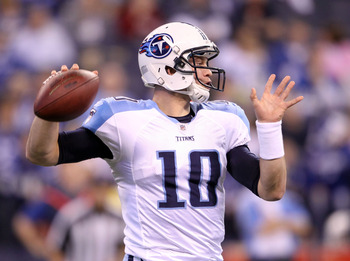 Andy Lyons/Getty Images
It's time to take a seat, Matt Hasselbeck—you had a nice run.
By Week 1 of the 2012 NFL season, Jake Locker will be the starting quarterback of the Tennessee Titans. It will be the beginning of a whole new era in the Titans organization.
According to The Tennessean, head coach Mike Munchak plans on having both quarterbacks split reps 50/50. The team will have a better idea on who will be the starter by Week 3 of the preseason.
If you ask me, Locker will come out on top—he's young with a ton of potential. The future is now.
I believe he's ready to take the next step as a starting quarterback in the National Football League.
John Skelton Will Beat out Kevin Kolb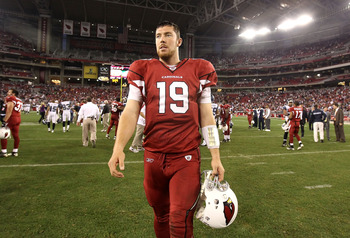 Christian Petersen/Getty Images
Forget about Kevin Kolb—he was a complete waste of money and time for the Arizona Cardinals.
The quarterback of this team will be John Skelton by the start of the 2012 NFL regular season.
Kolb struggled all of last season with the team as he tossed just nine touchdowns compared to eight interceptions and posted a 3-6 record as the team's starter.
Skelton, on the other hand, was a winner and fought through every single start. Skelton might have posted a 68.9 quarterback rating, but he went 5-2 as the team's starter and was able to get the ball into Larry Fitzgerald's hands.
Ultimately, this battle will come down to whoever can get the ball to Fitzgerald more frequently—and I believe that man will be John Skelton.
Russell Wilson Will Beat out Matt Flynn and Tarvaris Jackson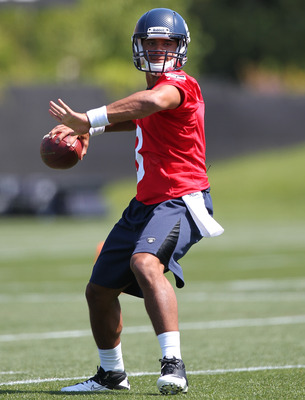 Otto Greule Jr/Getty Images
Call me crazy, but I'm not buying Matt Flynn as a franchise quarterback—I see him mostly as a system quarterback who flourished with the unbelievable talent surrounding him while with the Green Bay Packers.
With that being said, I have a strong feeling that rookie Russell Wilson will beat out Flynn as the starting quarterback for the Seattle Seahawks.
Would you be all that surprised if Pete Carroll pulled a stunning move like this? It wouldn't shock me one bit.
I actually see this situation as one similar to Kevin Kolb and John Skelton.
Kolb might be the superior talent, but Wilson will step in and infuse the team with energy and use his natural playmaking ability to win some football games in 2012 for Seattle.
Tim Tebow Will Beat out Mark Sanchez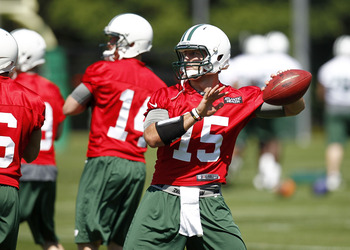 Jeff Zelevansky/Getty Images
I have been saying this for quite some time now.
Tim Tebow will be the starting quarterback of the New York Jets in 2012. Not Mark Sanchez.
There's a reason why the Jets traded for Tebow—and it's not because he brings more unnecessary attention to the Jets organization. It's because newly-hired offensive coordinator Tony Sparano has a long-standing relationship with the quarterback that stretches back to the Senior Bowl in 2010.
What Sparano likes to do in his offensive system is run the ball—and that is the exact kind of offense Tebow needs to be in.
Tebow needs to have a reliable rushing attack, something that he can take part in, which will ultimately open up the deep ball—something Tebow can throw very well.
Go ahead, call me insane all you want—but I am sticking to my prediction.
Tim Tebow will be the starting quarterback in 2012 for the Jets.
Keep Reading