Re-Ranking New York Mets' Top 10 Prospects After the 2012 MLB Draft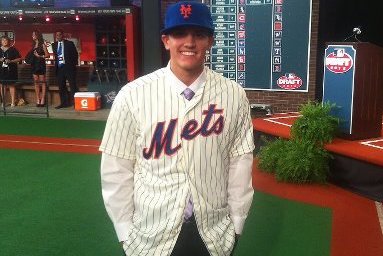 Photo is credited to Metsmerizedonline.com
Just a couple short years ago, the New York Mets' farm system appeared barren. Aside from the current group of major leaguers on their roster, there was not much to boast about in terms of developing from within.
Enter Sandy Alderson.
The current GM of the Mets has not only created a bit of depth in the system with shrewd drafting and internationals signings, but there are legitimate prospects on the cusp of starring in Citi Field.
Here are the updated top-10 prospect lists, with their preseason ranking as given by Baseball America.
Begin Slideshow

»
Preseason Ranking: Eighth
Why He's Here
The 44th overall selection of the 2011 draft is off to an impressive start as a 19-year-old in the South Atlantic League. He is averaging nearly a strikeout per inning over his first 10 starts and has done a good job keeping the ball in the park.
The area he must improve on is his command, as he has walked nearly a batter every other inning.
Fulmer is considered to have an advanced feel for pitching for his age, and the Mets are lucky to have convinced him to sign as opposed to signing with Arkansas which he seemed very adamant on doing. If he continues to show poise, he will progress rather quickly in the system.
Scout's Take
"Projecting guys like Fulmer can be tricky business. He's got the polish and the makeup to be a good No. 3 starter with the upside of a No. 2 if the Mets can clean up his mechanics a little. He might even add a little more velocity, although his body type doesn't leave room for growth. His floor is probably lockdown eighth inning guy, which there's nothing wrong with that either."
-Via BaseballInstinct.com
Ceiling: No. 2 starter
ETA: 2015
Preseason Ranking: 10th
Why He's Here
After Flores signed as a 16-year-old, he flourished in his first year in the minors, hitting a combined .307 with an .815 OPS across three levels of minor league ball. He was drawing comparisons to another Latino hitting star who outgrew SS, and that was Miguel Cabrera. High praise for such a youngster.
Since then, Flores has become a third baseman and has continued to hit, but has not developed the power that was anticipated and has remained with the St. Lucia A-ball affiliate since 2010.
Flores is still young at 20, but he may not have the ceiling that once was believed. Thus far he is off to a tremendous 2012 with an .845 OPS and only 21 strikeouts through his first 57 games. He would be much higher ranked if he progressed at the rate of his age 16 season.
Scout's Take
"His best tool is by far his bat, and he shows extra-base ability that should continue to develop as he progresses"
Ceiling: All-Star caliber corner infielder
ETA: Mid-2013
Preseason Rank: Ninth
Why He's Here
I recently wrote an article on Reese which you can find here. Basically, when the Mets drafted Havens he was a polished college hitter for a big-time SEC school. Since then, he has suffered through several injuries which may have hindered his development considering his .173 average through 110 at-bats in Double-A Binghamton.
If not for the injuries, he should have been on the same path of Mariners second baseman Dustin Ackley. There is obviously still big-time prospect potential, but he is now 25.
Scout's Take
"Havens is obviously frustrating, especially when the Mets second base situation is such a mess. He'd already be established there without all of the injuries."
Ceiling: If he can regain his form of 2010, he can become an All-Star caliber second baseman.
ETA: Depends completely on his ability to stay healthy and perform, because as of now he is not on the same path he was in 2009.
Preseason Ranking: Fifth
Why He's Here
The good news is that at 21 years old, Puello has already accumulated four solid minor league seasons and displays an exceptional arm from the outfield and a potent power and speed threat at the plate.
Unfortunately, Puello just fractured his wrist and is no stranger to injuries. He has had significant injuries three seasons in a row which at 21 is either an anomaly or a trend. I am inclined to say the latter. Nevertheless, 10 home runs in the Florida State League as a 20-year-old and 45 steals in 2010 are enough to warrant a spot on the list.
Scout's Take
"At the plate, Puello must still become much more patient. After walking in 7.1% of his plate appearances in 2010 with Savannah, his walk rate dropped to 3.7% in 2011 with St. Lucie".
Ceiling: Sky is the limit if he can continue to develop. Carlos Beltran's name has been whispered as a pro comparison.
ETA: 2013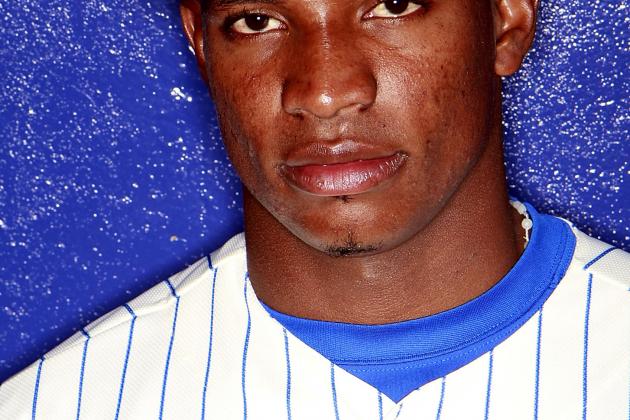 Marc Serota/Getty Images

Preseason Ranking: Sixth
Why He's Here
Mets fans got a glimpse of Mejia during his early season stint with the big league club in 2010. He threw 39 innings out of the bullpen with mixed results. His peripherals were not overly impressive, neither was his 0-4 record, but at 20 years old it is tough to expect much better.
Now, at 22 and post Tommy John, he will be moved back to the bullpen after originally rehabbing to become a starter. He possesses phenomenal pure stuff with a mid-90s cutter, but at 6'0" durability will be a concern. In 2010 he was the crown jewel of the system, and now he seems to have been lost amidst the shuffle, but he is still a premier talent.
Scout's Take
"His mid 90s FB and split CU give him two plus offerings that should usher him into the back end of the bullpen if there isn't time to refine his curveball. He's a pitcher that can live on his FB, cutter and change alone in short stints."
Ceiling: Neftali Feliz-type of impact
ETA: Very soon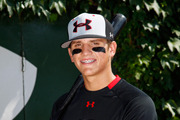 Photo is credited to Baseballfactory.com
Preseason Rank: N/A
Why He's Here
The 2012 graduate of Barbe High School in Louisiana was just selected with the Mets' 12th overall pick. Mets fans better hope the $2.3 million signing bonus does not slow him down, because as of now he is their top infield prospect for the future. He is lauded for his defensive prowess, and all indications are that he will remain at SS for the future given his skill set.
At the plate, he tore about high school pitching to the tune of a .413 average which does not necessarily correlate to professional ball, but he displays the type of hand/eye coordination and balance that can enable him to hit enough to become a big leaguer.
Scout's Take
"Gavin's arm, speed and hit tools all grade between solid to above-average, which all play up due to his impressive baseball instincts and intelligence, making him as good a bet to make it to the majors as any prep position player in the draft."
Ceiling: Everyday major league shortstop
ETA: Late 2015/early 2016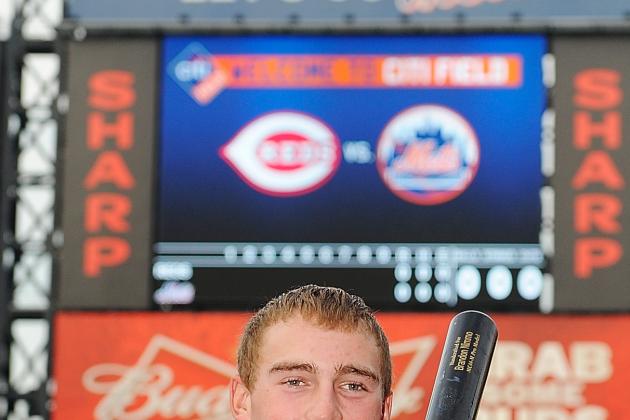 Patrick McDermott/Getty Images

Preseason Ranking: Third
Why He's Here
The pride of Wyoming has yet to begin his 2012 season, but will most likely play with the Brooklyn Cyclones of the New York-Penn League. He had an abbreviated stint in 2011 in rookie ball, but it was too small of a sample size to draw any conclusions.
Nimmo, like Cecchini, was the MVP of the Under Armour All-American game held in Wrigley Field. The 6'3" Nimmo is considered a complete package, as he stole 35 bases in 35 attempts in 2010 and has gap power and a solid arm in the outfield.
Scout's Take
"His easy stride and plus speed (Nimmo is a Wyoming indoor state track champion) result in numerous doubles and triples now that should evolve into home runs in the future as he fills out and gets stronger. His polish with the bat is the one thing that scouts have repeatedly remarked on this spring after seeing Nimmo."
Ceiling: All-Star caliber
ETA: 2014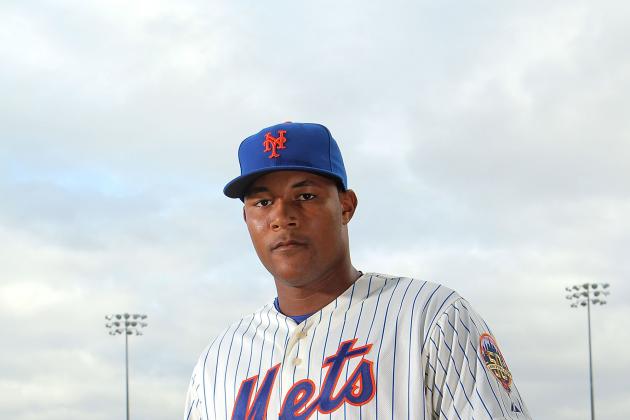 Marc Serota/Getty Images

Preseason Ranking: Fourth
Why He's Here
Familia put himself on the map last season by cutting his BB/9 from 5.5 to 3.1. He always possessed the plus fastball and devastating slider, but his improved command allowed him to lower his ERA from 5.58 to 2.90 last season.
He is off to a mediocre start in Triple-A Buffalo, mainly due to his regression in command. He is currently working in the rotation, but many believe his future is in the bullpen, especially if he does not develop a third above-average pitch.
Scout's Take: Kevin Goldstein of Baseball Prospectus said via metsminorleagueblog.com, "bullpen arm, but a damn good one. "
Ceiling: Dominant closer
ETA: As a closer this season, as a starter next season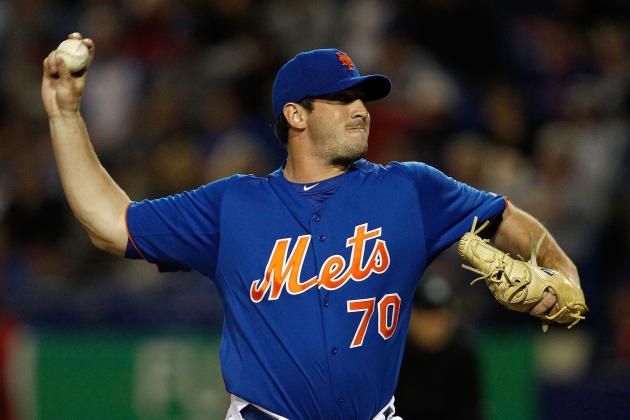 Sarah Glenn/Getty Images

Preseason Rank: Second
Why He's Here
Considered a finished product at the time of the draft in 2010, Harvey has put himself right on the cusp of the big leagues with his solid performance in professional ball so far. He is a terrific competitor and has great raw stuff as can be seen by his 18-7 minor league totals in his young career.
The only negative so far is his inconsistent command. For a pitcher with 8.6 K/9, there is no reason for his 1.45 WHIP and 1.94 K/BB ratio. Harvey needs to refine his command before he gets his inevitable promotion to the Mets. He is a legitimate prospect, but if he continues to struggle with his location, he will not reach his full potential.
Scout's Take
"This is why the Mets have been right to be patient with Harvey. He's not ready yet, but he is not far away. At this rate, he should be in Queens sometime later this summer." -Via Metsminorleagueblog.com
Ceiling: Ace caliber
ETA: 2013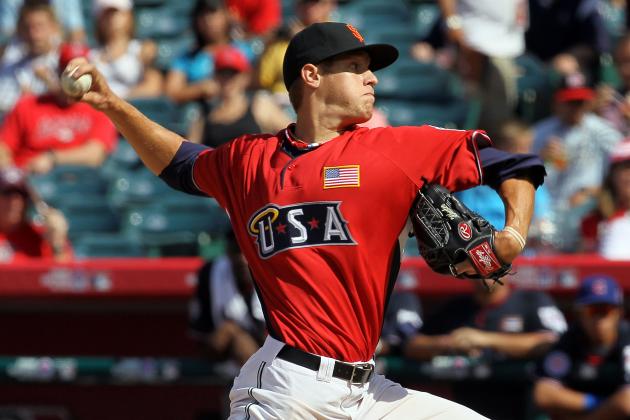 Stephen Dunn/Getty Images

Preseason Rank: First
Why He's Here
Wheeler gets the nod over Harvey for his overall superior arsenal of pitches as well as his improving command. It's hard to believe San Francisco let go of this arm for a rental player. He has been downright dominating this season in Double-A. He is 6-2 with a 1.66 ERA, 10.1 K/9, 0.96 WHIP and 0.2 HR/9.
That is cause for excitement in New York. With Wheeler, the idea of a promotion is not a matter of "if," but "when?"
Scout's Take: "The best pitcher I've seen in the minor leagues this year." -Via CBS Sports
Ceiling: Ace
ETA: 2013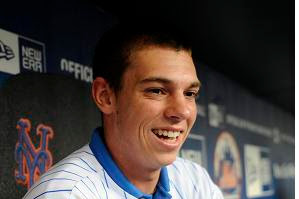 Just Missed the Cut: Darin Gorski, Cory Mazzoni
Need to See More Of: Steve Matz