2012 NBA Mock Draft: Overrated Prospects Sure to Fail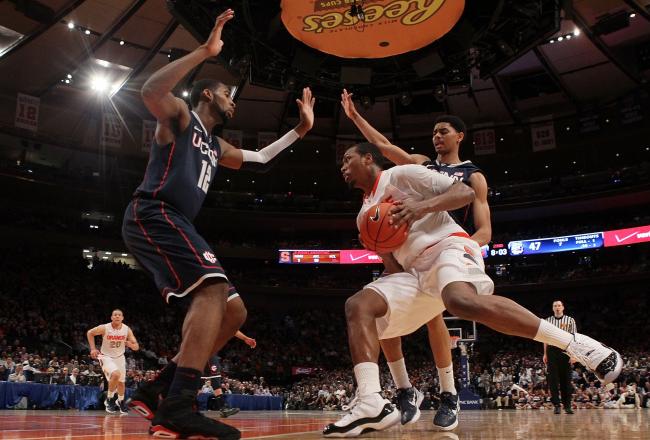 Jim McIsaac/Getty Images
Not every draft class can measure up to the group from 2003, and this year's crop has plenty of prospects that will never pan out.
If the NBA draft was a Las Vegas casino game, no one would play it. The odds are definitely not in the franchises' favor, and most years, most picks never reach their potential.
Here are my predictions for every first round pick, highlighting the prospects that are going to be busts.
Note: the overrated players are in italics
1. New Orleans Hornets (21-45): Antony Davis, PF, Kentucky
If there's one player that is sure not to be a bust, it's Anthony Davis. His defensive skills will make him one of the most feared shot-blockers in the league immediately upon his arrival.
He is no slouch on offense either with a 14.2 point per game average in his only season at Kentucky. He is a beast on the boards and pulled down 10.4 rebounds a night in his brief college career. He is clearly the best prospect in the draft, and he is also the safest pick.
2. Charlotte Bobcats (7-59): Bradley Beal, SG, Florida
Between Kemba Walker and Bradley Beal, the Bobcats would have a young, talented backcourt with the potential to score in bunches.
The biggest concern over Beal was his lack of size at 6'4", but his wingspan was measured at 6'8" at the combine, and his long arms have calmed those worries. Beal is a complete prospect who can score, rebound and defend.
3. Washington Wizards (20-46): Michael Kidd-Gilchrist, SF, Kentucky
Michael-Kidd Gilchrist is the best perimeter defender in the draft. His offensive skills are raw, but his ability to wreak havoc on defense will make him a successful pro.
Kidd-Gilchrist will give John Wall a running partner who can finish in transition as well. This is a solid pick for Washington, and they just have to hope that Charlotte passes up on him.
4. Cleveland Cavaliers (21-45): Andre Drummond, PF/C, Connecticut
Andre Drummond has great size at 6'11" and length with a 7'6" wingspan. He is remarkably quick for a man his size.
However, his athletic talent did not translate into much production during his freshman year at Connecticut. He averaged just 10.0 points and 7.6 rebounds per game.
He did not show the necessary aggressiveness to take advantage of his size in the post and settled for jump shots far too often.
His outside shooting skills can be a big part of his game, but a player with his size needs to establish a physical presence in the post. He does not show the willingness to do this, and it will hurt his ability to succeed in the pros.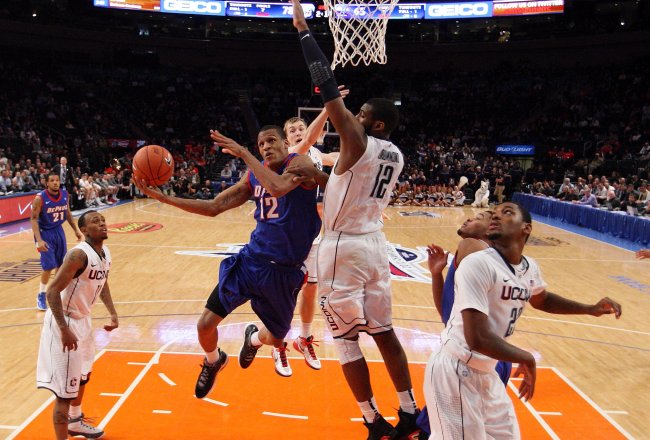 Jim McIsaac/Getty Images
5. Sacramento Kings (22-44): Thomas Robinson, PF, Kansas
Thomas Robinson is the best rebounder in the draft. He is an absolute monster on the glass and was second in the nation with 11.9 boards per game.
His combine measurements show that he just slightly undersized for his position at 6'9". However, he has a ridiculous 7'3" wingspan, and he's an incredible athlete. He will rebound just as effectively in the NBA.
6. Portland Trail Blazers (via 22-44 New Jersey Nets): Damian Lillard, PG, Weber State
The Blazers could use a guard that can both pass and score to complement LaMarcus Aldridge, and Damian Lillard is the perfect player.
He can light up the scoreboard and was second in the nation with 24.5 points per game. He also plays the pick-and-roll extremely well, as noted by ESPN Stats & Information.
7. Golden State Warriors (23-43): Harrison Barnes, SF, North Carolina
Harrison Barnes is a solid all-around player, but he is not elite in an area.
His mid-range game is solid, and he is a reliable defender. He was productive in college, but he will struggle at the next level.
He has good size at 6'8", but he has questionable quickness. Due to this, he struggles to create his own shot.
He also gets pushed around by bigger players and fails to assert himself too often. The Warriors need help on the wing, but they are not going to get it in this draft.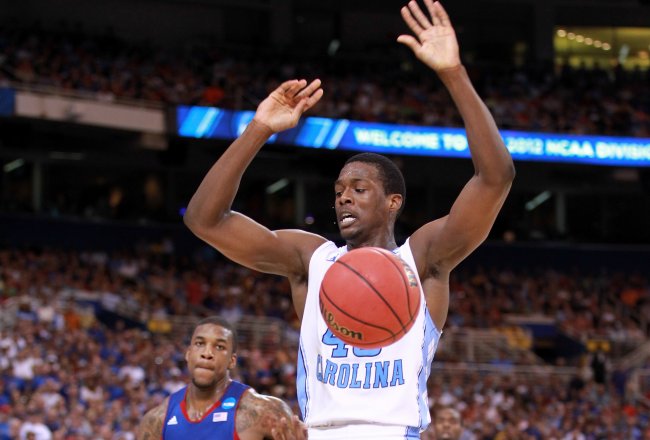 Andy Lyons/Getty Images
8. Toronto Raptors (23-43): Jared Sullinger, PF, Ohio State
The Raptors have a lot of rebuilding to do, which is why they should go with Jared Sullinger. They know exactly what they will get with him.
He is a skilled post player who can score with his back to the basket or while facing up his man. He is also an excellent rebounder and averaged 9.2 boards per game last season with the Buckeyes.
9. Detroit Pistons (25-41): Jeremy Lamb, SG, Connecticut
The Pistons will be hoping for Jeremy Lamb to be a player that contributes at a high level on both ends of the floor.
He put up 17.7 points per game for the Huskies last season, and with a 7'0" wingspan, he is always a threat to rack up steals.
However, Connecticut had a disappointing season this past year because its two most talented players, Lamb and Andre Drummond, failed to assert themselves.
Lamb lacks the aggressive mentality to be an effective defender, and it may also lead to problems with his offensive game, as he will not be on the ball enough. The Piston's woes will continue for at least another year.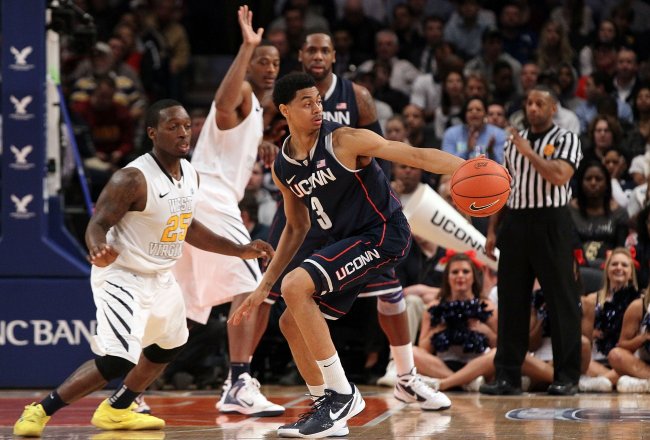 Jim McIsaac/Getty Images
10. New Orleans Hornets (via 26-40 Minnesota Timberwolves): Kendall Marshall, PG, North Carolina
The Hornets have a fantastic opportunity to cement the foundation of their roster in this draft. They will take Anthony Davis at No. 1 overall, and that should help convince Eric Gordon to re-sign.
Drafting Kendall Marshall, who was second in the nation with 9.7 assists, will also give Gordon incentive to return to New Orleans. He is an unselfish player that scorers like Gordon love to play with, and Marshall's playmaking abilities will also help Davis develop on the offensive end of the floor.
11. Portland Trail Blazers (28-38): Tyler Zeller, C, North Carolina
The Blazers need a presence at center, and Tyler Zeller can give them that. He hustles on defense and is aggressive on the glass.
He also has a soft touch on offense and put up 16.3 points per game for the Tar Heels. He will help lighten the load for LaMarcus Aldridge in the frontcourt.
12. Milwaukee Bucks (31-35): Terrence Jones, PF, Kentucky
Jones is a versatile player who can play either forward spot and is an excellent ball-handler.
The biggest red flag that comes up on him is his inconsistent effort. He is immensely talented and was discussed as a possible No. 1 overall pick at times during his freshman year.
However, he was not able to stand out on a talented Kentucky team, and he will not be able to stand out for the Bucks either.
He will not see the ball much with Brandon Jennings and Monta Ellis in the backcourt, and his frustration will continue to grow. This will cause a bad start to his career and he may never be able to recover.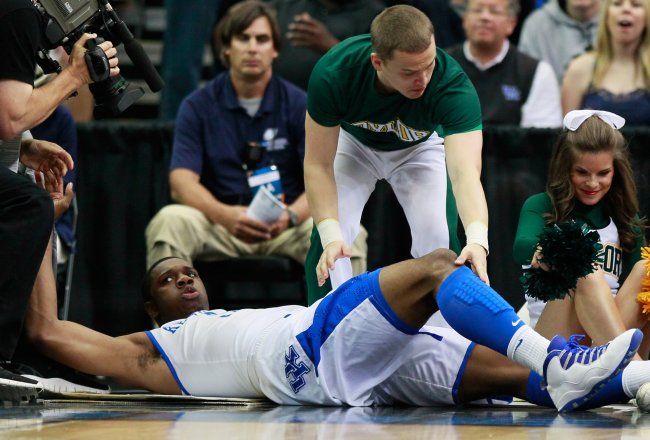 Kevin C. Cox/Getty Images
13. Phoenix Suns (33-33): Terrence Ross, SG, Washington
Terrence Ross is an explosive athlete who also has unlimited range on his jump shot.
If the Suns can manage to re-sign Steve Nash, Ross can play the same role that Joe Johnson did in his early days with the Phoenix. Ross is not the complete scorer that Johnson is, but he has excellent potential and will be effective on the offensive end of the floor.
14. Houston Rockets (34-32): Perry Jones III, PF, Baylor
Perry Jones III is one of the best athletes in this draft class. He measured in at 6'10" at the combine, and he can run the floor better than nearly every player with similar size.
The Rockets would greatly benefit by having a player with exceptional athleticism in the frontcourt.
15. Philadelphia 76ers (35-31): John Henson, PF, North Carolina
John Henson is an athletic power forward with great length. This makes him a dangerous shot-blocker, and he averaged 2.9 swats per game last season.
He is a good all-around defender and constantly hustles. No one can question his motor or his drive.
However, he is extremely skinny for a post player and does not have much of a perimeter game. He will struggle to assert himself down low and will get pushed around frequently.
His lack of bulk will hurt him on defense as well. It will not take long for players to realize that they can limit him as a shot-blocker by driving straight into his body.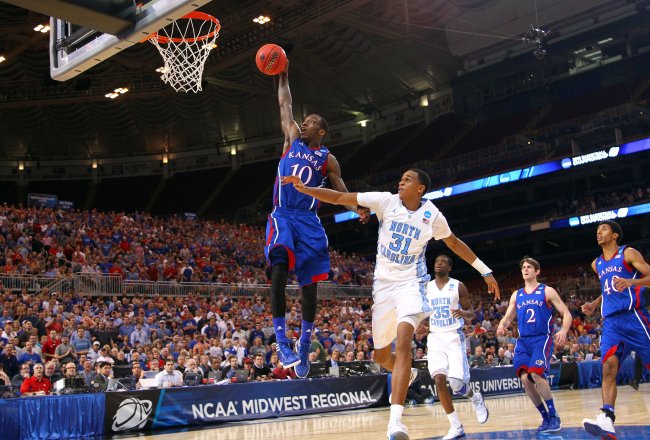 Dilip Vishwanat/Getty Images
16. Houston Rockets (via 36-20 New York Knicks): Arnett Moultrie, PF, Mississippi
Arnett Moultrie will end up being one of the big surprises of this draft class. He is an athletic and skilled big man who will fit in well with the Rockets.
He will give Houston plenty of frontcourt depth. The Rockets, after adding Perry Jones III and Moultrie, will have multiple options at every position. They could have a season similar to the one the Denver Nuggets had this past year because of their depth.
17. Dallas Mavericks (36-30): Meyers Leonard, C, Illinois
What the Mavericks truly need is to get Tyson Chandler back, but that is not going to happen. Meyers Leonard's size, defense and rebounding will help fill some of the void that Chandler left.
Leonard is raw on offense, but he runs the floor well for a big man, and as a true seven-footer, he can compensate for Dirk Nowitzki's lack of defense in the post.
18. Minnesota Timberwolves (via 36-30 Utah Jazz): Austin Rivers, SG, Duke
Austin Rivers certainly has bust potential, and it will be difficult for him to adjust to playing off the ball.
However, landing in Minnesota will be perfect for him. Ricky Rubio proved to be an electric playmaker before getting injured last season, and Rivers will constantly get the ball in position to score while playing with the Spaniard.
19. Orlando Magic (37-29): Fab Melo, C, Syracuse
The post-Dwight Howard era may have already begun by the time the draft takes place, and Orlando will have to add a big man if that is the case.
Melo will obviously not be the player that Howard is, but he is an athletic center with great size who can rebound and defend. The Magic can't ask for much more this late in the draft.
20. Denver Nuggets (38-28): Dion Waiters, SG, Syracuse
Dion Waiters' lack of an outside shot is concerning, but the Nuggets will be a great fit for him.
He excels when driving to the basket, and he will be an ideal running mate for Ty Lawson in the open court. Denver is a deep team that can throw out a lot of different lineups, and Waiter can excel if surrounded by the right players.
21. Boston Celtics (39-27): Moe Harkless, SF, St. Johns
Boston needs to add athleticism badly. Moe Harkless is an ideal pick here, as he is one of the most explosive players in the draft.
He certainly has holes in his game, which is why he will likely be available here, but Rajon Rondo will be able to let loose in transition with Harkless on the court.
Which player likely to go in the top-10 has the biggest bust potential?
22. Boston Celtics (via 40-26 Los Angeles Clippers): John Jenkins, SG, Vanderbilt
John Jenkins has a lightning-quick release and is a dangerous three-point shooter. This description may remind Celtics fans of another shooting guard on their team.
Jenkins is the player that Ray Allen is, and the two share certain qualities. Jenkins could be a solid option to give Allen some rest and fill in for him when he is injured.
23. Atlanta Hawks (40-26): Tony Wroten Jr., PG, Washington
Tony Wroten Jr. is a big, athletic point guard who could excel as the leader of the Hawks' second unit.
He does not look to pass enough and is an inconsistent jump shooter, but he can bring pace and energy off the bench.
24. Cleveland Cavaliers (via 41-25 Los Angeles Lakers): Quincy Miller, SF, Baylor
Cleveland is painfully thin on the wing, and Quincy Miller can help this problem. He is a remarkably similar player to teammate Perry Jones III, and because of this, he failed to assert himself at Baylor.
He has great upside as his true potential is unknown. What is clear is that he is long and athletic, and Kyrie Irving would happily dish him the ball on a fast break.
25. Memphis Grizzlies (41-25): Evan Fournier, SG, France
O.J. Mayo's days in Memphis are likely numbered, and the Grizzlies will want to start adding guards who can score.
Fournier is not the same shooter as Mayo from deep range, but he has great size for the position and a versatile offensive game.
26. Indiana Pacers (42-24): Andrew Nicholson, PF, St. Bonaventure
Andrew Nicholson is a small-school prospect with big-time potential. He can score in the post or on the perimeter, and he also shows promise as a defender.
There will be a steep learning curve for him once he's in the NBA, but Indiana will be a great place for him to develop.
27. Miami Heat (46-20): Festus Ezeli, C, Vanderbilt
The Heat's biggest need is crystal clear. They need size, and Festus Ezeli has that.
Whether he has much else going for him can be questioned, but he has the potential to be a solid rebounder and defender.
28. Oklahoma City Thunder (47-19): Royce White, Small Forward, Iowa State
Royce White has plenty of talent, but a lot of character concerns that can keep him from reaching his potential.
Oklahoma City has one of the strongest locker rooms in the league, and there are few distractions to derail White. If he has any chance at succeeding in the NBA, it will be with the Thunder.
29. Chicago Bulls (50-16): Marquis Teague, PG, Kentucky
Having Derrick Rose, another John Calipari recruit, as a mentor is an ideal situation for Marquis Teague.
Teague is big and athletic for the point guard position, and he will fit in nicely with the Bulls' defense-first mentality.
30. Golden State Warriors (via 50-16 San Antonio Spurs): Draymond Green, SF, Michigan State
Draymond Green is not an NBA-caliber athlete, but he gets by with skill and savvy. He does a little bit of everything from the small forward position.
He led Michigan State to a successful season, and he is a fiery competitor. The Warriors would be smart to take a chance on his intangibles with the last pick in the first round.
This article is
What is the duplicate article?
Why is this article offensive?
Where is this article plagiarized from?
Why is this article poorly edited?