French Open 2012: Keys to Maria Sharapova Avoiding Upset vs. Sara Errani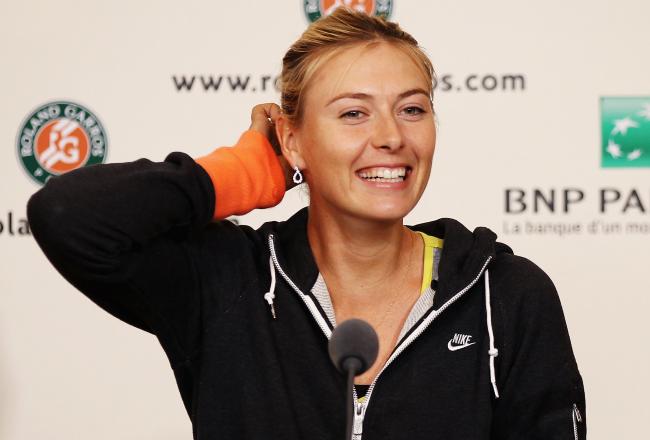 Matthew Stockman/Getty Images
Despite being just 25 years of age, Maria Sharapova already has a chance to become one of the greatest women's tennis players ever. Sharapova will take on the surprising Sara Errani in the French Open Finals, and if she is victorious then she will have won the career Grand Slam.
Sharapova has rebounded from a severe shoulder injury and regained the top ranking by defeating Petra Kvitova decisively in the semifinals. Sharapova lost in each of the past two finals she has reached, as Kvitova beat her last year at Wimbledon and Victoria Azarenka trounced her in this year's Australian Open.
With that in mind, Sharapova can't afford to take Errani lightly. Here are the biggest keys that Sharapova must be cognizant of if she is going to break her Grand Slam final losing streak and enter the annals of tennis history forever.
Avoid Double Faults
One thing that you never can be too sure of when it comes to Sharapova is her serve. When it is banging on all cylinders, she is nearly impossible to beat. When she struggles with her toss and is wildly inaccurate, however, the opposition is able to take advantage of it.
Sharapova has a penchant for double faulting, and while she has kept them to a minimum at Roland Garros, she can't afford to have many against a crafty little player like Errani.
Sharapova is the far more talented and dominant player, but if she gives away free points, then she opens herself up to a monumental upset. Even if Sharapova has to take a little something off her second serve to get it in, she should do it.
Errani is a finesse player, so it isn't as if she is going to tee off on Sharapova's service. Sharapova ought to go all out on the first serve as she always does, but accuracy will be paramount on the second.
Attack Errani's Second Serves
Clay is undoubtedly Errani's best surface because of her quickness and ability to retrieve the ball, but regardless of where she is playing, she isn't a particularly explosive server.
Errani's first serve should be easy enough for Sharapova to return, but where Sharapova can truly do damage is on Errani's second serve. It should be akin to batting practice for Sharapova essentially, so she can definitely pick corners and go baseline-to-baseline with her returns.
Sharapova has never been one to get complacent—she is a very aggressive player, so this shouldn't be an issue. She just has to make sure that she limits unforced errors because when Errani's first serve goes out, the advantage immediately shifts in Sharapova's favor.
As long as Errani doesn't get a ridiculous amount of first serves in, this should help Sharapova in a big way.
Get Every Shot Deep
Like countrywoman Francesca Schiavone, who won the French Open two years ago, Errani's game is tailor-made for clay. She has very little power, but she is exceptionally quick, plays the angles well and is a great slider.
Sharapova won't be able to match her in that regard, but she can overpower the Italian. That means that Sharapova must try to get every return as deep as possible to keep Errani on her heels.
There is no chance that Errani can trade ground strokes with Sharapova and succeed, so Maria must make it her type of match. If she leaves returns short or tries to use drop shots, then it simply isn't going to work. Errani can get to almost every ball, but if Sharapova forces her to remain mostly stationary, then she is going to force some errors.
Again, this is something that Sharapova normally practices, so she should be able to execute and complete the career Grand Slam.
Follow @MikeChiari on Twitter
This article is
What is the duplicate article?
Why is this article offensive?
Where is this article plagiarized from?
Why is this article poorly edited?