Words with Frenz AFC East Mailbag, June 8 Edition
June 8, 2012

Al Bello/Getty Images
The offseason is full of questions as teams try to get their rosters sorted out and fans wonder what their team's chances are of success in 2012.
Of course, there are a lot of smaller issues at stake, but these are just the most obvious.
Although it took a little more poking and prodding this week than usual, here's the mail...it never fails!
I'll never pass up a good Blue's Clues reference. Okay, maybe I will. But not when it comes to the mailbag.
MAAAAAAAAAAAIIIIIIL!
From Rob Gronkowski's new contract to Santonio Holmes' gangsta limp to the Dolphins quarterback controversy to the Bills chances at playoff glory, there was enough to go around.
So let's start opening up the tweetbag!
@ErikFrenz Would the Jets consider dealing/cutting Santonio before training camp?

— Dylan MacNamara (@DylanMacNamara) June 8, 2012
Thanks, Dylan.
If the trend continues—the trend, that is, of him acting like a diva—they may have no choice.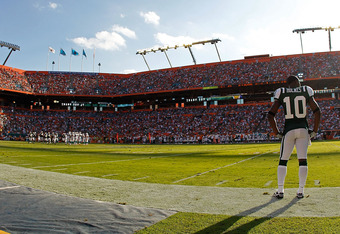 Mike Ehrmann/Getty Images
Yes, he is guaranteed $15.25 million for 2012 and 2013. Yes, he had a legitimate excuse for missing organized team activities. Yes, he has produced for the Jets in clutch situations in the past.
But between the meltdown at the end of the season, his utter refusal to accept responsibility for it, and his behavior upon returning from his trip overseas, Holmes is running out of equity.
There's only one problem: Who is Mark Sanchez going to throw the ball to? The Jets have already gotten rid of two of his favorite and most familiar targets in Braylon Edwards and Jerricho Cotchery. Their two replacements, Plaxico Burress and Derrick Mason, were abject failures with the Jets.
Behind Holmes on the depth chart? Stephen Hill, Jeremy Kerley and Chaz Schilens. All have potential in their own right, but that potential is yet unexplored.
This latest incident should not be considered the tipping point for Holmes' time with the Jets, but if events like this continue, the Jets must eventually choose between what's best for their team on the field and what's best for their team off the field.
@ErikFrenz Do the #Bills really have a chance to get into the playoffs?

— Matthew Stein (@MatthewJStein) June 8, 2012
Thanks, Matt.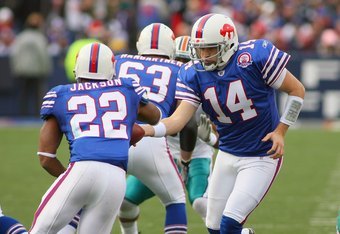 Rick Stewart/Getty Images
I wrote last week that a trip to the playoffs would indicate a best-case scenario for the Bills, and there are plenty of reasons to believe they have a legitimate shot at making that best-case scenario a reality.
Considering the whole-sale improvements to their roster along with the soft strength of schedule they face and you have a recipe for a drastic turnaround from last year's 6-10 finish.
What's more, the Bills are building the right way by retaining the players that have been vital to the team's success while also infusing the roster with a balance of top-end free-agent acquisitions and young talent with potential through the draft.
They have a tough road to hoe in the first six weeks of the season, during which time four of their games will be on the road. However, their schedule down the stretch lends itself to some easy wins, so if they can make it out of the first part of their season with a formidable record, they can easily pick up steam headed into January.
@ErikFrenz With the Gronk extension done, which of the young guns gets an extension? Hernandez, Chung, Vollmer, Spikes, someone else?

— Arjuna Ramgopal (@AvkarSiv) June 8, 2012
Arjuna, one day I'm going to devote a mailbag to you.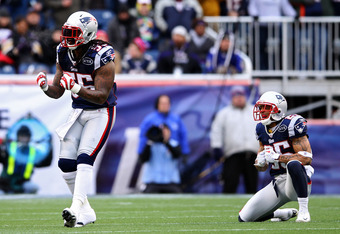 Elsa/Getty Images
Interestingly, all four names you mention have dealt with injuries in recent years; Hernandez has missed two games in each of his first two seasons, while Chung missed eight games in 2011, Vollmer missed almost the entire 2011 season with a back injury and Brandon Spikes had his own injuries last year, as well.
Extending players like that seems like a fool's move, but the Patriots don't seem to mind it all that much, especially since they were willing to hand Rob Gronkowski a six-year extension coming off ankle surgery.
Of the candidates you list, though, Hernandez makes the most sense. He is the most vital to the offense, and his injuries have been minor, having missed just two weeks each time. If the Patriots don't re-sign Wes Welker long-term, they'll be looking for a shifty slot-type receiver to take his spot and replicate his production. Beyond that, the Patriots have done a solid job of finding depth at the other positions.
All that leads me to think that Hernandez could be the next young gun in line for an extension.
@ErikFrenz Do you think Moore, Gerrard, and Tannehill will all get starts for Miami this year?

— Arjuna Ramgopal (@AvkarSiv) June 8, 2012
Perhaps that Words With Arjuna mailbag is today?
That will ultimately depend on whether the quarterback that starts the season for them plays well or struggles.
I wouldn't be surprised at all for two of the QBs to get starts: one of the veterans to start the season and Tannehill at the end of the season. If all three were to get starts, though, that would indicate that the team lacks direction.
My take: Pick a QB, and if the season is tanking, ride it out with him until the time is right for Tannehill (if the time is right this season at all). If the season is going well, there's no need to pull him.
That's all I have for you guys this week. Thanks for the questions, and any further questions can be directed to me via Twitter or Facebook at the links below.
Erik Frenz is the AFC East lead blogger for Bleacher Report. Be sure to follow Erik on Twitter and "like" the AFC East blog on Facebook to keep up with all the updates.