Knox Talks: NFC South Mailbag, 6/8 Edition
June 8, 2012

Every Friday I'll ask for NFC South questions to be submitted via e-mail or Twitter. I'll post the best ones here, and answer the rest in a personal response. So, like Pat Benatar so wonderfully said, "Hit me with your best shot."
What's on your mind?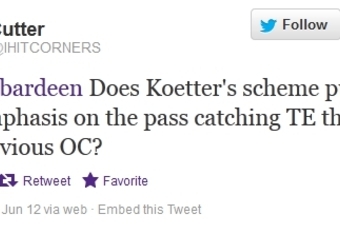 No. Actually, Dirk Koetter uses the tight end quite a bit and also uses some multiple tight end sets when possible instead of utilizing a fullback.
Tony Gonzalez is going to be given every opportunity to catch a lot of passes this year. There isn't a person in the building that doesn't have the utmost respect and trust in Gonzalez, and when it comes to Matt Ryan, he's a better quarterback when 88 is on the field.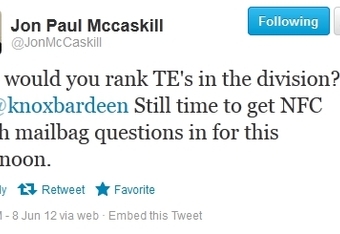 Jimmy Graham is the top tight end in the division. His numbers were sick last year and he could get better in 2012. Tony Gonzalez might be the best ever, but he comes in an No. 2. It's hard to imagine a guy who caught eight touchdown passes last year coming in at No. 3 in the division, but Greg Olsen does, the division is really just stacked. Dallas Clark comes in at No. 4. I think Clark's better days are behind him, I just hope he can stay healthy enough to produce for the Bucs.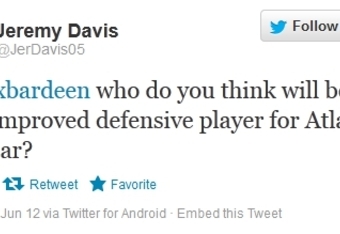 There are three guys I have my eye on for huge improvements in 2012: Lawrence Sidbury, Akeem Dent and Ray Edwards. But, I think Edwards is the front-runner.
Sidbury was really effective when he was on the field. He only played 126 passing snaps in 2011 but had four sacks. Only John Abraham had more. Towards the end of last season, Atlanta started to bring Sidbury in more frequently and will definitely use him more in 2012. If he keeps his pressure frequency up with more snaps, it's easy to predict a huge improvement for Sidbury.
Akeem Dent was a special teams freak last year, leading the Falcons with 19 tackles on special teams. Last year, Special Teams Coordinator Keith Armstrong told me that Dent impressed him tremendously because of his intelligence and work ethic. It turns out that Dent would not only go through film sessions, practice and scheduled one-on-ones, but he also would go to Armstrong for more one-on-one instruction.
Dent will absolutely get better on special teams in 2012. If he takes that same work ethic in his battle for the middle linebacker position, he could do great things there as well. Disclaimer: I think Lofa Tatupu will likely win that battle, but it's way too early for that to be set in stone.
Edwards flopped as a first-year Falcons end and has nowhere—well, almost nowhere—to go but up.
Edwards worked through injury for most of the season and had initial troubles with the new system in Atlanta. He's now fully healthy and has a complete grasp of what Atlanta wants to do on defense. Plus, he has an entire offseason to work through the changes new defensive coordinator Mike Nolan installs.