What We Learned About the Cowboys, Giants, Eagles & Redskins This Week
June 8, 2012

Chip Somodevilla/Getty Images
It's Friday, and it's almost quitting time. Before the weekend gets underway and you start basking in the glory of springtime freedom, join me as we reflect on an interesting week in the NFL's most popular division. 
Here are a few things we learned.
The Eagles and Cowboys could be candidates to be docked OTA sessions in 2013
I'm Canadian, so I'm legally obligated to make at least one hockey reference per month. Here goes it: In 2005, after the NHL lost a full season to a lockout, the sport kept referencing the "new NHL." They adopted a salary cap and the shootout and killed two-line passes. As a result, teams were forced to adjust.
The changes that came about from the NFL's 2011 lockout weren't as dramatic, but if there's one thing to know about the "new NFL," it's that the league is now on a permanent crusade against anything that could increase a player's chance of injury.
That's why the Seattle Seahawks were forced this week to forfeit two OTA practices for violating the NFL's contact policy. 
See, "live contact" is prohibited at these practices. And while it's possible the league was just making an example of the Seahawks, it's also possible they'll step in with more punishments for teams that have exceeded the contact guidelines. 
Word got out this week, via Bob Grotz of Delcotimes.com, that Eagles rookie Vinny Curry was injured while performing a bull rush in practice. Hard to do that without some serious contact. 
And then at Valley Ranch, Todd Archer of ESPN Dallas alluded in a story this week to a "bigger-than-normal OTA collision" between Sean Lee and DeMarco Murray.
As Mike Florio of ProFootballTalk points out, there's quite a lot of uncertainty surrounding what's acceptable and what's not acceptable:
Is [the Lee-Murray collision] enough to trigger a violation? No one seems to know, because the NFL apparently hasn't told the teams where the "live contact" line resides.
Still, it wouldn't surprise me if the league came sweeping in with some 2013 practice forfeitures. Hey, maybe we'll get another battle between the Cowboys and the league office. Only this time, instead of being joined in combat by the Redskins, it'll be the Eagles fighting, too.
Dez Bryant is a team player, and he's maturing 
Cowboys owner Jerry Jones hinted last week that conditioning may have been a problem for Bryant last season. From the Dallas Morning News:
"I don't know that [injuries] impacted some of the things that he needs to work on, and we need to work on as a coaching staff to get him the ball and get him into plays. When he would lose concentration in the last part of the game, I don't know if that was because of conditioning. I suspect it could've been."
This week, Bryant responded in dignified fashion. Again courtesy of the DMN:
"I don't want to say that I was in horrible shape but I feel like I wasn't at my best. I feel like now I'm still not at my best, but it's way more better than last year and I feel like I'm still progressing and just doing my best."
Diva receivers don't admit to these types of things. I appreciate Bryant's honesty, and assume that he wouldn't come out with such admissions unless he truly is committed to getting better. Because he's a mutant, it's hard to forget Bryant is only 23 years old. The future is looking brighter by the day.
Bryant did a lot of talking this week, but it was all good. He also spoke about it being his duty to earn Tony Romo's trust, not the other way around, and said he'd be happy to return punts if that's what's best for the team.
I always thought the criticism of Bryant was a little over the top. He's beginning to win me over.
Tom Coughlin will coach the Giants for at least two more years
Why two when he signed a new three-year contract? Because Coughlin won't coach as a lame duck. It's possible he gets another extension in 2014, but it's also possible he walks away at 67. 
Coughlin has stated that he isn't even thinking about retirement, but he also doesn't strike me as the kind of guy who would waffle once he begins to feel as though it might be time to step aside. 
Still, it would take a major turn of events for Coughlin to leave this job before the 2014 offseason, and his second Super Bowl victory in five years granted him immunity on the firing front.
If and when Coughlin does retire, we also learned this week that he might have a new career awaiting him in the field of stand-up comedy. I've excerpted the highlight of the coach's speech at the White House Friday:
"Offense, defense and special teams doing their job. Each group having different objectives and motives but playing in harmony for each other, for the good of everyone. Wouldn't it be nice if Congress operated the same way?"
Coughlin, naturally, did not crack a smile.
Joe Banner is no longer calling any of the shots in Philadelphia, making Andy Reid, um, Spiderman?
Because nobody is aware of the exact circumstances under which Banner was removed from his post as team president, it's tough to draw any definitive conclusions. All we know is that Banner had ceded power months ago, and this was merely a confirmation from the team that Andy Reid and Howie Roseman would be running the personnel side of things going forward.
I wrote this week that Reid now has more power and responsibility and is thus the next candidate to receive a pink slip if the team continues to fall short of owner Jeff Lurie's expectations. 
Banner might have been ready to move on anyway, but this is probably an indication that Lurie is prepared to take drastic measures to change the mentality in Philly. He wants the team to be more media- and fan-friendly, and he obviously wants them to finally win their first championship. 
With Banner no longer a scapegoat, Reid is logically next in line to be sacrificed. 
Virginia is staking claim to the Redskins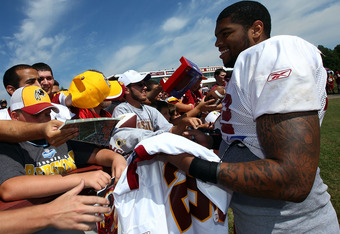 Win McNamee/Getty Images
The Redskins practice in Virginia, play in Maryland and represent the District of Columbia in their name. And while nothing will really change in that respect, it appears the state of Virginia has essentially outbid Maryland and D.C. to keep the team's annual training camp there.
The 'Skins had been looking to move camp away from their base, and they confirmed this week that they'll take the 2013 show on the road by relocating camp 120 miles south from Ashburn to Richmond.
According to the Washington Post, Virginia Gov. Robert F. McDonnell (R) said Wednesday that Maryland and the District offered more money, but that the team opted to keep camp in Virginia. In fact, they're deeper into the state now than ever.
Does that alone help make them Virginia's team? Here's what McDonnell had to say in a press release from his office this week (via Rich Tandler of Real Redskins):
"Virginia considers the Redskins our team. The team is based here. The team trains here. The players live here. Virginians root for the Redskins on the field, and off the field the team contributes greatly to the economy and culture of the Commonwealth. Virginia is committed to keeping the Redskins right here in our state for years to come, and today we've taken a significant step towards accomplishing that goal."
In addition to securing training camp going forward, the state is paying the team to help renovate their regular practice facility in Ashburn, which head coach Mike Shanahan thinks could help with recruitment. From Rich Campbell of the Washington Times:
"We want free agents to come here and say, 'Hey, what a great facility. I can see me coming here and getting better as a football player.' And obviously we get better as an organization." 
That's absolutely possible. And just as importantly, fresher facilities could boost morale and cause players to spend more time at the office. 
It's the little things.
The same philosophy might apply to the team's general decision to go on the road for training camp. Tandler reports that Shanahan "likes for the team to be able to get away from the distractions at home and focus on football for a few weeks."
Recent trends have had teams doing the opposite, but Shanny's old school. I'm sure it won't hurt.