Euro 2012 Results: Poland-Greece Draw Puts Tremendous Pressure on Group A
June 9, 2012

Handout/Getty Images
Poland had the perfect opportunity to put Greece out of Euro 2012, but they fell short. Not only did they fall short, but they allowed the Greeks to tie up their opening game and then even take a shot for the lead early in the second half.
The 1-1 draw wasn't just a result for the Greeks, it could ultimately be the difference between who advances and who goes home (or stays home in Poland's case).
With the Russians' dominance over the Czech Republic, this match just became infinitely more important.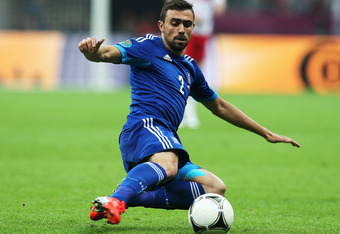 Alex Grimm/Getty Images
Greece and Poland know that Russia is the hands-down favorite to win the group. Neither nation, one represented by veterans and the other by youngsters, is equipped to handle to Russia. The difference for the two, however, will be how they handle the Czech Republic.
Poland has the advantage here. They're an exuberant, youthful bunch led by Robert Lewandowski and can score more goals than the Greeks.
The Galanoleyki, meanwhile, are a defensive-minded squad who are lucky to find the net when they do.
But with Russia dominating early, and the Greeks and Polish tying, the pressure is on for advancement.
The Poles are led by a 26-year-old captain and a super young squad. The Greeks are the exact opposite, led by a 35-year-old captain a veteran-laden squad.
Now the two nations have to hope they notch a win over the Czech Republic, and find a difference in goal differential to separate them. The game has changed to more than just winning.
With 11 more days of group play to go we can only hope for the best, but Group A has given us a chance for ridiculous drama throughout.