French Open 2012 Results: Nadal Will Win Another Grand Slam at Roland Garros
June 9, 2012

Clive Brunskill/Getty Images
Nobody defeats Rafael Nadal in a French Open Final.
Nobody.
Novak Djokovic will find out firsthand in his first-ever French Open Finals appearance. 
Personal Playground
Nadal has won two-straight French Open Finals; six-of-seven. He dominates on clay and everybody knows it.
So far, Nadal hasn't dropped one set at the French Open. He hasn't even been close. Not one player was able to win five games in a set. 
Nadal has been dominant.  
French Open Finals
Defeating Nadal on clay at the French is difficult enough, but try doing it in the finals. It's nearly impossible.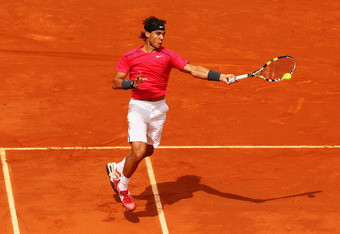 Clive Brunskill/Getty Images
He turns up his game unlike you will ever see, the emotion is cranked to an all-time high. Nadal takes his game to another level.
No player has been as dominant over the course of the year than Djokovic, but he's in for the most difficult challenge of his career. He has defeated Nadal in the past three Grand Slam events, but he will be shocked to see what level Nadal goes to for this event.
Excitement
Regardless of who you think will win, this match has everything you could ever dream of. Nadal, a guy who owns the French Open, versus a player who is currently holding three-of-four Grand Slams.
Nadal has struggled against Djokovic, but Djokovic has never defeated Nadal (0-3) at the French Open. 
If this colossal match is anything close to their 2012 Australian Open battle, fans are in for a real treat. 
Prediction
Nadal wins in five sets.
I won't bet against Nadal at the French Open. I give Djokovic a chance of defeating him, but I can't see it happening.
Nadal owns Roland Garros and that will continue Sunday.