NBA Rumors: Charlotte Bobcats Must Find Suitor for No. 2 Pick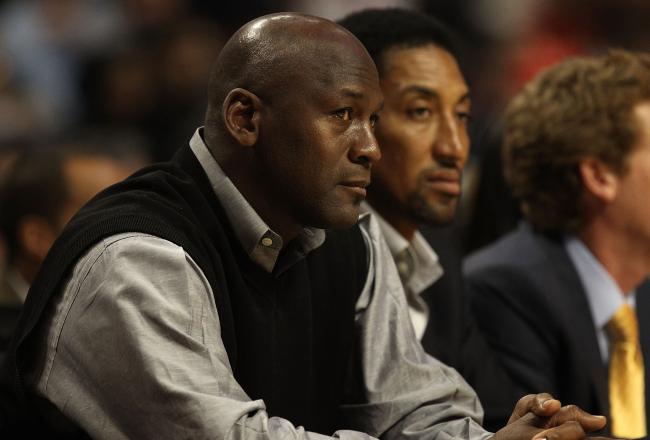 Jonathan Daniel/Getty Images
The Charlotte Bobcats will not be a good team again next season. Even if they had the No. 1 overall selection, Anthony Davis and Kemba Walker would struggle to win a substantial amount of games.
So, why keep the No. 2 pick? Instead, Michael Jordan and the Bobcat brass could flip the pick in exchange for multiple draft-day selections.
Charlotte, reportedly, may agree. According to HOOPSWORLD's Alex Kennedy, the Bobcats are shopping the No. 2 overall selection in this year's NBA Draft.
The Charlotte Bobcats are shopping the second overall pick, according to multiple sources.

— Alex Kennedy (@AlexKennedyNBA) June 7, 2012
The Bobcats have not been handled properly in recent years. That can change with this year's incredibly deep draft class. They have the chips to play with, but they must utilize them efficiently.
Let's take a look at why the Bobcats should move their lottery selection and give a few potential suitors.
Deep Draft Class Makes Multiple Picks Ideal
This year's draft features more significant prospects than NBA fans are used too. Several future NBA All-Stars are littered throughout the first round and second round-steals will be on the board.
Charlotte could take advantage of grabbing the draft's next best player after Anthony Davis. The pick would probably settle on Michael Kidd-Gilchrist or Thomas Robinson. Both picks would be smart, but it depends on which direction Charlotte wants to go.
If the Bobcats stay put, who should they select at No. 2?
Taking that route would not be a disaster. Kidd-Gilchrist and Robinson both project as solid, or better, NBA performers. Most teams would make the simple decision, and select the sure-fire, can't-miss prospect.
But unlike other years, exciting prospects will still be available in the 15-20 range, maybe even later than that.
The difference between the Bobcats grabbing Anthony Davis and Kidd-Gilchrist, or Robinson, is major. The separation between the latter two and every other late lottery, or mid-first round prospect, is not as distinct.
Charlotte would be best served by moving back, picking up two first-round selections and making good on this year's notable depth.
Many players, not even the draft's elite names, will turn this franchise around. It's going to take a team effort, and to do that you must have several capable players.
Who Could Charlotte Trade With?
Cleveland, Portland, New Orleans, Boston, Houston and Golden State all have multiple first-round selections.
I think it's safe to assume the Cavaliers will not move their No. 4 and No. 24 picks for Charlotte's No. 2. It is conceivable, but it depends on the depth of their interest in Kidd-Gilchrist. I think Cleveland should be fine at No.4, waiting on Bradley Beal or Harrison Barnes.
New Orleans is also out for obvious reasons.
The Trail Blazers are interesting, but their most glaring need lies in the backcourt. The draft's premier point guards will be at picks No. 6 and 11. Ideally, Andre Drummond is their pick at No. 6 and Damian Lillard falls into their clutches at No. 11.
That leaves Houston, Boston and Golden State.
Houston may need a point guard if Kyle Lowry gets his wish, and they could definitely stand to get more athletic. Adding a player like Kidd-Gilchrist would make sense, but waiting on Terrence Ross or Quincy Miller at No. 14 makes more sense.
Who makes more sense as Charlotte's suitor?
Golden State make sense. They have breakable, but talented, Andrew Bogut and two budding backcourt stars, Stephen Curry and Klay Thompson, but they still need another slasher. Kidd-Gilchrist would fit perfectly, and provide a defensive punch.
The Celtics, in my opinion, are the team who should jump on this train if the Warriors do not. Boston possesses two first-round picks, Nos. 21 and 22. Their franchise does not need depth. Paul Pierce will be back next year as will Rajon Rondo. Trading up, and drafting Bradley Beal, would make complete sense for this aging club.
A surprising scenario could develop, but one thing is for sure. The Bobcats must keep their phones close and their minds open.
What says Kidd-Gilchrist isn't the next Stacey Augmon or Tony Allen? Maybe his shooting never develops, his ball-handling continues to struggle and he becomes a defensive stopper for his entire career.
That isn't worth the No. 2 overall selection. Not if you are coming off a seven-win season. Risking it all on one blue-chip talent as opposed to exploring the draft's inspiring talent would be unwise. Other franchises are in a better position to take that risk, but the Bobcats cannot afford it.
If the right offer comes along the Bobcats must sell high. Taking advantage of this year's quality group is the right choice in the long run for this beleaguered franchise.
This article is
What is the duplicate article?
Why is this article offensive?
Where is this article plagiarized from?
Why is this article poorly edited?

Charlotte Bobcats: Like this team?