UFC 147: Why It Is Still Worth Ordering on PPV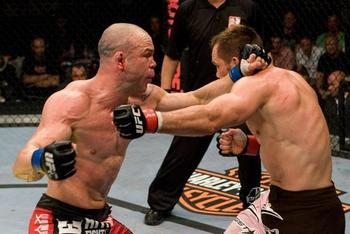 Photo Credit: Zuffa LLC
UFC 147 is just around the bend. Set to hit PPV on June 23 from Brazil with the rematch virtually no one asked for Wanderlei Silva vs. Rich Franklin.
But the card itself is still worth your money.
Sure, Anderson Silva vs. Chael Sonnen was moved to UFC 148. Vitor Belfort got injured. Jose Aldo did not end up defending his championship. And a myriad of other possibilities never worked out, but the show must go on.
Silva will look to settle the score with Franklin and grab consecutive wins for the first time since 2005-2006 in PRIDE. Franklin comes in to save the UFC once again while seeking to remove the discussion about their first close fight with a decisive victory.
While this will not be the stadium show everyone anticipated it still has entertainment value, and I will tell you why you should plop down the money to order the show.
What Else Is There to Watch?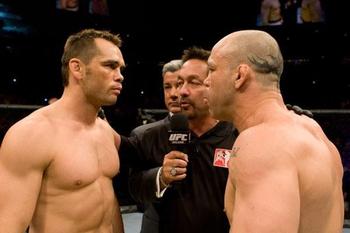 Photo Credit: Zuffa LLC
Interleague action will be going on. The College World Series too, but the majority of the games will be over and done with by the time the main card begins for UFC 147.
Wimbledon does not begin until the week after.
What else is more pressing on your schedule on June 23?
Furthermore, the UFC will not hit your screen again until UFC 148. It will be your last chance to watch live action for two weeks. When the UFC left us for one month earlier in the year, fans were clamoring for any type of fight.
Do not do that to yourself.
Dig in your wallet and pony up so you do not have any withdrawals before UFC 148.
The Cards We Bash Are the Cards That Deliver
Photo Credit: Josh Hedges/Zuffa LLC/Zuffa LLC via Getty Images
By this time it may seem like a cliché, but like clockwork these cards that are consistently bashed often times are some of the most exciting cards from top to bottom.
What the card lacks in overall importance, it should deliver in pure fight entertainment.
The undercard will feature The Ultimate Fighter: Brazil participants fighting for their UFC futures. As we saw with The Ultimate Fighter: Live finale last week, that can provide for some excellent fights and finishes. As a fight fan, that should be at the top of the list when thinking about purchasing a card.
Star power may be lacking, but never forget that it is typically the random fights that offer the most bang for your buck. And look out for Yuri Alcantara vs. Hacran Dias, a potential fight of the night candidate.
The Ultimate Fighter: Brazil Finales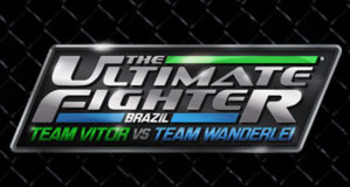 Photo Credit: Zuffa LLC
While one could argue that we get The Ultimate Fighter finales for free and this should be as well, it's not being billed as a TUF finale. They will be two bonus fights to a decent main card.
While the fights themselves may not mean a lot to the international viewing audience, it does mean a lot to the fights inside the Octagon. And that is what counts. Whoever ends up in the finals will be fighting for their spot in the UFC and a nice contract to boot. They will leave it all in the cage and should put on exciting performances.
Two bonus fights that have a tiny bit of meaning to them should give one extra incentive to purchase the show.
Can Werdum Prove His Contender Status or Will Russow Shock Everyone Again?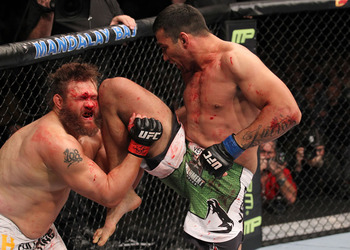 Photo Credit: Nick Laham/Zuffa LLC/Zuffa LLC via Getty Images
With Overeem on the shelf and a quick KO loss to Junior dos Santos to avenge, Fabricio Werdum will need a solid performance in the co-main event to prove he is the next title contender.
In his last outing Werdum put on a clinic against fan favorite Roy Nelson. If he is able to dominate Mike Russow and finish him then the jovial heavyweight elevates himself into title contention.
On the other side of the cage, unassuming Russow will go for his 12th consecutive victory and fifth inside the Octagon. If he can pull the upset over one of the world's top heavyweights he can put himself in the discussion alongside some of the other contenders.
In terms of championships this fight offers the most significance and should not be slept upon. Someone will leave the cage with a legitimate case for challenging the champion.
Silva vs. Franklin II
Photo Credit: Zuffa LLC
The main event no one asked for is still a quality fight. Neither fighter will be fighting for a title anytime soon, and probably never again, but it was fun the first time around. The two long-time stars love having a slugfest and plan on delivering another in Brazil.
They previously met at UFC 99 where Franklin took a contentious decision against the former PRIDE Middleweight champion. Since that fight Silva is 2-1 while Franklin is 1-2.
In their last meeting they fought at a catchweight of 195 pounds. This time around they shaved five more from that requirement, but it should have little to no effect on the UFC stars.
If there is one thing both of these fighters are good at, it is laying it all on the line for the fan's entertainment. To get another high-profile fight and to grab a little extra bonus money they will be sure to have another donnybrook when the cage door closes.
Rarely do they disappoint. Do not expect them to at UFC 147 either. That's why you should still watch this event.
Keep Reading