USA vs Antigua: Americans Have Plenty to Prove in World Cup Qualifier
June 8, 2012

Tom Szczerbowski/Getty Images
The United States men's national team ended their World Cup qualifying tuneup matches with a 4-1 drubbing courtesy of Brazil and a disappointing, scoreless draw with Canada.
It doesn't get much worse than that.
The US are one of the more mysterious teams in the world right now. They have talent, but they haven't been able to put things together under Jurgen Klinsmann. They haven't been entirely healthy, and they haven't been able to settle on a lineup either.
These past tuneup games have put a relatively healthy group on the pitch, but it simply hasn't been encouraging.
The Americans need to show out.
US is a 1-33 favorite against Antigua in their upcoming World Cup 2014 qualifier. 1-33 means for every $33 you bet, you'd win $1. So, in other words, the US are a ridiculous favorite not worth betting.
But that also means they need to show out, actually not just show out, but dominate.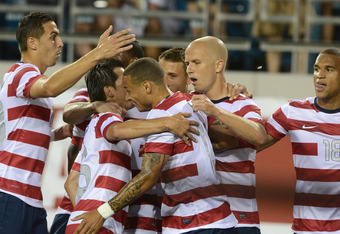 Gary Bogdon/Getty Images
The US should have no problem taking care of Antigua. The US is a better defensive team, they have a dominant keeper and, when healthy, their attack can be absolutely dominant.
Antigua isn't Mexico, Brazil or even Italy; the US have to show some muscle here.
A win is a win is a win, but the US also have to show more than just a one-goal victory. They have to show something that says they can't be rattled by two bad performances. They have to show something that says they're not going to be a pushover.
They have to show their complete talents.
The US doesn't have the luxury of letting things be—they have something to prove.