Pacquiao vs. Bradley Results: Live Round-by-Round Results and Reaction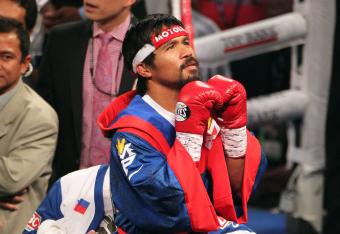 This is a controversial decision sure to inspire fury throughout the sports world.
I feel this is a robbery. I'll have to watch the fight again numerous times to be sure, but this feels like a very big robbery.
I can't believe this. I thought I was being generous to Bradley with my scores of 116-112 in favor of Pacquiao.
This is crazy. I was amazed to see Bradley able to take his punches and fire back as effectively as he did, but this is without a doubt a poor decision to me.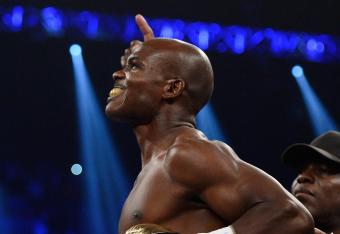 The judges have awarded Timothy Bradley with the split decision victory with scores of 115-113 (twice) to Bradley and 115-113 to Pacquiao.
Bradley is the new WBO welterweight champion in what is sure to be a controversial finish and the upset of the year!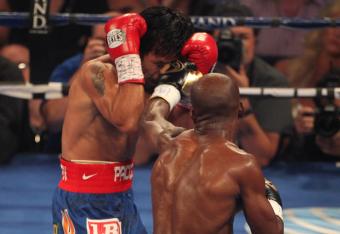 Manny Pacquiao vs. Timothy Bradley
Round 12:
Bradley is figuring out how to slip and dodge punches while landing some flurries.
Bradley should've found out how to fight his fight in the earlier rounds, but he had some trouble. I gave this round to Bradley off clean effective punching.
Bradley, 10-9.
Total: 116-112, Manny Pacquiao by decision on my card.
Awaiting the judges' decision.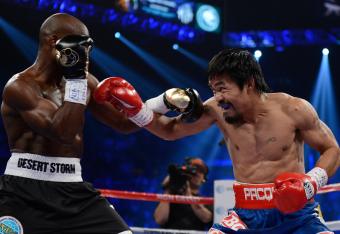 Manny Pacquiao vs. Timothy Bradley
Round 11:
Bradley is doing a couple one-two's and moving. He's avoiding punishment and landing clean blows until Pacquiao snapped his head back.
Bradley is still avoiding shots very well and brawling in an ugly inside fight-style that seems effective.
Too late to make a difference though.
Bradley, 10-9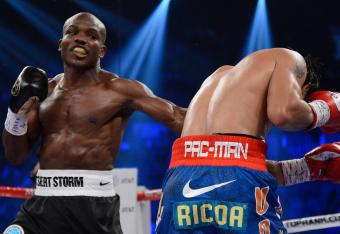 So Far: 89-82
Manny Pacquiao vs. Timothy Bradley
Round 10:
Bradley and Pacquiao had some great exchanges. Bradley didn't get stunned too bad in this round. He actually outbrawled him pretty well.
Bradley, 10-9
Manny Pacquiao vs. Timothy Bradley
Round 9:
Bradley is not getting the intial two-round break of past rounds. Pacquiao is fighting and landing.
Bradley is taking it and coming forward. Bradley is trying to tie him up for now, but Pacquiao gets out of the hold to try to throw.
Bradley tries some awkward overhand rights, but Pacquiao is throwing through them.
Bradley is staying on his feet, but he's not winning any rounds so far.
Pacquiao, 10-9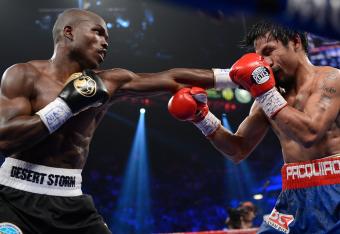 Manny Pacquiao vs. Timothy Bradley
Round 8:
Bradley nails Pacquiao with two good bodyshots and then there's a headbutt.
Bradley slips a Pacquiao assault and then gets him against the ropes.
Bradley takes a few more shots and continues to stay in the game.
Pacquiao, 10-9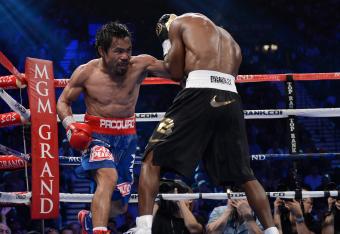 Manny Pacquiao vs. Timothy Bradley
Round 7:
Bradley continues his blowout assault and Bradley keeps showing his world-class heart and chin by taking more punishment and attempting to trade.
Bradley's awkward attacks are landing, but his lack of punching power is not helping him get the proper respect he needs to back Pacquiao down.
Pacquiao, 10-9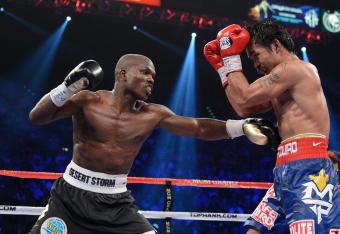 Manny Pacquiao vs. Timothy Bradley
Round 6:

Bradley wins the first two minutes off his jab before Pacquiao flurries his way to victory in the final minute.
Bradley doesn't want to back down as he takes more punishment against Pacquiao.
Pacquiao, 10-9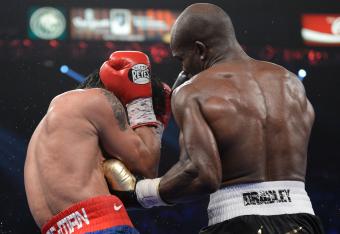 Manny Pacquiao vs. Timothy Bradley
Round 5:
Bradley is outjabbing Pacquiao for the first two minutes of the round. In the final minute, Pacquiao attempts a flurry that doesn't land and than lands a hard shot.
Bradley keeps throwing through the final Pacquiao flurries while taking some pretty hard shots very well to end the round.
Pacquiao, 10-9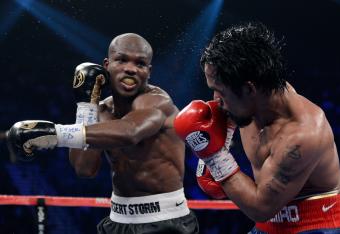 Manny Pacquiao vs. Timothy Bradley
Round 4:
Bradley is still coming forward and making this an ugly showdown. Bradley weaved a shot and countered well.
Bradley pulled a Mayweather/Whitaker and bobbed up and down to avoid a significantly intense flurry.
I would like to give this one to Bradley, but Pacquiao has had the smarter, cleaner activity with more effective punches.
Pacquiao, 10-9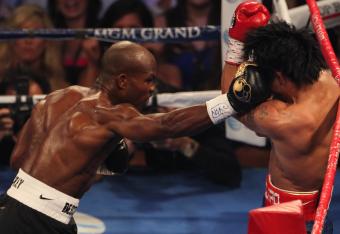 Manny Pacquiao vs. Timothy Bradley
Round 3:
Bradley is standing in Pacquiao's range and not letting Pacquiao back him down. Pacquiao is sneaking some shots in there.
Bradley is flurrying back, but Pacquiao continues to land some mean shots. Bradley caught Pacquiao with some shots that look like they made Pacquiao take a second look.
Either way, Pacquiao got this round wrapped.
Pacquiao, 10-9
Manny Pacquiao vs. Timothy Bradley
Round 2:
Pacquiao pops Bradley with a mean one that makes his legs buckle. Bradley held Pacquiao's hands and hit Pacquiao to the body repeatedly.
Pacquiao has been sneaking some head-turning left shots in there.
Bradley strikes back with a good flurry against the ropes to show Pacquiao he won't lie down and die.
Bradley is making Pacquiao work for this victory.
Bradley catches a few on his glove and then continues to come forward in spurts.
Both fighters are picking their moments to move in on one another.
Bradley ended the round with a nice straight shot.
Gotta give it to Pacquiao off landing the harder and more telling blows.
Pacquiao, 10-9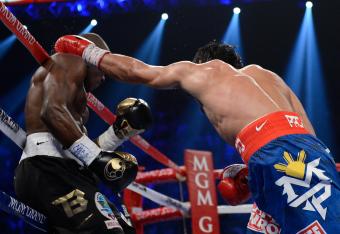 Manny Pacquiao vs. Timothy Bradley
Round 1:
The opening bell has sounded and both fighters come out to meet int he middle of the ring.
Bradley jabs away and they trade bodyshots.
Pacquiao is coming forward as Bradley backs back and picks the perfect times to come forward.
Bradley is the busier fighter so far. Bradley slickly backs out of a Pacquiao straight punch and then continues to come forward as Pacquiao keeps his guard up.
Bradley busier and more accurate this round.
Bradley, 10-9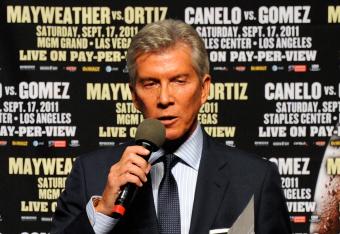 Michael Buffer has just said those magic fight time words:
"Let's Get Ready to Rumbbbbbbbbbbbbbbbbbbbbble!"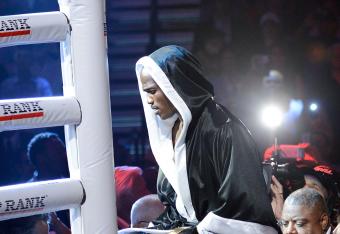 "All I Do Is Win" thumps through the stereo speakers and it appears to describe Bradley's perfect record of 28-0.
Let's see if the lyrics still apply when the fight is over as Pacquiao heads to the ring.
Timothy Bradley is officially walking down to the ring.
The National Anthems have begun.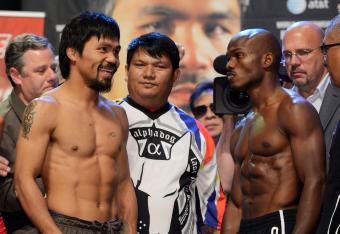 The main event looks like it'll finally get on the roll.
There's a lot of faux-introductions as fighters are shown pacing back and forth and statistics, highlights and predictions are discussed and shown.
I think everybody is more than ready to just get the fight on already.
By the way, here is my written congratulations to Bailey for his incredible victory.
Check it out!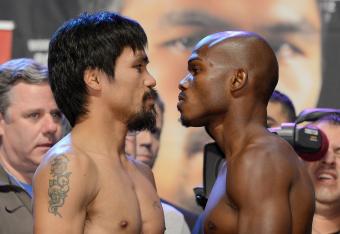 Manny Pacquiao (54-3-2, 38 KO) vs. Timothy Bradley (28-0, 12 KO) is starting the introductions.
Jorge Arce vs, Jesus Rojas has been ruled a no-decision.
I can't say I disagree. Upon viewing the replay, the punch was more of a hit to the side of Arce's head. The lowblow may have been an attempt to go to Arce's very open body.
I can't say Rojas definitely did that on purpose, but this is definitely a bummer ending to what looked to be a very good fight.
Arce may get a disqualification victory or this contest may be ruled a no-decision if the officials rule this an accident.
Jorge Arce (60-6-2, 46 KO) vs. Jesus Rojas (18-1-1, 13 KO)
Round 2

The fierce pace of this fight is brought to an immediate halt as Jorge takes a low blow followed by a rabbit punch to the back of the head by Rojas.
The time has been stopped and Arce is writhing in pain right now. It does not look as if this fight will continue.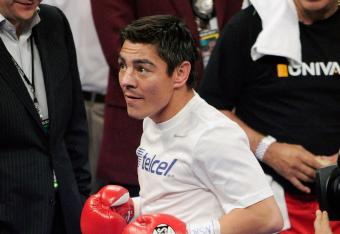 Jorge Arce (60-6-2, 46 KO) vs. Jesus Rojas (18-1-1, 13 KO)
Round 1:
Arce dropped Rojas with just seconds into the first round.
The crowd immediately realized they had something worth paying attention to.
Arce takes a little leather while digging to the body with both hands.
Arce is delivering his signature "to-hell-with-defense" style of all out attack that can leave opponents easily overwhelmed.
Rojas is digging some nice shots back, but Arce is weaving many of them or catching them on his gloves as he steady lunges on.
10-8, Arce. Thrilling start!

This article is
What is the duplicate article?
Why is this article offensive?
Where is this article plagiarized from?
Why is this article poorly edited?