Federer vs. Djokovic: Stars Simply Playing for Right to Lose to Nadal in Final
June 8, 2012

Matthew Stockman/Getty Images
Plain and simple, Rafael Nadal owns the French Open. The red clay at Roland Garros is his and everybody else is just playing on it, even long-time rivals Roger Federer and Novak Djokovic.
Djokovic, the world's No. 1 player, and Federer, the world's No. 3 player, are playing in the semi-final of the French Open for the second consecutive year.
They'll play their hearts out, they'll battle like the warriors they are, but all of it matters not.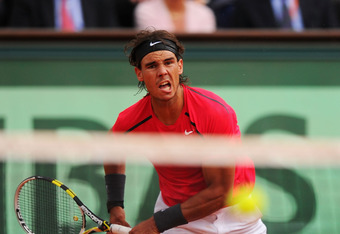 Mike Hewitt/Getty Images
The winner, who'll move on to play Nadal in the Final on Sunday, is doomed.
The 26-year-old Spaniard has won six of the last seven French Opens. While each has been tremendously impressive, this year has been absolutely eye-opening.
Nadal has played six matches so far in France and he's yet to lose a set. Take that in for a second and understand that he's on pace to win the French Open against some of the best tennis players in the world without losing a single set.
Only one player, fellow Spaniard Nicolas Almagro, even came close. He's won 18 straight sets since the start of the tournament and has looked brilliant along the way.
Federer and Djokovic know Nadal better than anyone else on the tour, but familiarity means nothing the way Nadal is rolling.
He defeated Federer in the final of last year and even Djokovic, who fights out of corner better than anyone else, is going to struggle here.
This semi-final will be a fantastic match, but it's the last match either of them will win at the French Open.