2012 Kansas City Royals: "Offensive" Statistics
June 8, 2012

I'm sure for those who know me and my love for both baseball and numbers, it is easy to believe that I spend countless hours perusing some of the more prominent baseball websites in an effort to figure out where exactly the Royals are excelling (which generally doesn't take long) and in which areas they could stand to improve (which requires a little more time).
Yesterday was one of those days I got lost in the numbers (specifically on ESPN), and wanted to share some of what I found. What I want to emphasize is those areas in which the Royals are at or very near the bottom (or top) of the league. I'm going to hit this over the next two columns; this week focusing on hitting, and next week on pitching.
Doubles: Royals Total: 116; League Ranks: MLB (2nd), AL (2nd)
Since a majority of this article will be presented in a negative light, I thought I would start on a somewhat positive note.
The Royals trail only the Red Sox in two-base hits. Boston is usually at or near the top of the league in this category, aided by balls banged off the Big Monster in left.
The Royals roster is full of doubles hitters. DH Billy Butler and LF Alex Gordon seem to always rank among the league leaders, and many of the younger hitters in the KC lineup are gap-type line-drive hitters with the speed and hustle to take an extra bag and stretch a good number of routine singles into doubles.
Unfortunately for KC fans, we have seen far too many leadoff doubles, or doubles with two outs and no one on base. Situational hitting is a theme you will see repeatedly throughout this discussion.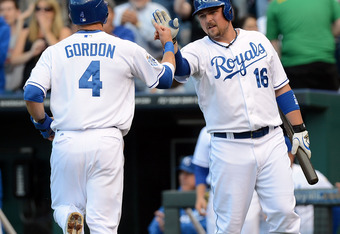 Jamie Squire/Getty Images
Home Runs: Royals Total: 43; League Ranks: MLB (26th), AL (13th)
It should not surprise anyone that the Royals are not hitting the ball out of the park. They really aren't (and have never been) built that way. But second to last in the American League is not where they need to be if they want to be competitive.
It's also not where the Royals expected to be. With the seasons had last year by Alex Gordon, Jeff Francouer, Billy Butler and Eric Hosmer, and with Mike Moustakas poised to break out this season, Kansas City figured at least to be near the middle of the pack. Take Butler's surprising 11 HR and Moustakas' 9 HR out and KC has managed just 23 HR in 55 games.
With Kevin Seitzer as the batting coach, I don't foresee Kansas City ever becoming a Yankees-type lineup, but the long ball is a very important part of the game. Without it, solid batting average and on base percentage numbers are severely weakened in their impact on game outcomes.
Runs Scored: Royals Total: 217; League Ranks: MLB (25th), AL (13th)
RBI: Royals Total: 202; League Ranks: MLB (25th), AL (13th)
The validity of the last comment regarding home runs is clearly backed by the number of runs the Royals have put on the scoreboard this season. The lack of run production is also clearly a result of horrible situational hitting.
I have another suggestion as to why this number is so low: game management.
Simply put, Ned Yost thinks too much. It seems to me there is way too much sacrifice bunting going on up and down this lineup (the Royals rank first in the AL in sacrifice hits – a dubious honor if you ask me). It's great to move guys into scoring position, but when the hits aren't falling, putting guys in that better position only strands them at second or third base instead of first.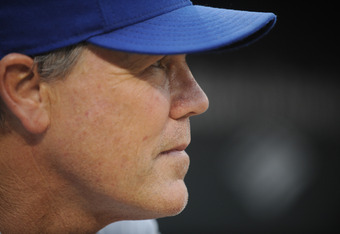 Mitchell Layton/Getty Images
Another significant contributor to Kansas City's lack of run production stems from the dreadful base running we have seen from this team all season. 610 Sports (Kansas City all-sports radio station) has started a free ticket giveaway every game if callers/texters can guess the Royal who will give away a free out on the basepaths. That's not a very positive indicator of the team's prowess on the bases.
It's tough to win baseball games when you don't score runs – particularly when your pitching is as lackluster as the Royals starting "rotation" has been in a vast majority of games.
Strikeouts: Royals Total: 335; League Ranks: MLB (1st), AL (1st)
Note that ranking first in this category means the Royals have struck out fewer times than any team in the league.
On the surface, this seems to be a very positive number, and in many ways it is. Don't whiff and you have a much better chance getting on base. Research has shown that when you put the ball in play, you record a hit nearly exactly 30% of the time.
Unfortunately, I think the Royals have some very skilled hitters up and down the lineup who are able to make contact when swinging at pitches out of the strike zone (a quick detour to FanGraphs shows that the Royals have the highest contact rate on pitches outside the strike zone, aka O-Contact%). While they may be striking out much less than their opponents, the result is often a weak pop fly or grounder resulting in an out all the same.
On the whole, I'm very happy the Royals have the lowest strikeout total in the league, but it may not be all it seems at first glance.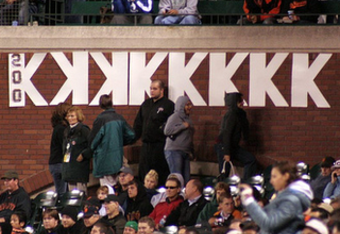 Walks: Royals Total: 139; League Ranks: MLB (29th), AL (13th)
This is a dreadful place to be for a team which lacks the ability to put the ball over the fence. The aforementioned O-Contact% number makes one wish the Royals would take more balls. Even though it would undoubtedly result in more strikeouts, missing some of these pitches altogether might even be better than what is currently taking place.
When a team lacks true power hitters, it needs base runners any way it can get them. The Royals inability – or unwillingness – to draw walks has been one of the key reasons for the lack of runs scored.
I'm certain that a root cause of the lack of walks is the pressure some of the younger Royals feel to produce. They go up to the plate wanting to make a difference and "make something happen." This approach leads to poor plate appearances and consequently meager results. Patience is a virtue in life and at the plate.
Pinch-Hit Batting Average: Royals Total: .125; League Ranks: MLB: (28th), AL (13th)
Another aspect to the game management issue mentioned above is pinch hitting. The Royals have been one of the least successful teams in all of baseball in achieving the desired result when pulling one batter for another.
With as much lineup tinkering and matchup analysis as manager Ned Yost likes to do, I was utterly shocked to learn that KC has only pinch-hit 16 times all season, the second least in all of the big leagues.
It would appear that even though Yost has been unsuccessful in 14 of his 16 pinch hitting decisions, he probably needs to do it more. Unfortunately, the lack of bats on the KC bench has him somewhat handcuffed.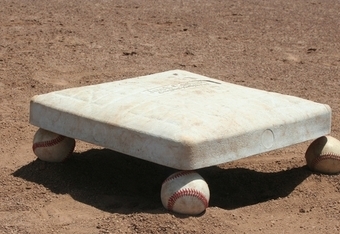 Again, it comes back to situational hitting. Generally speaking, pinch-hitters enter the game in high leverage situations. When the pinch-hitter doesn't succeed, base runners are stranded more times than not.
Summary:
Again, with the Royals' pitching woes, it becomes all that more critical that they be productive and opportunistic with the bats. It has become painful over the past, and even more so with this year's expectations of approaching .500, to look at line scores of one run on eight or nine hits. If the Royals are to finally turn the corner and evolve into a contender, these offensive issues must be addressed.
I understand the pressure on young players to produce in their early years, but this is something that manager Ned Yost and hitting coach Kevin Seitzer must remedy for Kansas City to become a legitimate threat in the AL Central.
Be sure to check back next week as we take a similar look at the Royals' pitching numbers (gulp). Follow Mark on Twitter @EbbyCalvin37.