NBA Draft 2012: Charlotte Bobcats and 5 Teams That Should Ditch Draft Picks
June 8, 2012

Streeter Lecka/Getty Images
As the 2012 NBA draft rapidly approaches, it's time to not only look at which players will be drafted early among the lottery picks, but also at which teams could benefit by dealing their picks.
By the time the draft actually rolls around on June 28, we could see more than a couple of teams trade out of their current positions, in an attempt to acquire extra picks or a veteran who can contribute immediately.
With that being said, let's take a look at a few teams that should make it a point to move out of their current draft situations.
Holding the No. 2 overall pick, the Bobcats should be shopping that pick aggressively, as they have way more holes than one player can fill. Alex Kennedy of HoopsWorld reported that the 'Cats are indeed looking to move that pick.
Adding an established player or another pick or two makes a bit of sense for a team that is in rebuild mode.
The Raptors already have Jonas Valanciunas coming over, so that's their lottery pick this year. 
Instead of drafting at No. 8, it makes for sense for the Raptors to fill a current need by shopping that pick for an established small forward. 
Sources told ESPN.com's Chad Ford and Marc Stein that the Raptors have at least two known trade targets: Memphis swingman Rudy Gay and Philadelphia's Andre Iguodala. Both would be great fits in a Toronto lineup and could immediately play a big role in turning the Raptors around.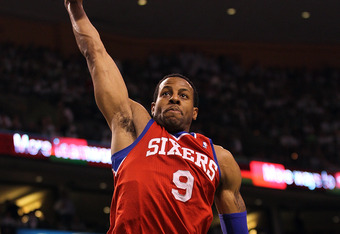 Jim Rogash/Getty Images
Same situation for the Warriors, as they could look to move all four of their draft picks in separate deals, reports the San Francisco Chronicle's Rusty Simmons.
The Warriors could use the No. 7 pick to acquire a proven small forward like Gay or Iguodala, or could also try and package some picks to potentially move up in the draft.
The Kings need a power forward, and a proven one would be more ideal than taking a chance on one with the No. 5 pick.
Sacramento doesn't exactly have the best track record of evaluating talent that fits together. 
If they don't take that route, the are loaded in the backcourt and could dangle a piece like Tyreke Evans in order to move up.
There is value throughout this draft, especially in the lottery.
Portland holds the No. 6 and No. 11 picks, and depending on how the draft plays out, Portland may be reaching at No. 6 for a big man.
It may make sense to move that pick for a couple key pieces or to even move down a couple of spots to acquire more picks for the future.
Portland is rebuilding, and even by trading down, they will get two talented players for this year's team, plus add picks to improve for the future.