June 8, 2012
The addition of Peyton Manning and the reorganization of the Oakland Raiders are the two biggest stories this offseason in the AFC West
Many experts are predicting the Broncos to win the division on the back of Manning's arrival in the Mile High City, but a closer look at the division tells me otherwise.
As always, the records of all four teams should be relatively similar, perhaps even more so this season thanks the gauntlet of a schedule handed out to the entire AFC West.  All four team will play games against Pittsburgh, Atlanta, New Orleans, Baltimore and Cincinnati, with Denver inheriting the added challenge of hosting New England.
Given that, no team looks like they are better prepared to compete from day one than the Kansas City Chiefs.
Romeo Crennel has had a full offseason to mold the Chiefs into the team he wants them to be.  Unlike his time in Cleveland, the 2012 Chiefs are loaded with talent on both sides of the ball.  The biggest question will be the quarterback play of Matt Cassel.
The Kansas City offense appears to be a well-oiled, high powered machine.  One would think all Cassel has to do is drive it without crashing into the wall.  I would expect Crennel to relay this message to him.  If healthy, the Chiefs will have enough weapons at Cassel's disposal for him not to feel like he needs to be the guy to make a play.  All he needs to do is get the ball to his play-makers, are there are a lot of them.
Jamaal Charles returns from a knee injury that kept him sidelined for most of 2011.  All chatter from OTA's seems to indicate that Charles is back to his 2010 form and eager to regain his status as one of the league's elite backs.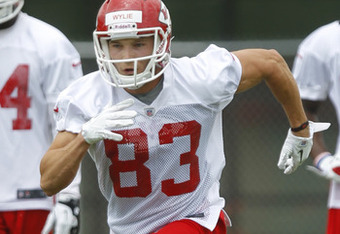 The Chiefs are expecting big things from rookie Devon Wylie this season.
Waiting to relieve Charles in a changeup role is newly acquired Peyton Hillis.  The overnight sensation and former Madden cover-boy, like Charles, is focused on regaining his 2010 form and should thrive in  3rd-down and short yardage situations.
Kansas City's receiver corps, including the tight end position, is as talented as any in the league.  They have a solid No. 1 in Dwayne Bowe, two legit No.2 possession receivers in veteran Steve Breaston and second-year man Jonathan Baldwin, and what many consider to be the second coming of Wes Welker in rookie Devon Wylie.  Tony Moeaki will return from injury in hopes of building on the strong rookie campaign he had a couple of years back, while the addition of Kevin Boss adds solid depth to the tight end position.
From a defensive standpoint, Crennel, a defensive guru, must be thrilled with the talent on that side of the ball as well. 
Derrick Johnson is coming off the best season of his career and is emerging as an elite player in the league.   Tamba Hali joins Johnson to provide solid veteran leadership at the linebacker position. 
The combination of Tyson Jackson, Dontari Poe and Glen Dorsey should form one of the largest and most effective three-man fronts in the league, with the rookie Poe expected to take on multiple blockers on most downs.
In the secondary, former Raider corner Stanford Routt joins Eric Berry, Brandon Flowers and Kendrick Lewis to form a respectable unit that should benefit from the pressure that Kansas City's elite front seven places on opposing quarterbacks.  Alabama Crimson Tide alums Javier Arenas and DeQuan Menzie will be called on to provide help in nickel packages.
In regard to special teams, the addition of the aforementioned Wylie will allow Dexter McC luster to step away from his slot-receiver role and concentrate on the return game.  Along with Javier Arenas, the two of them could be wild cards in terms of game changing, momentum building special teams plays.
Given the talent on this Kansas City roster, combined with Romeo Crennel's coaching expertise, the Chiefs should expect to not only compete, but win the AFC West and make a deep run in the playoffs.
Like the new article format? Send us feedback!