Brian Orakpo Must Now Post Double-Digit Sacks in 3-4
June 8, 2012

Larry French/Getty Images
Two-time Pro Bowler Brian Orakpo needs to join the ranks of the NFL's elite pass rushers. That means posting double-digit sacks as a 3-4 outside linebacker for the first time.
Orakpo managed to notch 11 quarterback takedowns as a rookie in 2009. However, that was in a 4-3 front, and most of his sacks came when he aligned as a defensive end in nickel packages.
Since Mike Shanahan forced a transition to a 3-4 base on the Redskins' defense, Orakpo hasn't quite made the impact many would have expected. Being moved to standup outside linebacker was supposed to create more favourable matchups for Orakpo and give him the chance to record monster sack totals.
Yet despite coming close, Orakpo has not managed to reach the 10 sack mark in the 3-4. His ability to generate pressure has been inconsistent, and he has yet to become the kind of weapon the 3-4 has allowed the likes of Tamba Hali and DeMarcus Ware to be.
However, Orakpo could be primed for a big year in what is sure to be a pivotal 2012 season for the Redskins' featured pass-rush threat. He finished the season strongly, notching three sacks in two of his final three games.
Two of those sacks came in a convincing Week 15 road win over eventual Super Bowl Champions the New York Giants. They were Orakpo's first sacks against NFC East opposition.
He ended the season by taking down Michael Vick in an otherwise disappointing showing against the Philadelphia Eagles. Orakpo needs to be getting to NFC East passers more often next season, particularly with the secondary undergoing a major revamp.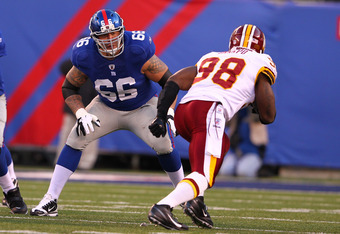 Al Bello/Getty Images
The improvements in Orakpo's play coincided with defensive coordinator Jim Haslett's willingness to move him around the formation more often. Haslett became more keen to embrace the moving parts nature of the 3-4 and shifted Orakpo to different sides, keeping him away from a tight end.
He also made welcome changes to how Orakpo is deployed in nickel situations.
Rather than just putting his hand down and acting as a defensive end, Orakpo was often used as a roving, standup rusher, allowed to roam behind the front line and pick his spot to rush.
With rush end Chris Wilson brought back to the team in free agency, Orakpo should continue to be used in this dangerous free role this season. Another option could be to tweak the base front on certain plays and allow Orakpo to perform a Terrell Suggs-style role and join the line to give the Redskins' defense a 4-3 appearance.
However, as important as schematic changes are, consistency is the area where Orakpo must improve the most. In sixteen games last season, Orakpo drew a blank in nine of them. His sacks have tended to come in clutches during his three pro seasons, and now is the time to put it altogether.
Orakpo has the talent.
The Redskins need him to be the kind of weapon opposing teams fear and focus their game plans on. Nothing short of matching his rookie year should be considered acceptable this season.