UCLA Bruins and Arizona Wildcats Make ESPN's Top 10 Basketball Coaching Jobs
June 8, 2012

Stephen Dunn/Getty Images
What do sports analysts do in the off-season? They make rankings of just about anything. One recent ESPN ranking should be a little comforting to Pac-12 basketball fans after the conference's underachievement this past season. That is ESPN's top 10 college basketball coaching jobs ranking, in which both the UCLA Bruins and the Arizona Wildcats made the cut.
Earlier this week ESPN ranked every high-major college basketball coaching job in the country. They also named the best and worst mid-major jobs. Yes, the Pac-12 was included with the high-major jobs (I've heard the joke a million times about the Pac-12 being a mid-major with how the conference performed last year). 
The ESPN rankings took the following criteria into consideration: facilities, expectation level, athletic budget, wins and losses, recruiting base, fan support/pressure and basically any factors determined to be important for being the "best" jobs in college basketball coaching.
The ESPN Pac-12 coaching job rankings broke down as:
No. 12: WSU
No. 11: OSU
No. 10: Utah
No. 9: ASU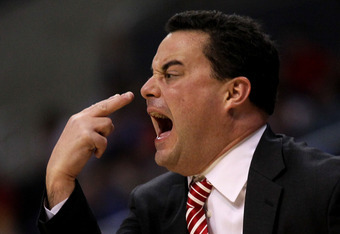 Stephen Dunn/Getty Images
No. 8: Colorado
No. 7: USC
No. 6: Stanford
No. 5: Oregon
No. 4: Cal
No. 3: Washington
No. 2: Arizona
No. 1: UCLA
ESPN then asked its same panelist to rank the overall top 10 coaching jobs in college basketball, and UCLA and Arizona made that list. With honorable mentions going to teams like Michigan State, Texas, Connecticut and Florida these two Pac-12 teams beat out some tough competition.
The ESPN overall top 10 coaching jobs ranking broke down as: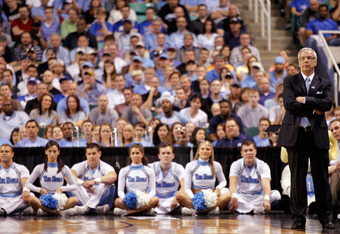 Mike Ehrmann/Getty Images
No. 10: Arizona
No. 9: Louisville
No. 8: Ohio State
No. 7: Syracuse
No. 6: Duke
No. 5: Indiana
No. 4: UCLA
No. 3: Kansas
No. 2: Kentucky
No. 1: UNC
So what is a top 10 coaching job worth? Obviously more than money, but let's take a look at the financial side with coaching salaries. For the two Pac-12 coaches in the top 10 (Arizona's Sean Miller and UCLA's Ben Howland) that number is reportedly around the $2 million mark. 
Jason Szenes/Getty Images
To give a comparison, ESPN's No. 1 coaching job in college basketball pays UNC's Roy Williams a comparable albeit slightly lower amount. The No. 3 coaching job on the ESPN Pac-12 coaching job list, Washington, paid Lorenzo Romar reportedly around $1.3 million in 2011. Romar's salary was very close to the average salary made in 2011 ($1.4 million) by public university coaches that made the NCAA basketball tournament. 
The highest paid salary on the ESPN top 10 coaching jobs list reportedly went to No. 9 Louisville in 2011 thanks to a one time $3.6 million bonus paid in July 2010. In 2011 Louisville's Rick Pitino held the No. 1 position by bringing in a university base salary of $7.5 million and with non-university funds reportedly took home over $8.9 million. That was more than twice the amount of the No. 2 coach on that list, Duke's Mike Krzyzewski, who reportedly brought in a total pay of around $4.2 million in 2011.
As USA Today and ESPN have pointed out these numbers don't always include everything including bonuses, benefits and various other items depending on how they are compiled. For example ESPN cites Krzyzewski's 2010-11 tax return, which suggest the coach made $8.9 million that year when other factors were included. Therefore, interpretation of the reported numbers should be made with some caution, as they may not be including the whole picture. 
You can view the entire USA Today 2011 college basketball coaching salary list by clicking here.