Euro 2012: 9 Very Bold Predictions for Germany's Tournament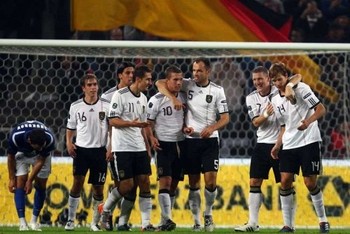 While Euro 2012 kicked off yesterday in Group A, it's time to take out the crystal ball and make some predictions about what we will see in Poland and Ukraine.
Germany have made deep runs in their past two major tournaments, yet they've fallen to the same menace in both: Spain.
In Euro 2008, the Germans fell in the final, while they experienced a loss in the semifinals of the 2010 World Cup.
Can Germany make a similarly strong run in Poland and Ukraine? And if so, can they finally overcome those last few hurdles?
Here are my forecasts for Germany's tournament.
Mario Gotze Comes out on the International Stage...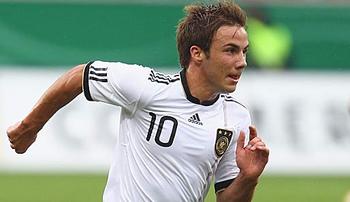 The 20-year-old Mario Gotze has been a superstar in the Bundesliga for the past few seasons, but he's still a budding international talent.
His potential is huge, making him the future of German football.
Starting off the bench, he will have a huge impact on his side and soon force his way into the starting XI.
His playmaking and creativity will help Germany greatly in this tournament.
...Mario Gomez Plays Relatively Poorly...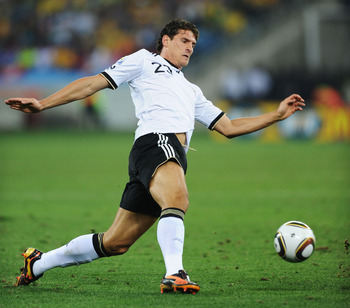 Laurence Griffiths/Getty Images
The Bayern Munich poacher had a fantastic season with his club this year, scoring goals at an astounding rate.
However, he faltered in the Champions League final, seemingly wilting on the grandest stage; this could likely have a negative effect on his psyche and lead to a slump.
Hence, expect Gomez's play to suffer during this month's tournament.
...and Miroslav Klose Plays Another Great International Tournament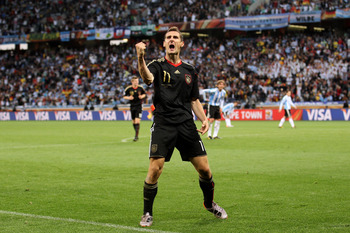 Joern Pollex/Getty Images
Throughout his career, Miroslav Klose has made a habit of playing great at major international tournaments after coming off club seasons that were pedestrian at best.
Heading into this major tournament, Klose is coming off of a pretty good season with Lazio.
With good form actually on his side this time, expect the 33-year-old striker to pad his international resume with yet another good tournament with a healthy goal total.
They Defeat Portugal 3-2...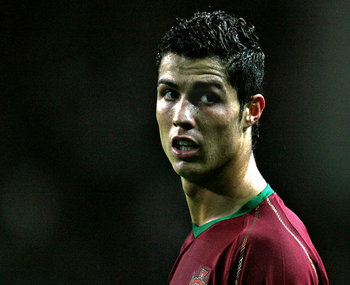 The match plays out very similarly to four years ago, when the two teams met in the quarterfinals.
Two quick goals by Germany set them on track for a victory, but a Portugal goal before half seems to put the match back in the balance.
Another Germany goal decides it, with Ronaldo grabbing a consolation at the death.
It's a good start for Germany.
...Defeat Netherlands 4-1...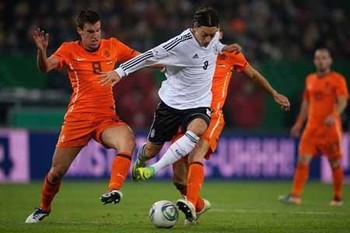 It's a hard-fought match between two rivals; in the end, though, it is the Dutch defense that lets them down, as Germany waltzes the ball into the net four times.
Look to the two nations' meeting in November of last year for a reference on what is to come.
...Defeat Denmark 3-0...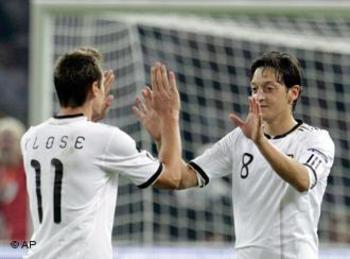 Despite the fact that Germany are already through to the quarters, this is the easiest match of the group for the Germans, as they get past the Danes with ease.
By halftime, they are up 3-0 and let up for the rest of the match, content with this scoreline and the victory.
...and Win Group B with Full Points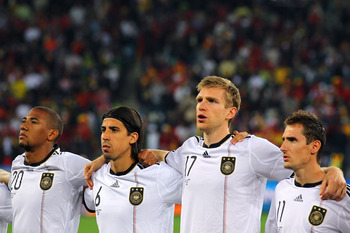 Clive Rose/Getty Images
It's being called the hardest "Group of Death" of all time, but Germany's taking nine points out of nine might change the historical thoughts of the strength of the group.
At this point, Germany are surely huge favorites to take the tournament.
They Defeat Poland 4-1 in the Quarterfinals...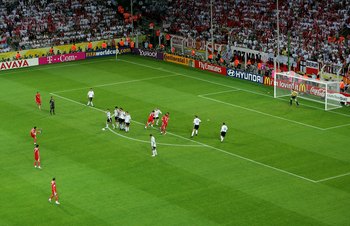 Laurence Griffiths/Getty Images
The buildup to this one is great, with the two rivals clashing in Poland's homeland.
However, the match fails to live up to the hype, as Germany easily handle their Polish adversaries.
It's on to another semifinal for Germany, their fourth consecutive at major tournaments.
...But Lose to Italy in the Semifinals on Penalties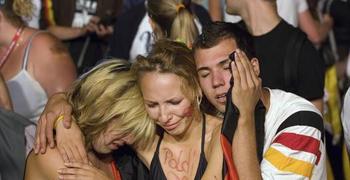 Just like in the 2006 World Cup, Italy and Germany do battle in the semifinals of a major tournament, the match goes to extra time and Italy extinguish the German's flame.
Throughout regular time, it is Germany bossing the match, but the Italian defense holds.
Even throughout extra time, the match stays 0-0.
Finally, in penalties, the match is decided by keeper Gianluigi Buffon.
Once more, it's agony for Germany late in a major tournament.
For more news on EURO 2012 and more, follow me on Twitter @Fw1812.
Keep Reading

Germany (National Football): Like this team?