Olympic Soccer 2012: Naming David Beckham to Team GB Will Be Blow to His Legacy
June 8, 2012

Bob Levey/Getty Images
Even the most ardent David Beckham supporter will tell you that his reported selection to Great Britain's Olympic soccer team was a matter of tribute, not talent.
No one denies that this was a token nod, one meant to acknowledge his contributions as a sportsman and prominent advocate for these Olympic games.
And I imagine those same supporters will celebrate Beckham's selection as a triumph, another well-deserved feather in his already well-plumed cap.
That's where they're wrong.
In trying to elevate the greatest soccer icon of the past two decades, they—I am referring both to his backers and Team GB—have mired him in a mud-slinging debate that cheapens his considerable accomplishments.
In short, David Beckham fans are ruining David Beckham.
Consider first that Beckham is one of the most beloved athletes of the past twenty years. At this stage in his career, with all that he has done to brand world soccer, he should be safely ensconced under a halo of accumulated good will.
And yet over the last few months, as this saga has wound its way through sports talk's swollen bowels, all anyone can talk about is how impotent he's become as an athlete.
Detractors say he's impotent and doesn't deserve an Olympic spot. Supporters say he's impotent, but does.
Either way he's impotent, and now that he's on the Olympic team, we'll hear more of the same through August.
The irony here is that there has been nothing honorable or graceful about Beckham's place on this team even though that's exactly what his supporters believe he has earned.
Whether he's groveling on American TV for an Olympic spot or being subjected to some pundit's vitriol, the entire Beckham-Olympic episode has been framed by an unmistakable, unshakable sadness.
It's like the hubbub that erupts every time Derek Jeter wins a gold glove.
Most rational observers will tell you that Jeter didn't deserve to win consecutive gold gloves at ages 35 and 36, at least using the generally acknowledged criteria for that award.
Jeter lovers say he earned the hardware because of his resume. Everyone else says the recognition is bogus.
In the back and forth we miss the obvious; Derek Jeter could well be the greatest shortstop of the live ball era—at the very least he's top three.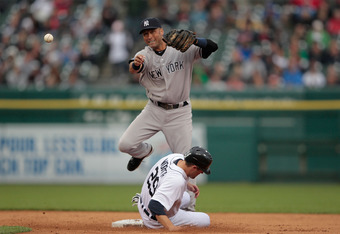 Leon Halip/Getty Images
And yet, thanks to the drawn out drama of his twilight years, some folks—not all folks, but some—will remember him as a good baseball player who was laughably overrated at the end of his career and placed on a false pedestal.
How freaking sad is that?
I sense that David Beckham already has the reputation of a guy who's hung on a bit too long.
And every time he hangs on a little longer, another person inevitably wonders, "Huh, maybe he wasn't as good as I thought he was."
That's just the nature of these things. The more we see somebody limping around past their prime, the harder it is to remember the splendor of their peak. Or at the very least, the memory of that peak is jaded by what we're seeing in the present.
When people then shower that receded greatness with false praise, our collective cynicism grows.
Unfortunately for Beckham, there is now no going back.
He's already been selected and he will play in this tournament, probably sparingly and probably not all that well. He will spend his London adventure pitching feckless battles with 20-year-old prospects from the United Arab Emirates, at once both the central attraction and the pitiable sideshow.
And we will live with that enduring final memory of him as an athlete—compromised, spoiled, exploited for his marketing potential, unjustly rewarded—when we could have just let him go.