Spain vs. Italy: 5 Reasons to Watch Group C's 1st Match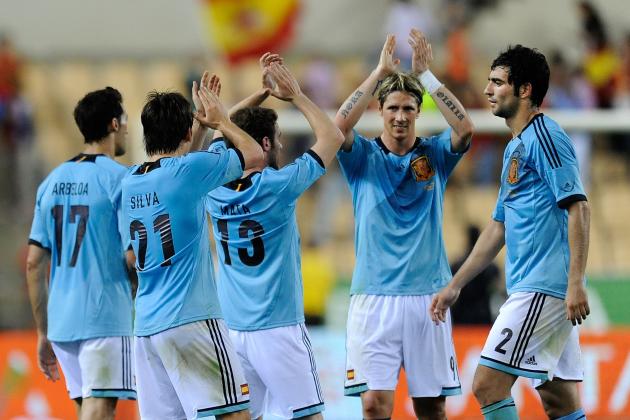 Denis Doyle/Getty Images

June 10, 2012. PGE Arena, Gdansk, Poland. Spain vs. Italy.
The 2012 Euros are now officially underway. We are now gearing up for Day 3 of the tournament and this day gives us one of the most anticipated matches of all.
We now get to see the reigning European and world champions take on Italy in Group C.
This bout may be a low-scoring affair, but there is a strong chance that the winner of the entire tournament will be playing this Sunday.
Spain enters the tournament as one of the favorites, but Italy has a long history of success—even at the most unlikely times.
Given the talent throughout each squad, this match will hold some of the most tactically gifted players in the world.
In the end, this match may prove irrelevant. It may also set the tone for a title-winning summer for either side. One thing is certain, no fan of European football will want to miss this match.
Read on to find five reasons to watch Spain vs. Italy this Sunday, June 10.
Begin Slideshow

»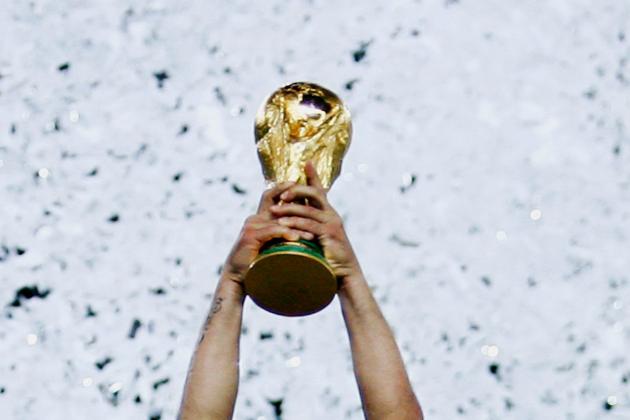 Shaun Botterill/Getty Images

Sunday will be the first time we see the world's No. 1-ranked team in action.
Spain enter the tournament as one of the favorites despite the fact that no team has ever repeated as European champions and despite losing their defensive and attacking leaders in Carles Puyol and David Villa.
The first obstacle in Spain's long, difficult road to retaining their title will be Italy, one of the most prestigious and decorated teams in football.
Italy meets Spain in a battle of the last two World Cup winners.
Spain are, of course, the reigning world champions. Italy had a very poor World Cup showing in South Africa but won the previous tournament in 2006.
The Azzurri have a title-winning pedigree that goes back to the beginning of international competition while Spain is in the middle of its greatest and most successful period in history.
There is barely a bigger or more glorious way to start off a day of football.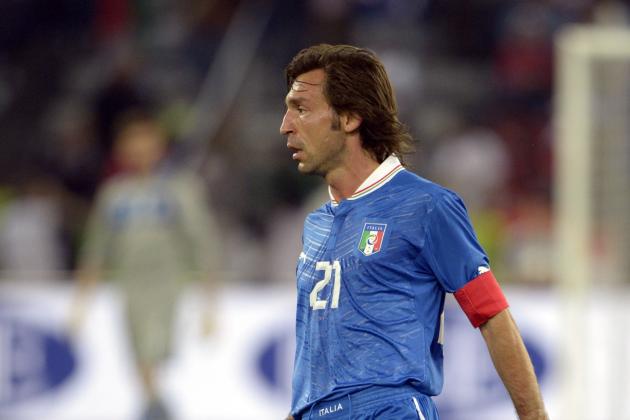 Claudio Villa/Getty Images

When Xavi Hernandez and Andrea Pirlo share the field, footballers take notes. They are two of the very best midfielders of their generation.
Both Xavi and Pirlo have a World Cup title to their name. Both players have never played in a league outside of their home country, a nationalistic loyalty that is all too rare today.
This Sunday, students and fans alike will witness a clinic on passing, vision, positioning, footwork, and leadership. Any young footballer would be wise to study and model themselves after these two greats.
If these were the only two midfielders on the field, that alone would be an impressive display of talent to behold.
Add in Andres Iniesta, Claudio Marchisio, David Silva, Antonio Nocerino, Sergio Busquets, Ricardo Montolivo, Xabi Alonso, and Daniele de Rossi and you have one of the most talented and incredible midfield battles in modern footballing history.
As a fan of the game, not necessarily of any team of club in particular, why miss this match knowing the players involved?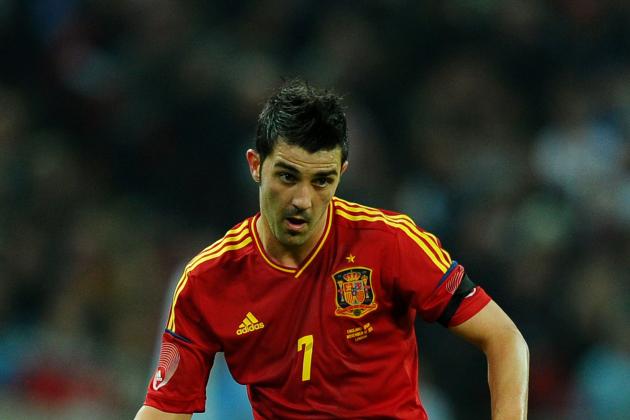 Laurence Griffiths/Getty Images

When David Villa announced that he would not be able to partake in the Euros this summer, Vicente del Bosque and La Roja fans everywhere began to worry.
As talented as Fernando Llorente and Alvaro Negredo have been and as great as Fernando Torres once was, none of Spain's current strikers have the quality or are as important to Spain as David Villa.
Consistently scoring goals has been one of Spain's biggest concerns entering the tournament and they start out by facing one of the best defenses in Europe.
This will be quite the test right from the start. If they can score against Italy, it may give Spain enough confidence to score against anyone.
Being able to withstand an Italian attack featuring Mario Balotelli and Antonio Cassano without Carles Puyol will be quite inspiring as well.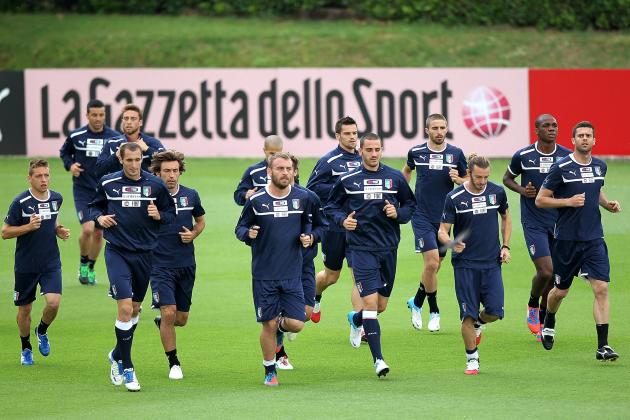 Gabriele Maltinti/Getty Images

The last time Italy had a match-fixing scandal, they went on to win the 2006 World Cup.
With breaking news (via Daily Mail) about another scandal cropping up daily in Italy, the Azzurri are once again entering a huge tournament with fans in doubt.
There were rumors that the team would not even play in the tournament given how serious the allegations were. Given Italy's rather poor form over the last few years, this type of distraction is the last thing they need.
Italy fans will hope these issues will unite and inspire the national side the way it did in 2006. Fans will also hope it is the Italy of 2006 that shows up and not the atrocity that went to South Africa in 2010.
There may be a handful of teams with realistic chances of winning, but make no mistake, the winners will have to go through Spain.
If Italy can make an early statement by beating the best team in the world, they may be able to handle anyone and will increase their chances of repeating 2006.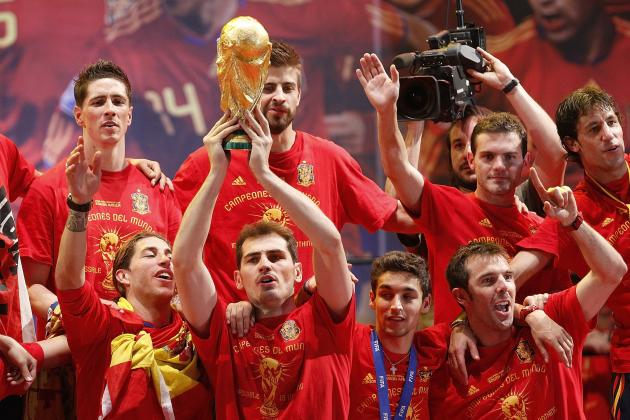 Angel Martinez/Getty Images

Spain are the reigning European and World Cup champions. They are the top-ranked team in the world. It is impossible to talk about the strongest national or club sides in Europe without mentioning La Roja.
Over the last four years, Barcelona—one of Spain's two greatest clubs—has built one of the strongest club sides in the history of football. Real Madrid is also trying to create its own new era of European dominance.
If Spain can repeat as champions this summer, they will not only be the first team to do so, they will also almost certainly solidify their legacy as a dynasty.
By winning three major tournaments in a row while housing at least one of the greatest club sides in history, Spain will enter the upper echelons of footballing lore.
Lifting the 2012 Henri Delaunay Trophy would make the current Spanish team nothing short of legendary.
Their journey begins with Italy.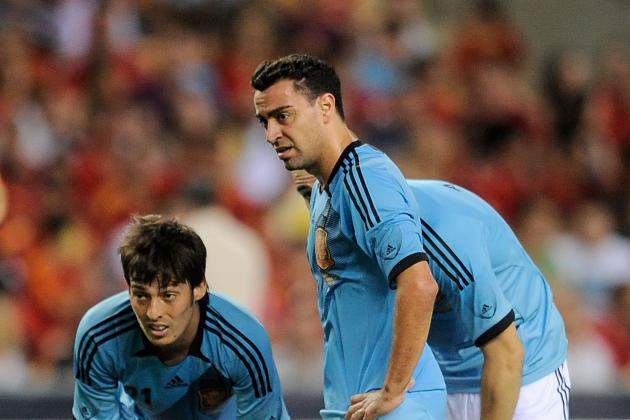 Denis Doyle/Getty Images

Now I would like to hear your thoughts. What do you expect from this match?
Will Spain be able to break Italy's stout defense or will Gianluigi Buffon be given enough cover to frustrate Spain's attack?
Will a victory for either side provide any indication for what to expect in the tournament? Who do you predict to come out on top?
I look forward to hearing from you as we get ready to see one of the biggest matches of the group stages.
Please follow me on Twitter: @MichaelCerna3